Abu Qatada
3118 days ago
Abu Qatada is an Islamofascist hate preacher with clear links to Al Qaeda. Finally, after ten years he is as we speak in a prison van heading off to the airport on a one way ticket to Jordan where he is going to goal for terrorist offences. This is being presented as a triumph for Home Secretary Theresa May and the Conservative Party "Tough on terrorism, tough on the causes of Terrorism (except in Syria where want to give guns to Al Qaeda)." Bollocks.
It has cost £2 million to deport this loathsome man. He and his family have taken the grateful taxpayer for another £3 million plus in benefits and free housing over the past decade. And that is a triumph?
Three questions for Mrs May:

3165 days ago
You know who Abu Qatada is. He reckons that there is something wrong with the UK's welfare system. We agree on that. Abu's specific complaint is that the five bedroom house that the taxpayer provides him with is not big enough. He needs more storage space.  Saints preserve us.  Now meet John Thuo
Back in in his native Kenya he killed between 100 and 400 people using a machete. Policemen, innocent civilians, members of other criminal gangs – he butchered the lot. He also undertook female circumcision. In 2003 he came here as an illegal immigrant and has lived in taxpayer funded accommodation and on benefits ever since.
The Home Office tried to boot him out but failed because it would infringe his Human Rights. You see, he might get murdered by his old gang back in Kenya. Apparently Thuo also has mental health problems and says he might top himself if we boot him out.
Of course if I say that these cases shows our immigration and welfare system is flawed, the deluded lefties and liberal elite respond in three ways:

1. Anyone who says the immigration system is flawed must be a racist.
2. These are exceptional cases and very rare – most of the time our system works fine.
3. The Daily Mail has reported these cases and so this is just right wing scaremongering, gosh we hate the Daily Mail, let's talk about what an awful paper it is.

Whatever. The UK has a £100 billion budget deficit. We are going bust. These gents add to that deficit. They contribute nothing to our society. They will not seek work.

I fail to understand why anyone who has never worked should get any benefits at all. Whether the scrounger is an  Islamofacist hate preacher/probably terrorist, a Kenyan mass murderer or a white chav from some Grim Northern Shot Hole appearing on the Jeremy Kyle show.

In the case of Mr Thuo I cannot see why we are protecting him from justice in Kenya. Why cannot we hand him over to the Kenyan Police? If his gang manage to get at him or he tops himself do I really care? Do you?

3174 days ago
The dog that was Pan Pacific Aggregates continues to bark loudly in its new incarnation as Astar Minerals (ASTA). On Friday its shares were the second worst performers on the Cesspit, slumping 20% to 0.2p as 8,332,132 shares changed hands. Oooh er missus sounds like a big one. Er…no.
That represents trading volumes of just £16,664.26 assuming trades happened at the mid. I suspect that there were more sellers than buyers but I am being generous. And so on volumes which in value equate to the cost to the taxpayer of keeping Abu Qatada and his family in the UK for two weeks, the market cap slumped by 20%. In other words more than £100,000 was wiped off the market value.
Fear not…worse is to come

3188 days ago
I gather that the local elections loom. My deluded lefty parents are keenly watching the contest in Shipston on Stour where they have a choice of 5 candidates: Labour, Lib Dem, Tory, Green and UKIP. My father tells me that the pro-supermarket protest vote for Labour last time will not carry and so that the nice lady from the Co-Op who flies the red flag will be battling it out for fifth place with the smelly eco-warrior. As such it is a three horse race between the Liberal and two parties which my deluded lefty family would not support under any circumstances: wicked UKIP and the even more wicked Tories.
My father has thus asked little Step-sister Flea to put up a Liberal poster. Since her young man would rather drink his own urine than vote Liberal since he believes in low taxes for those who work, hard work, etc, etc Flea is dithering. But Flea too believes in hard work and low taxes so, having admitted this to the deluded lefty collective that is my family, I'll urge her to stand her ground publically.
Flea, just remember that the Lib Dems are blocking moves to allow for the deportation of terrorist loving Abu Qatada who costs this nation £400,000 a year and who would like to see you blown up. And it is the taxes from your hard work that go to pay his bills.  As you go to work tomorrow, dear  Flea think about where your taxes are going, that bloke outside the school gates who would rather "go fishing" than get a job. Think hard. On that basis: Flea I urge you to stand fast and vote with your conscience on May 2nd.
No go on. Go the whole hog. I do not care two hoots who you vote for in a secret ballot but why not annoy every single relative (including wicked Uncle George). A UKIP poster would look great in your front window.

3220 days ago
The UK is three people better off with news that David Miliband is joining Louise Mensch and Piers Moron in America. But in a reverse of those old balloon debates from school I wonder which other seven folks would you really want to join Miliband D on a one way flight to New York? It is a hard choice in assembling any such list but for what it is worth my top 7 to leave would be:

1. Abu Qatada
2. Heather Frost (and children)

3. Hugh Grant

4. Sir Alex Ferguson

5.  Vince Cable

6. Polly Toynbee

7. Cherie Blair ( aka the wicked witch)

The more I think about the more I could pack a whole plane with such folk but having to choose a top 7 there you go. Disagree?

PS. Do you think I should have asked Mr Grant's permission before I published this article?

3220 days ago
For all the posturing by hopeless and useless Tory wannabee leader Theresa May and others the reality is that terrorist Islamofascist hate preacher Abu Qatada is staying in the UK. The Court of Appeal has backed his claim to stay. And that means that he will stay here in a large house (funded by you, the taxpayer), receiving thousands of pounds of benefits for him and his family each month ( funded by you), making no effort to work or get a job, preaching hate and almost certainly assisting evil terrorists. The UK law is quite simply a joke.
There are those who say that the Government should simply over-ride law and stick him on a plane back to Jordan or just get him bumped off. But once you give the State the power to ignore the rule of law for one individual (albeit a total scumbag) it can then use such arbitrary powers as it wishes – the Rubicon has been crossed. Pretty soon you will find whistleblowing bearded scientists lying dead in the woods. Oh, okay we have been there already. You will find folks arrested for shouting dissenting views at the Prime Minister. Oh, okay we have been there already.  But you get my point – you cannot trust the state with arbitrary power to break the law.
And so we just have to recognise that the law sucks and get the daft Human Rights legislation driven through by the Wicked Witch and her husband the war criminal Blair amended. If that is not possible within the EU then the case for leaving gets ever stronger.  But change the law and then kick him out. Meanwhile, sickeningly, we all pay for his benefits.
As for Theresa May. Heck we all know that she wishes to lead the Tory party and she talks tough. But does she actually do anything useful at all?

3307 days ago
This Government, like all Governments, wants to rig the housing market. It calculates – correctly – that it garners short term electoral gain by pushing up house prices even if this involves wholesale pissing away of taxpayer's cash and ultimately also directly and negatively impacts on the standard of living. One day this almighty con must stop. UK house prices are too high and Call Me Dave might reckon that he can buck the market that he can beat nature, but like King Canute he, or some other Prime Minister will ultimately fail in a spectacular fashion. This is a great con trick played by the political classes on you with your money. We all lose in the end.
Oh okay, before anyone quibbles about UK house prices being too high:

3318 days ago
The feeble party of Government is today making great play of how it has frozen bank accounts containing £217,000 belonging to bearded Islamofascist terror lover Abu Qatada, saying it will try to reclaim the cash to get back some of the costs the feeble party of Government has incurred trying to boot Abu out of the UK. Let us hope that it is more successful getting the cash than it has been with the extradition. However, this attempt at hard man PR by the Conservatives does not wash as it begs yet more questions. Viz:
1. How much taxpayer's cash will be spent on a new legal challenge to recover this paltry amount? I.e. what is the anticipated net return?
2. If Abu is sitting on £217,000 cash why the hell does he get a) legal aid – costs to date c £500,000 and b) free luxury housing for him and his family and c) welfare payments for him and his ghastly family.
The welfare system is meant to be a safety net for those between work – not a way for those with hard cash to preserve that cash as they do not work. But then in Bankrupt Britain anything goes, I guess.
Might it not be simpler simply to cut off Abu's supply of free housing, welfare and legal aid. Unfreeze his bank accounts. If he chooses to send that cash off to Hamas or Al Qaeda rather than spend it on housing and food for the kids that is fine. Then he and his family can starve and freeze to death. That is all part of the idea of taking responsibility for your own actions. Do you think that anyone would care?

3320 days ago
Abu's legal aid bill tops £500,000 and to celebrate he has moved him and his large welfare funded family to a brand new luxury pad paid for by you. This fat, welfare dependent, bearded loon is open in how he despises the West, wants a global Sharia Kingdom and is clearly linked to Islamofascist terrorists across the globe. I imagine his new neighbours are not happy to see him in the hood. Well I imagined wrong. The local vicar is reported to have said:
'Absolutely anyone is welcome to our church and I would encourage Mr Qatada and his family to join in our Christmas celebrations and reach out to the local community.'
Heck: maybe Abu could pop along to the gay marriage presided over by a transsexual priest planned by the Rev for Boxing day. Go on Abu reach out and join in. The C of E loves you. The C of E loves everybody.
The Established Church and is desire for inclusiveness and brotherly love: you have to admire its style as it disappears into oblivion.

3330 days ago
Whenever the words "breach of human rights" comes up your blood boils. Whether it is the terrorist who you cannot deport because it would upset the life of his family (a cat), the Somali pirate or Rwandan mass murderer whose 'uman rights would be compromised if he had to go back home to face justice or whether it is the thought of the wicked witch whose Chambers promoted this daft legislation and has grown rich on it, my blood always boils. Aaaagh Cherioe Blair what did we do as a nation to deserve you?
But now there is another oppressed and unloved minority whose human rights are, they claim, set to be breached. I refer to a group of men and women even less loved than that other great 'human rights beneficiary Abu Qatada. I speak of course of expense grubbing greedy MPs.
The expenses watchdogs wants MPs who used taxpayers cash to buy a second home to rent out to hand back any profits made over the past two years. I cannot see what is the problem with that. It was our (i.e. the taxpayers capital) that funded these entrepreneurial ventures, we should get the profits. About 70 MPs are affected and are now threatening legal action to stop this happening.

3337 days ago
What should the caption picture be this week? Inches of inconvenient truth falling all over the country as the mercury goes down faster than Divine Brown on Sunset Boulevard? The Lib Dems coming 8th in Rotherham and UKIP's triumph? Ultimately it had to be Lord Leveson and his farcical enquiry. And so this week, our caption contest features Hugh Grant who seems quite keen on gagging the press.
To win one of our Piss Off Argentina T-shirts post your entries in the comments section below.
You can, of course, buy your own Piss off Argentina T-shirt or mug here.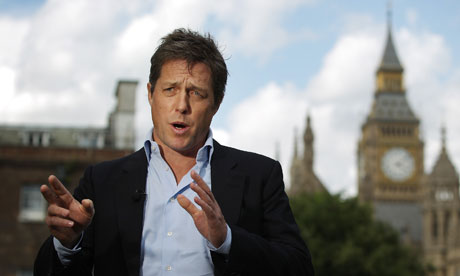 3344 days ago
I have rather lost track on how Abu Qatada's claim for a far bigger council house and £10 million compensation is going. But the Islamofascist lover of terrorism continues to enjoy liberty and a lavish lifestyle in a country he despises thanks to its taxpayers. Even Call Me Dave seems to think that there is something not quite right about all of this. But meanwhile we must not infringe the human rights of this repellent human being. That is Al Qatada not call Me Dave.
And so without infringing the human rights of the bearded nutter (since the Kent Police will probably arrest you for it) I ask you for suitable captions to this picture (and I challenge Jon Pickles to get Prince Harry in here).
The winner will receive a Piss off Argentina T-Shirt which of course you can buy exclusively here.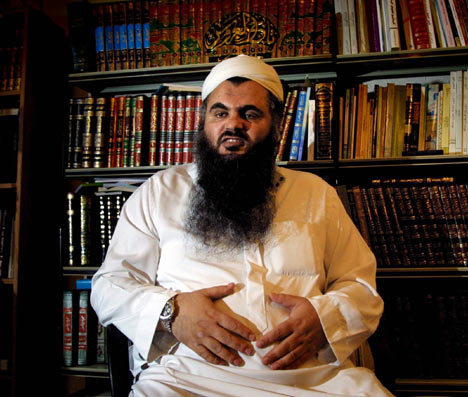 My entry is: "The BBC's new Middle East correspondent gives his balanced opinion on the state of play in Gaza"

3353 days ago
You all know about Abu Qatada. He is the latest beardy weirdie Islamofascist who hates everything about Britain but likes living here with his wife and five little Islamofascists. The benefits and free housing flows in and so far this gentleman has cost us £3million. No matter that he supports Al Qaeda, arrived here on a forged passport and is wanted in Jordan on terrorism charges, the British Courts yesterday ruled that he cannot be sent back to Amman to face charges.
It's against his bleeding yuman rights. Evidence that had been obtained as a result of torture might just seep into the prosecution's hands so he gets to stay, at our expense. Now meet Sergeant Danny Nightingale, an ex SAS soldier