Cherie Blair
103 days ago
I am no fan of Tony Blair. I view him as a war criminal and believe that what he did as Prime Minister in the Cool Britannia era was largely a disaster. His business dealings stink, all in all, he is a total rotter as is his utterly ghastly wife, the Wicked Witch. However, folks like Andrew Pierce of the Daily Mail are harassing the old scumbag today on grounds that are simply wrong.

307 days ago
Meghan Markle and her dim husband said that their lie-packed interview with billionaire virtue signaller Oprah Winfrey would be their "last word" on the matter. That now seems to be a lie too as they are happily letting it be known to pet poodles in the press their latest thoughts and feelings.  Just when I thought that I could not view the couple as even more despicable, I find that I do. I suppose as a Republican I should not really care but as a human I find myself feeling ever warmer thoughts towards the rest of the Royal Family. Maybe this is long Covid and I cannot think straight but after 53 years as a Republican, I really do feel rather sorry for the rest of the Windsor family.

2026 days ago
Britain in 2016 feels ever more like 1792 France. Cherie Blair or Theresa May will soon be saying that we the great unwashed should not worry "let them eat cake" and hundreds of celebrities will put their names to a petition saying what a good idea that is.

It is one rule for the establishment and one for the rest of us. Day after day we are reminded that the millionaire political, business, celebrity and media elite can get away with murder, literally in the case of Tony Blair, while the rest of us just get screwed. No wonder Britain is so angry.

The 40,000 silly people at yesterday's MarchforEurope do not represent that anger. Overwhelmingly middle class Southerners they, or their parents at the bank of Mum & Dad, have done very well as property owners enjoying the post 2008 asset bubble created by QE and funny money interest rates. For those in the Midlands and North where property prices in the post industrial towns have not rocketed, where there have been no real wage rises - unless you are a middle class employee of the State - there has been no financial windfall since 2008. They are excluded. Shafted financially and with no-one speaking up for them. Indeed for ten days now they have been told by large sections of the media and by the middle class liberal establishment that they are ignorant and racist and that their views should somehow be ignored.

And now we discover that when the Chilcot Report in finally published this week, it may slate Tony Blair and Jack Straw for lying and starting an illegal war but they will suffer no consequences. You and I might think that lying to Parliament 

2066 days ago
On July 6 the long awaited Chilcot report into the Iraq war will be published. Many of us are convinced that the war was illegal and that "trust me I'm Tony," as well as the loathsome shit Jack Straw, repeatedly lied to MP s as well as to us all. Mr Blair's claim about Weapons of Mass Destruction was clearly just a blatant lie. And thus it has been leaked that Blair as well as Straw will get a thorough roasting from Lord Chilcot.

2131 days ago
In today's podcast I argue that it matters little who runs the London Stock Exchange (LSE) as long as it is not the idiots in charge now. I then move onto unnacceptable faces of capitalism: slob Mike Ashley, greedy pig Phil Green and the Wicked Witch Cherie Blair

2300 days ago
On the Monday of last week two young journalism students wandered into Free Speech & Liberty pizza and came over for a chat. We talked of the ethics of journalism, the corruption of our profession, of libertarian idealism and later that night they came back and I discovered something appalling.

2971 days ago
I was way ahead of the curve in reporting that Tony Blair had NOT been shagging Wendi Deng, the ex Mrs of Rupert Murdoch. We did this way back in June HERE
But it seems that the Nationals are NOW busy reporting the numerous times that the old war criminal stayed chez Wendi but clearly did not shag her. Hell's teeth! If one was married to a sex kitten, the bolshie bombshell, Cherie why on earth would any man stray?
Blair is apparently having a bit of a tough time as he tries to get certain elements of the Chilcot enquiry into the Iraq war suppressed.
Apparently the old War Criminal reckons that this might show that he told a pack of lies.  And it is in this vein that I bring you the quote of the Century from today's Mail:

Several of Mr Blair's close friends have asked him directly if he had an affair with Ms Deng. He has vehemently denied it to all of them.


One of those who challenged him said: 'I believe Tony. He would never do such a thing and he is not a liar.'

Ends

Well that settles that then… 

2997 days ago
As we start to discover the latest damning revelations about sleazy MPs and their expense fiddles it seems harsh to burn an effigy of poor old Guy Fawkes tonight. He was the last man to enter Parliament with honest intentions. So whose effigy should it be?

Judging by the comments on my latest article on the McCann parents about half the population think that an effigy of Kate McCann should be burned. About the other half seem to believe that anyone who dares say a word about the sainted McCann's should be burned. Forget effigies they should actually be burned.
Which is the bigger war criminal? President Assad or President Obama or for that matter Tony Blair? What about en effigy of Polly Toynbee – the old witch has been poisoning the body politic with her muddle headed thoughts for years, she has to be a contender.
Me? I am just too much of a nice guy. I am more worried about how the cats will react to the fireworks than whose effigy should be burned. But there are many folks more deserving of the effigy treatment than poor old Guy Fawkes.
Oh, ok...you push me. For her unique contriubution to driving through insane human rights legislation, for her vile condoning of Hamas, for supporting her war criminal of a husband, for being a filthy freeloader and for being wrong on every great issue and sanctimoniuous with it, for her sheer avarice ...I'd burn an effigy of the Wicked Witch herself, Ms Cherie Blair.

3174 days ago
It is not just the UK foreign aid budget that is a joke. Under the auspices of the vile Clinton woman US foreign aid spending clearly also out of control. One of the war criminal Blair's charities picked up £550,000 in 2011 but in 2012 it was the Wicked Witch herself who trousered it big time picking up a donation of £405,000 from the grateful US taxpayer for one of her charities.
Accounts for the year to Oct 31 2012 show that the Cherie Blair Foundation for Women enjoyed an income of £1.8million, and almost doubled its staff in 12 months, from six to 11.
The charity has cash in the bank of almost £1.5 million. Its wage bill rose from just over £258,000 in 2011 to £437,000 in 2012. But bear in mind that staff numbers rose during 2012 and thus the total wage bill is now likely to be running at an annualised rate of at last £500,000. Chuck in employers NI and we are heading towards £575,000. The firm uses Farrar's (the most expensive law firm in London) to do its legal work and it has luxury offices overlooking Hyde Park. How much is spent on marketing? How much on other admin expenses?
The Wicked Witch boasts that it is helping women entrepreneurs out in Africa. Sure. But I wonder what percentage of every £1 the US taxpayer and other mugs send in how much actually goes to help female entrepreneurs out in bongo bongo land? 50%? I doubt it.
The reality

3220 days ago
The UK is three people better off with news that David Miliband is joining Louise Mensch and Piers Moron in America. But in a reverse of those old balloon debates from school I wonder which other seven folks would you really want to join Miliband D on a one way flight to New York? It is a hard choice in assembling any such list but for what it is worth my top 7 to leave would be:

1. Abu Qatada
2. Heather Frost (and children)

3. Hugh Grant

4. Sir Alex Ferguson

5.  Vince Cable

6. Polly Toynbee

7. Cherie Blair ( aka the wicked witch)

The more I think about the more I could pack a whole plane with such folk but having to choose a top 7 there you go. Disagree?

PS. Do you think I should have asked Mr Grant's permission before I published this article?

3247 days ago
I have just seen pictures of the Wicked Witch canvassing with the Argie loving Labour candidate in Eastleigh. The dreadful duo went to a local hospital, presumably on the assumption that invalids were about the only folks who would not run away screaming. Surely it is a breach of their basic human rights to have Mrs Blair sitting by their bedside grinning and wittering on about wicked Tory cuts?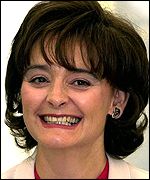 For the avoidance of doubt, if I am in hospital with a terminal condition and it is revealed that the Wicked Witch is planning a visit please treat this as my living will: please cease all treatment at once.

3247 days ago
The Tories seem to be admitting that they may come third in the Eastleigh contest. It looks as if the sex pest party will win but UKIP is coming up on the rails fast. Whatever happens Labour will come a dismal 4th with the presence of the Wicked Witch Cherie Blair on the campaign trail yesterday only adding to the woes of its Argie loving candidate. So how will be the BBC report the results?
1. If UKIP wins then it will be " extremist far right party wins on a disastrous night for the Tories/Lib Dems." It will then ignore UKIP totally and dismiss its poll numbers as a freak result but quote Ed Milliband as saying Labour was always going to get obliterated but the voter's rejection of wicked Con Dem austerity shows that he is on track to be the next PM – a great night for Labour. The BBC will report that both Call Me Dave and Nick Clegg face leadership challenges.
2. If the Lib Dems win and UKIP are second it will be "extremist far right party surges on a disastrous night for the Tories." It will then ignore UKIP totally and dismiss its poll numbers as a freak result but quote Ed Milliband as saying Labour was always going to get obliterated, and the Lib Dems were always going to win what is their safest seat but the voter's rejection of wicked Con Dem austerity shows that he is on track to be the next PM – a great night for Labour. The BBC will report that both Call Me Dave and Nick Clegg face leadership challenges.
3. If the Tories win and UKIP are second it will be "extremist far right party surges on a disastrous night for the Lib Dems who pay the price of supporting hugely unpopular Tory cuts. It will then ignore UKIP totally and dismiss its poll numbers as a freak result but quote Ed Milliband as saying Labour was always going to get obliterated, and given how the Lib Dems are racked by sex scandals are on 8% in the National Polls that the Tories did not win by more is very bad news for them too. This is a rejection of wicked Con Dem austerity shows that Milliband is on track to be the next PM – a great night for Labour. The BBC will report that both Call Me Dave and Nick Clegg face leadership challenges.

3308 days ago
Bradley Wiggins gets the New Year gongs headlines. But it is the CBE for the Wicked Witch that has caused early morning nausea chez Winnifrith. Cherie Blair has been honoured for her charity work both through the Cherie Blair Foundation and directly as patron of various good causes. Fair enough. But that the Wicked Witch had the time and money to do these things is a result of the vast earnings her husband the War Criminal makes from advising dodgy regimes across the globe and her own vast earnings as a lawyer profiting from the daft human rights legislation that she pushed for and the War Criminal passed into law.
It is thanks to "human rights" legislation that the War Criminal and the Wicked Witch drove through that Abu Qatada is spending Christmas in his luxury state funded house milking the benefits system. It is thanks to that legislation that murderers are going to get IVF treatment paid for by you and me. The list goes on and on.
The damage done to this country by the Wicked Witch is immeasurable.

3330 days ago
Whenever the words "breach of human rights" comes up your blood boils. Whether it is the terrorist who you cannot deport because it would upset the life of his family (a cat), the Somali pirate or Rwandan mass murderer whose 'uman rights would be compromised if he had to go back home to face justice or whether it is the thought of the wicked witch whose Chambers promoted this daft legislation and has grown rich on it, my blood always boils. Aaaagh Cherioe Blair what did we do as a nation to deserve you?
But now there is another oppressed and unloved minority whose human rights are, they claim, set to be breached. I refer to a group of men and women even less loved than that other great 'human rights beneficiary Abu Qatada. I speak of course of expense grubbing greedy MPs.
The expenses watchdogs wants MPs who used taxpayers cash to buy a second home to rent out to hand back any profits made over the past two years. I cannot see what is the problem with that. It was our (i.e. the taxpayers capital) that funded these entrepreneurial ventures, we should get the profits. About 70 MPs are affected and are now threatening legal action to stop this happening.

3464 days ago
I re-tweeted this a few minutes ago (thanks Mark Wadsworth) but if you are not on twitter it is an example of why you should be. If you are not following me please do @tomwinnifrith – the tweet sums up all that is worst in a Marie Antoinette way about the wicked witch.
She is a freeloading wife of a war criminal who has made millions thanks to daft human rights legislation he passed which makes life in the UK ever more miserable. Across the political spectrum she is held in complete contempt. As such, you cannot but laugh at this tweet:
"Cherie Blair likes the idea of her family becoming a "Kennedy style dynasty". So do I, but probably for different reasons."
Boom. Boom. If the wicked witch feels the need to talk about anything perhaps she might discuss the actual tax rate that her husband and she pay on their earnings. That, I really would like to hear.

3518 days ago
I am not an ardent monarchist. For a start I was brought up to support Ireland at everything. And at an intellectual level if we did not have a Monarch I cannot think we would create one. Except, of course that the alternative is an elected head of state – Queen Cherie Blair, King Trust Me Tony – I would not be a fan. But neither am I an ardent Republican. The Queen is devoted servant of her people, Prince Philip is a hoot and although he has a stack of daft ideas I cannot help but view Prince Charles as likeable. All seem good folk and I wish the whole family a great celebration. But can I really get enthused myself? No.