Conservative Party
195 days ago
I start with Mr Moulding who must be a decent chap as he gives vast sums to that beacon of integrity that is the Conservative & Unionist party. I discuss today's horrible statement from THG (THG).The incident should also see firings at the Mail on Sunday and Sunday Times but it will not.  I look at Omega Diagnostics (ODX) as it rushes towards a single figure share price and at Guild e-Sports (GILD), still a joke, notwithstanding today's statement.  Finally i look at the Sound Energy (SOU) bids for Lord Lucan's Angus Energy (ANGS) Will Lucan get any more lucky?

1358 days ago
The most wretched Prime Minister in the history of Britain continues to tour the TV and Radio studios to tell people that her deal gives Britain the Brexit we voted for.  Of course, that is a lie. We know it. She knows it. Everyone knows it. Her deal leaves the UK paying £39 billion to be governed by laws and regulations set by a body where we have no control.  It is indeed taxation without representation. Mrs May is playing George III and we know how it worked out for him.

3003 days ago
I cannot remember the last time we ran a caption contest but it is time to get back into the old routine, if only to keep Jon Pickles happy.  As such this week we feature the man formally known as Saint Gary of Barlow, a man who could do no wrong but now known as a bit of a Jimmy carr on the tax avoiding front.
Mr Barlow is an enthusiastic member of Call Me Dave's Conservative party in the mistaken belief that the spineless one was going to make the UK a low tax regime. I picture of the two men in happier times is your challenge.
Please post your entries in the comments section below by 9 AM Friday.
For what it is worth my entry is:

3101 days ago
Tim Yeo has been de-selected by his local Conservative association in the safe Tory seat of South Suffolk but of course it is not his fault is it?  Yeo is a member of the political class and so he knows better than we plebs.
This odious slug says that the shrinking membership of the Tories now has views which might make the party unelectable. Because of their "extreme" views on Europe and climate change they have got rid of him, a decent, hardworking, moderate compassionate conservative. It is hard to know where to start.

Yeo is famed at Westminster for trousering vast sums from green firms where he is a chairman, an investor or non-exec whilst at the same time pushing for ever more draconian policies (and taxpayer subsidies) to fight climate change. What he fails to appreciate is that:

1. Firstly this stinks as an arrangement
2. Secondly

3323 days ago
Go back to bed and take an aspirin, I fear that I find myself agreeing 100% with Nick Clegg who for once shows himself as a true liberal. Meanwhile the Tory party nauseates me. The issue is tax breaks for married couples.
Call Me Dave has already pledged to hand out £150 a year in tax breaks to folks who opt to get married. But some of his more reactionary colleagues in Westminster (step forward Tim Loughton MP and Peter Bone) want the number to be £2,000. The Tory party is split on how much should be handed out to one section of society who have made a lifestyle choice of which they approve but they wish to use money paid for by every sort of taxpayer to fund those who follow this moral path.
Clegg may support Secret Courts, gagging the press and various other appallingly illiberal measures but on this one he is bang on the money. Government should never seek to use money taken from all sections of society to bribe people to follow one lifestyle course of which they approve purely on moral grounds.
If I suggested that there should be tax breaks for those men who frequented gay bathhouses to have sex with complete strangers you would think me mad.

3351 days ago
You could not make this up…Call Me Dave's Conservative party is not having a good week. Patrick Mercer MP is caught taking bribes, there is the Downing Street Sex Scandal but it gets better. A Tory MP (named only as Mr P) and his wife ( Mrs P) are up before an industrial tribunal. Their former housekeeper was a lesbian who had just split up with her partner. She claims that Mr & Mrs P made explicit sex moves on her and wanted a three in a bed session in their South Coast home. She was not interested and is now suing for constructive dismissal in an industrial tribunal which is underway as I write.
In case there is a God, I am fervently praying that a) the housekeeper wins and b) Mr P voted against gay marriage and has made a stack of statements about personal morality, getting back to basics, etc. Whatever one says about Call Me Dave's Conservative party it is providing great entertainment at the moment.

3384 days ago
My father has already done his stint as part of the slick electoral machine of the Shipston branch of the party that wishes to block the deportation of Abu Qatada and now we sit back and watch the results come in tonight. To add interest we have six bets running. And it is at 5 Albanian Lekke a pop.

My banker is who will get a greater percentage of the popular vote: UKIP or the Lib Dems. The last national survey suggested the Lib Dems would get 14% and UKIP 22% just behind labour on 24%. I think it is pretty brave of anyone to admit voting Lib Dem but I suspect that even more folks are reluctant to admit to voting UKIP lest the local council snatch their kids or Ken Clarke accuses them of racism. So I sense the 22% might just underestimate the UKIP vote and so barring a miracle this is my banker bet.

I win 5 Albanian Lekke from my father.
I wish we had a bet on the South Shields by-election where the word is that both the Tories and Lib Dems will lose their deposits. Indeed there is a suggestion that the unofficial Monster raving Loony party (the one led by Nick Clegg) will in fact be beaten by the Official Monster Raving Loony party. UKIP will come second but I suspect a lot closer to Labour (in its safest seat in England) than it did in Rotherham.

How well UKIP actually does is down, I suspect to whether folks feel apathetic (Local elections do not count, all politicians are greedy sleazy tossers who ignore our wishes on everything, but I am off down the pub, staying at home waiting for the next Coronation Street star to be exposed as an alleged sex offender) or angry

3430 days ago
Cyprus has become the fifth Eurozone nation to get a bailout but this one is different. At the insistence of the Germans one condition of the bailout is that private citizen's pay and they will do so via a tax of up to 10% levied on all bank deposits in the Mediterranean island. This is pure socialism in action – the idea that the legitimate savings made by an individual as a result of fully taxed income can just be seized by the State. It is a horrific precedent.
For having established that the State can effectively seize whatever it wants whenever it wants you rather accept that you have no private property or savings. You can work your socks off, pay taxes to support those who do not work, save prudently so that you will not be a burden on the State or your family in the future and then one day the State just seizes your money. Heck why stop at 10% of bank deposits? Why not seize land, houses, etc.? The precedent is now there and this is an EU precedent.
David Cameron wishes to remain part of an organisation which thinks that State sponsored theft of private wealth is acceptable. I do not and nor, I suspect, do most British people. If the Conservative party and for that matter the Lib Dems and Labour support State sponsored theft that is fine they should be honest about it and we can all vote UKIP. But will the established parties stand up to the political elite in the Evil Empire and say

3443 days ago
Defence Secretary Philip Hammond has suggested that the Government should cut welfare rather than defence spending. That seems like the sort of thing a Tory should support. Why should our troops in whichever pointless wars they are fighting right now not have the best armour and bullets for their guns and not have to worry about getting a P45 if they make it home alive? And is not welfare spending (at more than three times defence spending) bloated?
Apparently not. A Downing Street spokesperson said: "The Government has already set out additional welfare savings. If new and specific proposals were to emerge, then they would need to be considered."
To which I say just two words: Heather Frost. A system that allows someone who has never worked to fund: the purchase and maintenance of a horse, flying lessons for her partner, the hire of a fairground attraction for her kid's Birthday party, etc is a system that is flawed. And every day we read of other Heather Frost type figures, perhaps not in the league of the Queen of welfare parasites but still living a life of fecklessness funded by the taxpayer. For the arrogant and out of touch elite who lead the Conservative party to say that they cannot cut welfare spending is quite simply pathetic.

3443 days ago
64 days ago I wrote of my visit, no pilgrimage, to Grantham, the birthplace of Margaret Thatcher, the most remarkable Prime Minister of the last century, if not of all times. Grantham is an unremarkable little town and it is Thatcher that is the only reason to put it on the map. Yet there is no statue to this great woman in the town and that is something Labour councillors wished to rectify. Yes, you read that correctly. Well done the people's party.
Yet when it came to the vote on a Tory run council not one conservative voted in favour of the idea. Are they ashamed to honour the greatest leader of their party and the most famous person from their town? Do they not appreciate the economic advantages of talking up Thatcher town in terms of attracting increased visitors? Or are they Call Me Dave Tories who would rather spend the cash on a statue of Tony Blair or a new centre for hosting civil partnerships/helping Romanian immigrants claim benefits/windmill on the town hall roof?
If you find yourself in the Grim North and wish to visit Grantham you too can – as I did nine weeks ago – stand outside the small corner shop where Lady Thatcher was born and grew up, with just one small plaque on the wall to note this fact. And if you see a local Tory councillor while you are there remember to kick his stick away and tell him why he is a total scumbag.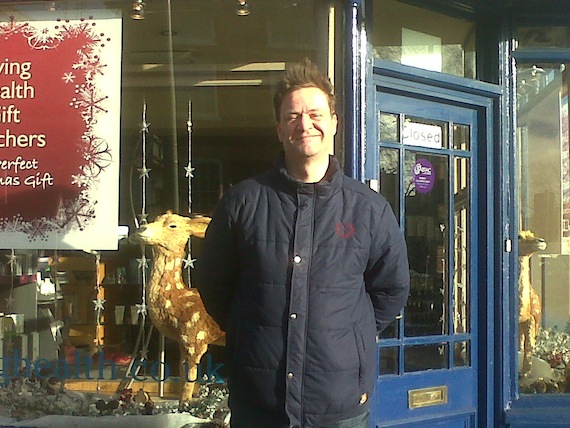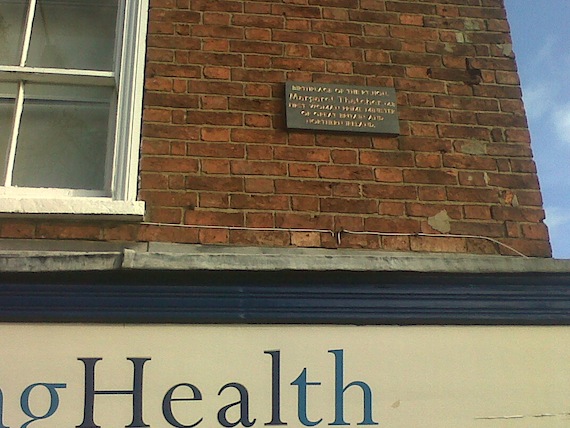 3458 days ago
I am not a UKIP member nor can my support be taken for granted – generally I despise all politicians and which they would just stop introducing laws and go away. And with that caveat I approach the looming by –election in Eastleigh with the conclusion that the ONLY sane and the ONLY honest vote is for UKIP.
The election is caused by liar and criminal Chris Huhne (Lib Dem) having to stand down because he is almost certainly heading for prison. In terms of Government and policy it will change nothing. We will still be ruled by this wretched Tory Lib Dem coalition and Labour will still be offering a principle free crackpot populist opposition. And as such an Eastleigh resident can vote with a clear conscience and on principle.
I start with why each of the candidates from the main three parties does not deserve to win a single vote before turning to UKIP.

3460 days ago
In the week that David Cameron decided that the middle classes deserve to be taxed twice so that the State can pay for care that folks are capable of affording themselves we have to honour the leader of the SDP, oops I meant Conservative Party. All he needs to do now is to start an illegal war or two and accept some dodgy donations to party coffers and he would be the true heir to Tony Blair.
I gather that "Don't blame me I voted for David Davis" T-shirts are now a collector's item. As folks increasingly wonder what exactly is the point of the Conservative Party I ask you to offer up captions for this picture. The winner will receive an "It's Time to Leave" T-shirt which you can also order (along with the mug & hoodie) here.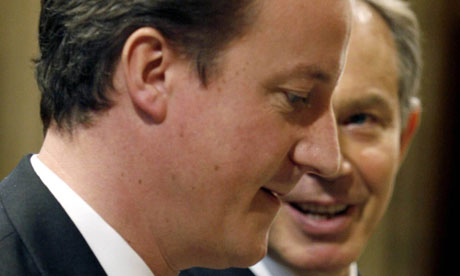 For what it is worth my caption entry is:

3472 days ago
Apologies for the delay in the Friday caption contest – it is all Zak Mir's fault.
I really cannot think of anything particularly important to prompt tasteless caption entries this week and so fall back on the issue which George Osborne says will be at the heart of the next Tory manifesto and which is guaranteed to bring the faithful back to the Conservative fold.
As you know, I would allow gay marriage. But I cannot say that it is the number one issue on my mind right now. The way that the Tory party is tearing itself apart with half its MPs revealing themselves as knuckleheaded bigots while the other half show themselves as being even more out of touch by making this such a number one priority is almost comical. If the Tories are to tear themselves apart at least they could do it over something that matters like the EU or the fact that Britain is going bankrupt.
Anyhow, to win an "It's time to leave" T-shirt please post your captions in the comments box below (Jon Pickles, this has to be an easy Prince Harry one for you)
You can, of course, buy your own It's Time to Leave T-shirt, hoodie, mug or thermos flask here.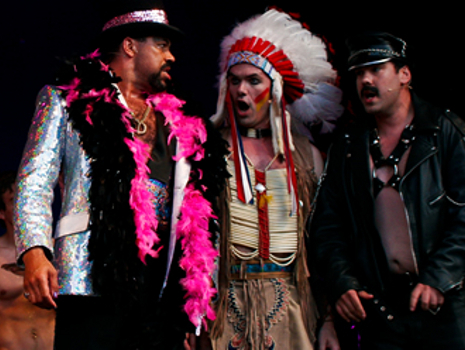 For what it is worth my entry is:

3472 days ago
Nick de Bois is a Conservative MP who I had never heard of until he popped up on my TV screen yesterday expressing his disappointment that there were to be no additional tax breaks handed out to married couples as a trade off for the Tories allowing gay marriage. His argument was that tax breaks should be given "to those who really need it" – married couples. What a loathsome bigot.
The State should not be in the business of using the taxes paid by all of us (whatever our personal state of affairs), to reward those whose lifestyles it approves off (i.e. married folk rather than those who opt to remain single or co-habit). There should be no financial bonuses for following one moral code rather than another.
Moreover it is patently NOT married couples who most need tax breaks. Those who most need tax breaks (in fact taking out of the tax system altogether) are low earners as that makes work rather than welfare a more attractive option. Increasing the gap between those who opt to work on low incomes rather than living off the state should be the focus of change in the tax system. Whether low earners are married or not is irrelevant. And why should high earners get a break just because they follow a lifestyle approved by moral gauleiters such as Nick de Bois MP?
That this horrible little man thinks that concessions need to be handed out to get him to support gay marriage says it all, about him. As long as it effects no third party in an adverse fashion folks should be allowed to do what they want and in terms of sexuality that means that gays should be allowed to get married, go to bathhouses or whatever. It does not float my boat but it should not be up to me, the State or the loathsome de Bois to dictate acts of personal choice.
Nick de Bois MP you are a loathsome bigot. And an economic illiterate to boot.

3477 days ago
It is quite clear that, as things stand, anyone in Romania or Bulgaria will be able to celebrate New Year's Day by coming to live in Britain. We are after all brothers in arms in the EU. Given that the average net wage in Romania is £275 a month, with many earning far less, while in the UK families can trouser up to £500 a week tax free on benefits you do not need the brains of Lloyd George to see what is going to happen next. Yet our political elite seem either not to care or not to have an answer and so they resort to lies and smears.
Is it unreasonable for you and I to object to the idea that Romanians and Bulgarians will in very large numbers make a sensible economic choice and move to the UK? Are we racists for objecting? Of course not. The fact is that the UK has mammoth debts and is running a huge budget deficit. So having to pony up vast amounts in benefits for folks from out East is beyond our means. We cannot afford it. This is not an argument about race simply basic economics. Britain is going bankrupt and this could accelerate that process.

3490 days ago
Jo Swinson is a Lib Dem Business Minister who is also an equalities minister. Unlike most politicians she has actually worked in the private sector – as a PR person for a local radio station before becoming an MP at the age of 25. Based on that vast experience of the needs of business she has come up with a cunning wheeze to make life ever more miserable for employers with yet more red tape. Just what the company doctor ordered. And it seems that this is coalition policy. Were the leader of the Conservative Party someone whose Dad ran a corner store and whose husband ran a series of companies rather than a pampered suit who did a brief stint in PR before becoming a professional politician, Swinson would be told where to stick her daft plans but that was before Call Me Dave made his party a "nice" party.
If Swinson gets her way, from next year all employees (not just those with kids) will be able to request the right to work flexible hours and cannot be denied unless the employer can show a clear business need. The silly woman

3496 days ago
It is reported that speaking on radio 4 today, Tory MP Andrew Bridgen said that for many MPs choosing to live on an MP's salary meant "foregoing Christmas presents for their children". An MP earns £65,378 a year. Plus expenses. The less said about that the better. The average male salary in the UK is c£30,000. The average woman earns £24,000.
Either MP's kids all ask Santa for Porsches every December or Bridgen is a totally out of touch tosser. Enough said.

3504 days ago
I have consistently advocated that the UK scrap its entire foreign aid budget on dual grounds. Firstly Britain is almost bankrupt and we cannot afford to be generous. And secondly foreign aid never helps those it is meant to help, it is merely a transfer of wealth from poor folks in rich countries to (the Swiss bank accounts of) rich people in poor countries. You can check out a couple of my pieces on this matter HERE. and HERE. to show that I am not exactly new to this subject. But today comes a damning report on this matter from the think tank Civitas. It is not the conclusions which are worth noting (they are hardly surprising) but what it says about the gaping gap between our political and media elite and the rest of us. You and I. The plebs.
The Civitas study shows that our foreign aid budget which is set to increase by 30% this year as spending on so much else is pared back, does not actually help poor people on the ground. That is damning. But more damning

3506 days ago
And so I found myself in the grim North this morning and being just down the road from Grantham thought that I would pay a visit to the birthplace of Britain's greatest Prime Minister. I cannot say that I see much to take me back to Grantham. Baroness Thatcher was born above the corner store owned by her father Alderman Roberts. It is a couple of hundred yards away from the town centre but not on the posher side.
These days the store sells holistic nonsense as you can see in the photo below. What strikes me is just how small it is. Thatcher was a leader born in truly humble surroundings. A small room, above a small shop, in a "secondary" part of a small town. When she suggested that others pull themselves up by their bootstraps she knew what that meant as that is exactly what she (and I imagine her father) did themselves. Her background made her the great leader she was. Just like Call Me Dave's background made him, er……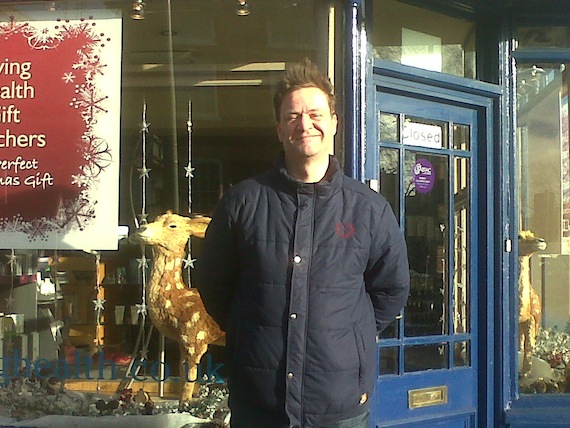 The fact that the person who not only became our first female PM but was without doubt the dominant figure post WW2 in British Politics was born in this town is almost unmentioned. That is to the eternal shame of whichever tossers are in charge of the town. All one can see

3518 days ago
The feeble party of Government is today making great play of how it has frozen bank accounts containing £217,000 belonging to bearded Islamofascist terror lover Abu Qatada, saying it will try to reclaim the cash to get back some of the costs the feeble party of Government has incurred trying to boot Abu out of the UK. Let us hope that it is more successful getting the cash than it has been with the extradition. However, this attempt at hard man PR by the Conservatives does not wash as it begs yet more questions. Viz:
1. How much taxpayer's cash will be spent on a new legal challenge to recover this paltry amount? I.e. what is the anticipated net return?
2. If Abu is sitting on £217,000 cash why the hell does he get a) legal aid – costs to date c £500,000 and b) free luxury housing for him and his family and c) welfare payments for him and his ghastly family.
The welfare system is meant to be a safety net for those between work – not a way for those with hard cash to preserve that cash as they do not work. But then in Bankrupt Britain anything goes, I guess.
Might it not be simpler simply to cut off Abu's supply of free housing, welfare and legal aid. Unfreeze his bank accounts. If he chooses to send that cash off to Hamas or Al Qaeda rather than spend it on housing and food for the kids that is fine. Then he and his family can starve and freeze to death. That is all part of the idea of taking responsibility for your own actions. Do you think that anyone would care?

3530 days ago
I was tempted to try to find a caption to reflect today's news from David Cameron of his new flagship policy to reach out to address the key concerns of hard pressed middle England in these austere times. That is to say, allowing gay marriages in Church.
Having won such praise for our last caption contest featuring the Butcher of Londonderry I considered that in this season of goodwill we revisit Ulster which is still part of the United Kingdom but where, in an act of pure sectarian malice designed to provoke, the Union Flag will not now be flown over City hall in Belfast except on special occasions. If there is a problem what do you do? Send for an O'Clinton of course. The family that has brought peace, love and happiness to folks in Iraq, Syria, Egypt, Libya and the Lewinsky family, can do anything and so the vile Clinton woman met up with Martin McGuinness ( who must have been gutted that the EU rather than he won the Nobel Peace Prize) to sort it all out.
But I cannot think of anything funny to say about McGuinness any more. And so I fall back on the Doha Climate Change conference where Dave Cameron came up with another big vote winner: give two billion quid to African dictators to build wind farms to tackle global warming.
In light of this I ask you for your captions for this photo taken today. To win one of our "It's Time to Leave" (the EU) T-shirts (which you can buy here.) please post your entries in the comments section below to this picture:
My entry is:

3534 days ago
Memo to Ed Balls & George Osborne: watch and listen to this inspiring video of Margaret Thatcher at the 1983 Conservative Conference: "Someone has to add up the figures, every business has to do it, every housewife has to do it, every Government should do it and this one will."
"There is no such thing as public money. There is only taxpayers money"
Sadly a lesson lost on Balls & Osborne.
"The state has no other source of money other than money that people earn themselves"
"Prosperity won't come by inventing more and more lavish public expenditure programmes"
"You don't grow richer by ordering another chequebook from the Bank"

3540 days ago
The Daily Mail has its knickers in a twist about how young hard working couples cannot afford to get on the housing ladder without help from middle aged hard working parents ( er…Daily Mail readers). The Council for Mortgage Lenders says action is needed. And the Conservative Party panders to this anger saying the situation "is not right". There is a hint ( to appease Daily Mail readers) from some shit for brains housing minister, Grant Prisk, that the Government will take steps to address the "problem". They are all wrong – they promote a ponzi scheme because it is popular to do so.
That young folks cannot "get on the housing ladder" is undeniable. That is because a) the banks will not lend unless you have a hefty deposit and b) prices ( in terms of price to income ratios) are by historic standards and in absolute terms too high.
Given that prices are too high it is exceptionally prudent of the banks to require steep deposits and having done their conkers on more or less everything they touched it is in no one's interest (least of all the taxpayer who actually owns most of the banks) to force or bully them into making reckless loans in this area too.
So the only way to address this problem is for house prices to fall.

3554 days ago
What the hell is a Conservative Party MP doing writing in the Guardian? Surely he must be aware that sister paper of the BBC is the spawn of Beelzebub? Apparently Jake Berry, who represents Rossendale & Darwen ( where is that?) is happy to sup with the Devil and has published a long piece arguing that the Government should ensure that those living in Social housing get access to broadband at low – or even no – cost. Er….
So let me get this straight Jake: you and I work hard (well you are an MP but I will give you the benefit of the doubt) to earn money on which we pay tax so that folks living in housing subidised by those taxes, usually entirely dependent on benefits paid for by those taxes, now get to play computer games on the Internet all day thanks to my taxes as well. Fab. Sounds like a really great idea. Not.
The moronic Berry opines

3554 days ago
Post the defeat of Romney it was inevitable that "modernisers" within the Tories would draw the conclusion that the way to win in 2015 is to be more socially liberal. And so today George Osborne insists that the "nice" Conservative Party will put gay marriage at the centre of its next election manifesto. Oh saints preserve me. I think I am emigrating.
As a social liberal I actually support gay marriage as well as legalising drugs and a whole raft of other measures which would horrify traditional Tories. If gays want to sign up for marriage with a one in three chance of an acrimonious divorce to follow why not allow them that right? But do I really regard it as a key issue? Does anyone outside certain metropolitan circles (where they are never going to vote Tory anyway) regard it as a key issue, one that should be central to a manifesto? I doubt it.

3557 days ago
I think I got the sound and the video right this time. I have been thinking in the New Year that I might start doing two short daily audio reports on a) the markets and b) life in general – the world, the evil State and the Evil Empire. I am investigating the technology. Whaddya think?

3560 days ago
The Tory paedophile scandal (with Labour to follow) will dwarf that of the Savile affair if it is shown that senior political nonces were let off the hook as part of an establishment cover up. There has been no sign from senior Tories, as they express their faux outrage and shock, (having known all the stories for years) that they will deal with this. The grim truth will have to be dragged out from them.
As I pointed out yesterday the media and political establishment have known for years about the rumours now spread widely across the internet and have at best turned a blind eye to protect "their own" or at worst actively engaged in a cover up. You can read that piece HERE.

3561 days ago
And so in today's chapter of paedogeddon Home Secretary Theresa May and PM David Cameron claimed to be disgusted by the allegations made against a senior Tory of the Thatcher years ( who everyone now knows the name of but we cannot say) and a new enquiry into events in North Wales children's homes has been ordered. Over at the BBC an enquiry is underway into allegations made against arch nonce Jimmy Savile and 29 others, some of them celebrities. The Old Bill has very publicly dragged Gary Glitter and Freddie Starr in for questioning and claims that other celeb arrests are imminent. Suddenly the establishment is desperate to be seen to be outraged, shocked and doing something.
It just does not wash. This is faux surprise, faux outrage and bandwagon mounting par excellence but I sense that no-one really believes any of it any more.

3562 days ago
Since Newsnight bottled it last week and refused to name high profile Tory was an alleged paedophile abusing boys on North Wales (still alive so he might sue) new media has done its worst. As I predicted.
If you are one of the few folks in the UK who does not know his name I challenge you NOT to be able to discover it on Google within five minutes. I have seen several tweets today

3564 days ago
Last night Newsnight said it was going to expose a top Tory who was a serial and active paedophile. But it did not name him. Well as it happens we all know of one dead senior Tory (Peter Morrison) and most of us know a far more famous dead leading Tory in this camp. As for the one still alive: I do also know at least one name but in paedo-obsessed Britain no doubt others will emerge. I say will emerge … they are already out there.
I have just been sent a link to a blog outing 4 senior Tories as part of a paedo-ring. I have no intention of landing in Court over this since I am 99% sure that at least two of those named are 100-% innocent but you can find it without too much bother if you wish. Meanwhile #Newsnight on twitter throws up a few other candidates for this week's Jimmy Savile prize, Westminster edition.

3566 days ago
Figures out today show that Ken Clarke's sentencing reforms will mean fewer criminals going to prison. No surprises there. Predictably this has not gone well anywhere, except in what we should probably refer to as the "criminal community." Soft on crime, soft on the causes of crime. That was Ken Clarke. But this is not about bashing the old Euro-loon. It is the comments from the Ministry of Justice about this which are the real hoot. A true exercise in Orwellian Newspeak.

3566 days ago
Sir George Young is the new Government chief whip. As it happens I know a bit about him as he is also my second cousin once removed and, rather more importantly, brother of my step mother Helen. And I see that he is now a founder member of a new group of Tory MPs which wants to "reach out" to "blue collar" Tories. The sort of people Young's predecessor Andrew Mitchell might have described as "plebs." Young's qualifications?
Born in a stately home at Cookham, like his grandfather, father and brother he went to Eton then

3582 days ago
I first recommended door to door and auto credit provider S&U (LSE:SUS) at 582.5p. Following half year results announced on 26th September, the shares now trade at 910p but along the way the company has also paid out dividends of 207p making a total return to date of 92%: those who follow me have almost doubled their money. But there is more to come and I reckon that this stock is worth holding up to £12 and here is why.

3625 days ago
I saw an advert for Christmas goods yesterday – that is 1st September. It strikes me that Christmas is still rather a long way away. Do I win a prize for the earliest Christmas spot of the year? Or did someone pick up on something in August?
Meanwhile I see that the gap left by the imminent retirement of Louise Mensch MP for the "thickest Tory politician" is rapidly being filled by Tory Party chairwoman Baroness Warsi. I do not know much about this frightful creature and what she has ever done outside politics apart from the fact that she plays the professional Northerner. From what I can see she has not really been a great party chairperson and is now pleading to keep her job because she can "reach out to women, ethnic minorities and Northerners" and so help Call Me Dave with the next election.