Fat Frank Lampard
3278 days ago
Losing to Liverpool is not really a shock. But surrendering from the opening whistle as West Ham did is not impressive. Fat Sam Allardyce has apparently once again used the word "unlucky" in relation to this latest humiliation. What planet is he on?
Liverpool attempted 36 shots during the game. In a sense they were unlucky. It could have been 8-1.

The only bright spot is that Kevin Nolan was sent off and so misses our next three games. He is having a dire season. The way the other results panned out yesterday and our abject form and tough set of fixtures ahead leaves me with a fear that come New Year (or even sooner) West ham could be bottom of the league with Fat Sam 

3544 days ago
My daughter is finally getting the hang of supporting West Ham. She has assessed this afternoon's game and declared that West Ham has a "2% chance of winning." She may be a tad harsh but she is at last grasping the reality of being a West Ham supporter. We can all fantasise about Fat Frank being sent off, Joe Cole scoring a last minute winner for the Irons on his return to The Bridge, etc, etc. If we win we are on 36 points and within one victory of pretty much certain safety. Yeah, yeah, yeah.
But while we may have turned Chelski over at Upton Park, West Ham's away form this season has been dire. 9 defeats on the road is as bad as QPR and only Reading has lost more often away (12). Chelski has an 8-4-2 record at home and after today the odds are that it will be 9-4-2. There is simply too much of a gap in class between the big sides and West Ham. We might get the odd result but that is it.
After Ireland's humiliation yesterday I'd to think that God owes me one and will allow me some joy today. If he is reading I will settle for a goalless draw and Fat Frank sent off. How about that God? But I do not think God owes me one. I fear that my weekend of sporting misery will continue from 4 PM today. I cannot bear to watch.

3601 days ago
I have looked at the table from the bottom up since the start of the season. If you have been a West Ham fan long enough that is your routine. And gradually that exercise has taken less and less time. Today's game is a match we really must win.
QPR have new signing Remy but are not that good. Rednapp has started to turn things around but on 14 points from 22 they have just 16 games ( of which four are against big name clubs where they will secure nil points) to get to 40 and safety. In effect they have 12 games left to secure 26 points. Thus QPR have to win today. I really hope they do not. West Ham's financial woes started with 'arry's ludicrous transfer wheeling and dealing which ultimately did not benefit the club. Who did benefit? Answers on a postcard to a luxury mansion in Dorset. 'arry then went to the Scum. He is uncle to Fat Frank Lampard and that gives me three good reasons to hope that QPR join Reading in heading back to the Championship.
West Ham are on 26 points. So we have only another 14 points to bag to be (probably) safe and 17 to be safe beyond doubt. Wigan, Reading at home, Southampton and Villa away and …QPR at home are the games I am sort of banking on. But the fact is that our recent form (bar the home cup match vs Man United) has been piss poor. I hope Joe Cole plays and we might get a result. But I am getting increasingly nervous.
I shall comment on managerial change at Southampton later. But even the most blinkered Fat Sam Allardyce fan must now accept that this is not a season to be proud of. League cup disgrace,

3606 days ago
It was a great 45th and rounded off with this present in the picture below. I have been wearing it ever since Saturday (even in bed). If you are no au fait with soccer, West Ham is known as The Academy becuase while other clubs buy in talent we nurture it.
So when West Ham won the World Cup in 1966 the backbone of that side (Hurst, Moore & Peters) came through The Academy. Today's West team contains graduates like Noble, Tomkins, Collinson, Cole (J) and the younger Potts & Moncur boys. And elsewhere in the Premiership academy graduates include Fat Frank Lampard, Rio & Anton Ferdinand, the well known multi-cultural awareness campaigner Mr Terry and Michael Carrick.
A great present.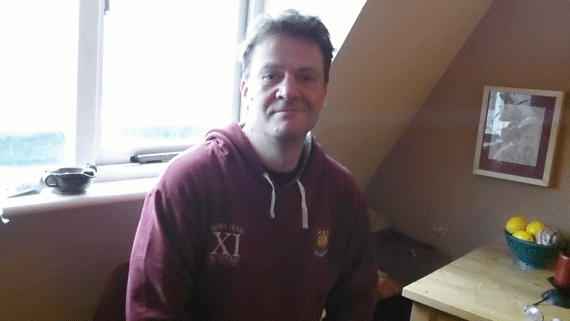 3616 days ago
Yossi Benayoun has not flourished in his second spell at Upton Park and so has returned to a career sitting on the bench at Chelski. I wish him well but in terms of who is coming back to Upton Park I could not be happier, it is Joe Cole, a midfielder who can run with the ball, pass and who will add both skill and also attractive play to the side. We now have genuine options in the middle of the park.
I remember a bloke who sold flowers outside Finchley Road tube station telling me about his nephew who was a 15 year old at the Academy and who would be better than Rio, Fat Frank and the others of that era. That was Joe Cole. Unlike the others Cole was not keen to leave Upton Park in the years we struggled. And this week he could have gone to rejoin 'arry at QPR but instead came home. Of course that is largely as Redknapp himself admitted – because Rangers will, notwithstanding the Chelski result, almost certainly still go down in May.
But Cole has always been liked by the supporters. And he clearly regards West Ham as his home club – we must hope that he plays out his career in East London. In signing him, the board shows that it has ambition. This does not change my view that Fat Sam Allardyce needs to go in May and di Canio also needs to come home as manger. But it means that the next few months should not be quite as grisly as I had feared.