Gordon Brown
2203 days ago
The loathsome Margaret Hodge has put down a motion of no confidence in comrade Corbyn as leader of our great Labour party. It is obscene that a millionare, whose family trusts use every trick in the book to dodge tax, and who as leader of Islington council branded as homophobes those who exposed the industrial scale peadophilia taking placing in Council homes on her watch, is a Labour MP at all. What message does that send out to the millions of traditional Labour voters who are abandoning the party in droves? Anyhow, the nonce apologist, is now playing Judas.

2215 days ago
You rather know that those in Project Fear are panicking when they switch their lead spokesman from Dodgy Dave Cameron to ex PM Gordon Brown at this late stage in the polls. That would be the same Gordon Brown who sold all our gold at the lowest possible price, who trainwrecked the economy as PM and who, in his disastrous only election campaign as leader, went around calling nice little old ladies bigots. Yes it is that Gordon Brown.
In footballing terms It is like swapping an injured Wayne Rooney for Venessa Feltz

2330 days ago
During every period of market nerves there are calls by the crooks and the fools to ban short selling. But does this go far enough. Back in 2009 after the last global financial crisis (which Gordon Brown managed to solve) Benjamin Dover took this matter to its logical conclusion and explained to the SEC why the answer was to ban share selling altogether. What a genius...Ben writes:

3083 days ago
The man who worked alongside Gordon Brown so closely to help make the Nation's finances so sound, Mr. Ed Balls has this weekend outlined his plans to sort out the nation's finances. They are risible needless to say, and will be covered in this week's Tomograph (going out Monday AM) which you can register to receive HERE..
But if you would care to win a voucher giving you 50% off your bill at  our new wine & tapas bar Maribelle' for a party of up to 4, when it opens in eight days please supply a caption for the picture below showing one person with only a basic grasp of economics and also a young five year old girl. Post your entries in the comments section below by Friday at noon




For what it is worth my caption is 

3316 days ago
No winners from last week's contest. Let's hope for more inspired entries this week.  And on that matter as I see I am being bashed on twitter for suggesting that we do not give EVEN more money to the world's third largest employer because the UK Government has so much to spend I come to Mr Ed Balls, MP.
Apparently Ed reckons that the last Labour Government was not profligate and is now starting to outline his vision for how he will bankrupt Britain within five years starting 2015. Sorry, I meant to say: how he will like Gordon Brown be prudent and manage the Nation's finances responsibly.
And so here is the picture. Post your entries in the comments section below by 9 AM next Friday.
For what it's worth I am torn between
"Crook and bigot, Sir Patrick Mercer dreams about his remaining two years as an honourable member of parliament"

and

"Islamofascist Hate preacherAnjem Chowdary offers praise to the source of his £25,000 a year tax free lifestyle package"

and

"Ed Balls takes advice from Tom Winnifrith's deluded lefty partner and assures us that Labour's spending plans are fully costed"

3470 days ago
If there are any readers of the tax dodging, paedophilia endorsing, Argie loving Guardian reading this blog they may enter this week's caption contest if they wish. But I warn them now that entries such as "brave anti imperialist campaigner President Fernandez is awarded a prize for delivering economic success by following the teachings of Ed Balls" will not win.
I am sure that regular readings can come up with better captions to the picture below. The most apt caption will win a Piss off Argentina T-shirt.
I know that two readers (Jon and Chris) were wearing their shirts with pride today as was I. If you wish to buy your own T-shirt ( or mug) you can do so at my online store here.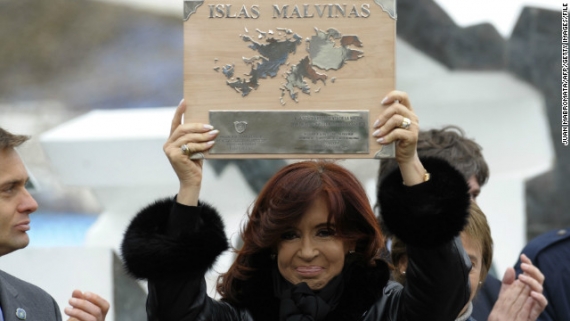 For what it is worth my entry is: " Following her successful implementation of an economic policy devised by the Greek Government Argentine President Fernandez is handed a one way plane ticket to a destination selected by her adoring public back home."
I am sure you can do better. Post your entries in the comments section below.
Last week I asked you for suitable captions to a picture containing a photo of Britain's two least wanted men.

3478 days ago
The special relationship between Britain and America is under its most severe threat in decades. Stateside, a petition calling for Piers Moron to be deported has garnered enough signatures for President Obama to have to consider it. The world's most hopeless chat show host, self-confessed phone hacker and "lucky" share punter during the City Slickers affair points out that 99% of Americans have not signed the petition. Alan Sugar responded on twitter by saying that those were the people who had not heard of Morgan.
But as this petition grows in size daily, other petitions are springing up demanding that he not be allowed back into Britain. The grounds seem unclear other than the fact that he is a loathsome human being and we would be better off without him.
I would just about consider an Abu Qatada Piers Morgan a good deal for Britain but it is pretty marginal. Perhaps if America agreed to take Russell Brand as well?
In order to win an "It's Time to Leave" T-shirt I offer this picture of two grinning gentlemen. On is a proven loser with no friends very occassionally seen in the House of Commons. And so is the other.
Please post your entries in the comments section below.
You can of course buy your very own "It's Time to Leave T-shirts, hoodies, sweatshirts, coffee mugs and Thermos flogs in my online store here.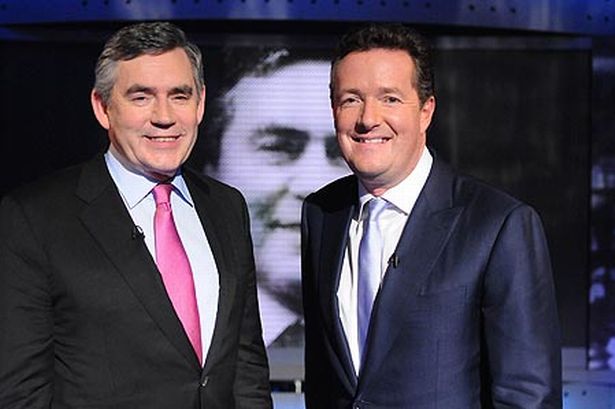 For what it's worth my entry is:
Brown: " I'd like to replace the £9 billion I lost on bullion sales and you say you know Britain's best gold digger – can you get Ms Mills' telephone number for me?"
Last week I asked you for captions to this picture: