Joe Cole
3713 days ago
Given West Ham's dire form of late I have only just plucked up courage to look at the result on the internet. I was assuming the worst away at Spurs given that, much as I hate to admit it, they are a good side. But blow me down, three nil at White Hart Lane. I was naturally straight on the phone to my daughter to discuss the matter. She has a friend at school who is a diehard Spurs fan and so "shall we sing a song for you?" We ran through a couple of ditties* for her to use for torment payback.
Fat Sam says it was his best result as West Ham's manager. For today at least I shall not argue with him. Beating the scum away is not something that has happened in 14 years and even the Mrs, who has learned how to ingratiate herself with my daughter with the phrase "my favourite player is Joey Cole" but is not entirely up to speed on life on Green Street, appreciates that this is big. 
We had thought that Downton Abbey would be our TV highlight of the day but we can safely say that MOTD 2 is now going to be even better.
It was one of our numerous Wedding vows that the Mrs promised to attend at least two matches a year at Upton Park and until today I was rather nervously looking at fixtures where – sans Andy Carroll – we had a half chance of nicking a point. Flushed with renewed optimism, as I am sure the entire Squad will be, I think I now have a far wider choice of games to choose from. Bloody hell, even the hitherto useless Vaz Te managed to remember where the goal is and netted one. What a day.
It is hard to find any minus points from today's game which was a deserved win. That Defoe was not sent off ( not for any offence but just for being Judas) is, I suppose, a source of regret but is irrelevant compared to the joy of winning this particular fixture. If you had to win just one game all season this would be it. But after this match (actually our second league win) there are going to be a heck of a lot more three pointers on the way. 
*For the avoidance of doubt, the ditties discussed did not include ( for two reasons) "we'll be running round Tottenham with, etc etc,etc."

3749 days ago
I really did not enjoy my visit to Upton Park today. West Ham looked dreadful in every part of the park. Stoke are not very good but at times they were made to look like Brazil. This one of the worse West Ham performances I have seen under Fat Sam Allardyce. Striker Maiga makes me wish we had kept Carlton Cole – he was absolutely no threat whatsoever. Without Joey Cole there seems little inventive flair. Without Andy Carroll not chance we can score.
No doubt the travelling platoon of away supporters (including Comrade Rowley of this parish) will be celebrating with cheap lager in the Cultural Quarter of Stoke when they get back to the grim North tonight. They will have few easier games this season.  One nil was if anything generous on an utterly woeful West Ham side.
Tomorrow has to be a better day for me

3827 days ago
I truly dithered about this one but already I find myself looking forward to a new season at Upton Park. I guess it is like dating. You break up with your bird (not that I have, as far as I know) after 8 months of pain and anguish. You were not having fun for a lot of the time and frankly sometimes she was just taking the piss with the sheer misery she inflicted on you. And she was pretty expensive too. Having a season ticket at West Ham can be like being forced to spend most Saturday afternoons heading round a shopping centre being forced to buy new clothes for the bird or worse still for you and then afterwards having to go to some overpriced vegetarian, alcohol free restaurant. The sheer misery of it all is interrupted only briefly when you find a new Ramones T-shirt to buy to add to the collection. But it is a rare moment of joy.
I stress that my partner inflicts none of this on me but I know that some birds regard that sort of thing as fun. And watching West Ham, knowing that you have forked out £650 for a season ticket can be like that.  Jeepers. Losing at home to Wigan in the Carling Mickey Mouse Cup. That was torture. The game at Reading on 29th December will long stay in my mind as a masterclass in making a ninth rate team look like Brazil.  But: You are my West Ham, my only West Ham you make me happy when skies are grey you'll never know how much I love you until you take my West Ham away.
And so after you split up with one bird and enjoy a short break of freedom, of being allowed to wear clothes with holes in them and of being able to wash up dishes before you eat rather than afterwards, what do you do?

3904 days ago
Noble injured but Cole J. and Nolan back( as well as Linda!) I think I can live with that trade. The Premiership table is fascinating. I think we can now assume that Reading and QPR are down (23 points – 8 games to play. But the third team to go down? Wigan are on 27 points with 9 games to go and Fulham are in 10th on 36 points and 8 games to go. In theory any one of the 9 teams between Fulham and Wigan (including West Ham on 33 points with 9 games to go) could be going down with the Redknapp.
West Brom are safe (44 points), have lost their early season blinding form and have nothing to play for any more: no hope of Europe and no fear of relegation. Without that blinding start to the season West Brom would be fighting it out with the rest of us – its recent form should not drive fear into the hearts of the Irons. And so today who knows what will happen? If West Ham play as they can with Nolan offering steel and Cole flair we win. If West Ham play as we can (away at Reading or Wigan) it is 3 points for the baggies. You just cannot call this one.
A win and I would start to feel half safe. My instinct is that with a GD far better than Wigan and Villa (30 points) 39 points should be enough to stay up. We still have Reading and Wigan at home and Southampton away all of which are winnable games but I'd rather that we did not go into May 19th having to beat an already relegated Reading at home in order to ensure survival.
I pray for 3 points, going into April in 11th place and one win away from safety. My head tells me that 1 point would be a satisfactory and a not surprising result. COYI

3917 days ago
My daughter is finally getting the hang of supporting West Ham. She has assessed this afternoon's game and declared that West Ham has a "2% chance of winning." She may be a tad harsh but she is at last grasping the reality of being a West Ham supporter. We can all fantasise about Fat Frank being sent off, Joe Cole scoring a last minute winner for the Irons on his return to The Bridge, etc, etc. If we win we are on 36 points and within one victory of pretty much certain safety. Yeah, yeah, yeah.
But while we may have turned Chelski over at Upton Park, West Ham's away form this season has been dire. 9 defeats on the road is as bad as QPR and only Reading has lost more often away (12). Chelski has an 8-4-2 record at home and after today the odds are that it will be 9-4-2. There is simply too much of a gap in class between the big sides and West Ham. We might get the odd result but that is it.
After Ireland's humiliation yesterday I'd to think that God owes me one and will allow me some joy today. If he is reading I will settle for a goalless draw and Fat Frank sent off. How about that God? But I do not think God owes me one. I fear that my weekend of sporting misery will continue from 4 PM today. I cannot bear to watch.

3952 days ago
For once West Ham are spoiled for choice. Andy Carroll, Mo Diame are fit and on fire. The starting eleven almost picks itself but – and I never thought I'd ever write this – there is competition among top class players to just get on the bench as an attacking player. Carlton Cole gets the nod but Maiga is back from Africa Cup duty and Wellington Paulista has scored three in three for the U-21s. It is an odd position to be in.
The last time I was at Villa Park was for that memorable John Lyall FA Cup Semi against Middlesbrough. The week after the great man died the crowd was asked for a minute's silence. The ref's whistle blew and you could have heard a pin drop. Suddenly someone shouted out "Johnny Lyall's claret and blue army. For a second there was shock & silence. Then everyone was chanting along. It was truly emotional and of course we won the game ( Marlon Harewood goal). The video below recaptures what was a spine tingling moment.
After the game, I headed back to the station in a cab shared with three Middlesbrough supporters and my old friend Derek Musgrove.

3974 days ago
I have looked at the table from the bottom up since the start of the season. If you have been a West Ham fan long enough that is your routine. And gradually that exercise has taken less and less time. Today's game is a match we really must win.
QPR have new signing Remy but are not that good. Rednapp has started to turn things around but on 14 points from 22 they have just 16 games ( of which four are against big name clubs where they will secure nil points) to get to 40 and safety. In effect they have 12 games left to secure 26 points. Thus QPR have to win today. I really hope they do not. West Ham's financial woes started with 'arry's ludicrous transfer wheeling and dealing which ultimately did not benefit the club. Who did benefit? Answers on a postcard to a luxury mansion in Dorset. 'arry then went to the Scum. He is uncle to Fat Frank Lampard and that gives me three good reasons to hope that QPR join Reading in heading back to the Championship.
West Ham are on 26 points. So we have only another 14 points to bag to be (probably) safe and 17 to be safe beyond doubt. Wigan, Reading at home, Southampton and Villa away and …QPR at home are the games I am sort of banking on. But the fact is that our recent form (bar the home cup match vs Man United) has been piss poor. I hope Joe Cole plays and we might get a result. But I am getting increasingly nervous.
I shall comment on managerial change at Southampton later. But even the most blinkered Fat Sam Allardyce fan must now accept that this is not a season to be proud of. League cup disgrace,

3979 days ago
It was a great 45th and rounded off with this present in the picture below. I have been wearing it ever since Saturday (even in bed). If you are no au fait with soccer, West Ham is known as The Academy becuase while other clubs buy in talent we nurture it.
So when West Ham won the World Cup in 1966 the backbone of that side (Hurst, Moore & Peters) came through The Academy. Today's West team contains graduates like Noble, Tomkins, Collinson, Cole (J) and the younger Potts & Moncur boys. And elsewhere in the Premiership academy graduates include Fat Frank Lampard, Rio & Anton Ferdinand, the well known multi-cultural awareness campaigner Mr Terry and Michael Carrick.
A great present.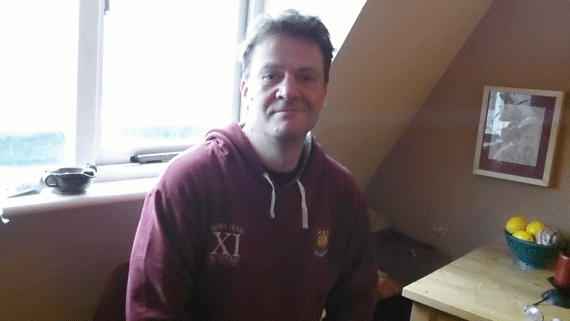 3987 days ago
It is a 5.15 kick off so for now I can relax and look at how the other games are unfolding. I was chatting to a Newcastle supporter yesterday and the mood at whatever the stadium is called these days must be very bleak right now. On 20 points in the league (just two points above third bottom Wigan) and today out of the Cup thanks to Championship side Brighton. The side has injuries, its best player has just gone to Chelski ( and scored already) and I suspect that West Ham old boy Alan Pardew must – at the back of his mind – be starting to think that a P45 is on the way. Newcastle thinks it is a big club and unless Pards turns it around quickly, he looks like toast.
As for West Ham, Fat Sam has been active in the transfer market. Two new strikers (Maguire and Chamakh) are on board given options other than Carlton Cole up front with Carroll still injured and Maiga off to the African Cup ( and perhaps shipped out in the transfer windown anyway). But Joe Cole will almost certainly be playing today. With him, Jarvis (he of the covershoot in gay magazine Attitude fame), and Noble (if on form) playing behind Cole we do look able to score goals. Top scorer Kevin Nolan is back from suspension and although he is not universally loved I welcome his return. He may slow the game up a bit but a) he scores and b) he adds a bit of grit in defence which is where I always panic.
Injuries means that we have recalled young Danny Potts from his loan spell at Colchester.

3989 days ago
Yossi Benayoun has not flourished in his second spell at Upton Park and so has returned to a career sitting on the bench at Chelski. I wish him well but in terms of who is coming back to Upton Park I could not be happier, it is Joe Cole, a midfielder who can run with the ball, pass and who will add both skill and also attractive play to the side. We now have genuine options in the middle of the park.
I remember a bloke who sold flowers outside Finchley Road tube station telling me about his nephew who was a 15 year old at the Academy and who would be better than Rio, Fat Frank and the others of that era. That was Joe Cole. Unlike the others Cole was not keen to leave Upton Park in the years we struggled. And this week he could have gone to rejoin 'arry at QPR but instead came home. Of course that is largely as Redknapp himself admitted – because Rangers will, notwithstanding the Chelski result, almost certainly still go down in May.
But Cole has always been liked by the supporters. And he clearly regards West Ham as his home club – we must hope that he plays out his career in East London. In signing him, the board shows that it has ambition. This does not change my view that Fat Sam Allardyce needs to go in May and di Canio also needs to come home as manger. But it means that the next few months should not be quite as grisly as I had feared.