Mark Noble
1918 days ago
As you may know, my daughter is a diehard West Ham supporter. She is also, incidentally, a total goal machine for her top of the table side. Her membership of Slaven Bilic's claret and blue army is good for me as it is someone to talk to after a game: The mrs is not interested and has never been to a game with me. I am ticked off by my daughter when I start talking about relegation but we can share the joy after the mighty Irons get a result as we did yesterday.

2564 days ago
I never thought I'd find myself writing in support of a convicted rapist but the footballer Ched Evans is at the centre of a witch-hunt egged on by vote seeking and spineless politicians which makes me feel rather ashamed to be British.
The transcript of the trial makes it clear that Mr Evans is a prize sleazebag. He insists that when he climbed into bed with his pal and a bird the pal had pulled, that the oral sex he offered to pleasure her with was at her invitation and that she consented to full sex thereafter. The next morning the victim bragged by text that she had bagged "a big one". The next evening she reported Mr Evans and his pal for rape. The pal (who went first) got off, Evans served 30 months.
There is a very legitimate debate about the leniency of sentence. I would regard two and a half years for rape as shockingly light. However based on the court transcripts I am not convinced that I would have been able as a juror to have found Mr Evans guilty beyond all reasonable doubt of rape. Yes he is a sleazebag but a rapist? I am not so sure.

But he was convicted. He served his time and now he is out. Yet it seem as if the media and political establishment is determined that he never ply his trade again. He is not allowed to play abroad because he is on the Sex Offender's register and when a UK club tries to sign him it faces such a barrage of hostility that it walks away. Nick Clegg was first to jump on this populist bandwagon.
David Cameron spouted some rubbish about how he could not take his son to watch a match in which Ched was playing. What utter nonsense. Posh Dave is a faux footie fan. A few weeks standing outside the posh seats at any club and he'd know from the chants that very few soccer players can be held up as role models. "Andy Carroll's 'avin a party, time to get the vodka and Charlie"

2926 days ago
An early birthday present from Carlton Cole and Mark Noble sees West Ham out of the relegation zone but that will not change the fact that I am today 46, closer to 50 than 40. 
I did not expect to be spending this Birthday living in Bristol, married to a Guardian reading Sociology Senior Lecturer or less than 18 months into running a new business. Life is full of surprises.

I have now been working for 25 years and in the old days would now be just 19 years from retirement. For the Mrs – who did a Post Grad - the figures are 16 and 26. So Maybe I shall call it a day at 58 and live off the State (via the Mrs).  I suspect not, work is too much fun. 
My father's generation expected to retire at 65. My generation? It might be 58 it might be never. The one thing we do know is that it is not an automatic gold watch at 65.

For me a picnic at Chew lake looms followed by a walk with the Mrs and Uncle Chris Booker.. and then back to subbing Zak Mir's new book. Happy Birthday indeed.

2937 days ago
Another day, another "six pointer" and West Ham comes away with nil points, after losing 2-1 to a side that lost its last game 6 nil ( Fulham). As a bonus, club skipper Kevin Nolan was sent off for a needless and mindless lunge for the second time in five weeks and now faces a three match ban. Again. Good. He is useless.
First things first. Nolan should be sold for however little at once. Pro tem Jussi should be club captain until Mark Noble returns from injury.  Second up fat Sam Allardyce should (as I have been arguing for a year, warning of this) be fired at once. The World's 13th highest paid manager has spent more in the summer than all bar 6 UK clubs and West Ham are still utterly shit.

A replacement? No-one could do worse (with the possible exceptions of Glen Roeder and Avram Grant). Glen Hoddle, Malky MacKay, Paul Ince, Paulo di Canio, Harry Redknapp's dog – I'd take any of them tight now. I am sure the Board have better ideas than me (well sort of sure) but on the basis that no-one could be worse than Fat Sam, the P45 should be issued at once. 
Let Karen Brady take charge for a few days as an interim measure for all I care, things could not get any worse.

3262 days ago
For once West Ham are spoiled for choice. Andy Carroll, Mo Diame are fit and on fire. The starting eleven almost picks itself but – and I never thought I'd ever write this – there is competition among top class players to just get on the bench as an attacking player. Carlton Cole gets the nod but Maiga is back from Africa Cup duty and Wellington Paulista has scored three in three for the U-21s. It is an odd position to be in.
The last time I was at Villa Park was for that memorable John Lyall FA Cup Semi against Middlesbrough. The week after the great man died the crowd was asked for a minute's silence. The ref's whistle blew and you could have heard a pin drop. Suddenly someone shouted out "Johnny Lyall's claret and blue army. For a second there was shock & silence. Then everyone was chanting along. It was truly emotional and of course we won the game ( Marlon Harewood goal). The video below recaptures what was a spine tingling moment.
After the game, I headed back to the station in a cab shared with three Middlesbrough supporters and my old friend Derek Musgrove.

3289 days ago
It was a great 45th and rounded off with this present in the picture below. I have been wearing it ever since Saturday (even in bed). If you are no au fait with soccer, West Ham is known as The Academy becuase while other clubs buy in talent we nurture it.
So when West Ham won the World Cup in 1966 the backbone of that side (Hurst, Moore & Peters) came through The Academy. Today's West team contains graduates like Noble, Tomkins, Collinson, Cole (J) and the younger Potts & Moncur boys. And elsewhere in the Premiership academy graduates include Fat Frank Lampard, Rio & Anton Ferdinand, the well known multi-cultural awareness campaigner Mr Terry and Michael Carrick.
A great present.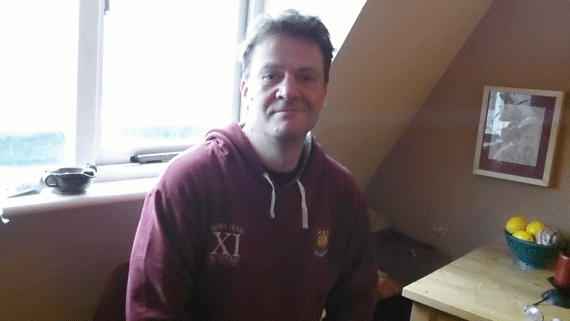 3298 days ago
It is a 5.15 kick off so for now I can relax and look at how the other games are unfolding. I was chatting to a Newcastle supporter yesterday and the mood at whatever the stadium is called these days must be very bleak right now. On 20 points in the league (just two points above third bottom Wigan) and today out of the Cup thanks to Championship side Brighton. The side has injuries, its best player has just gone to Chelski ( and scored already) and I suspect that West Ham old boy Alan Pardew must – at the back of his mind – be starting to think that a P45 is on the way. Newcastle thinks it is a big club and unless Pards turns it around quickly, he looks like toast.
As for West Ham, Fat Sam has been active in the transfer market. Two new strikers (Maguire and Chamakh) are on board given options other than Carlton Cole up front with Carroll still injured and Maiga off to the African Cup ( and perhaps shipped out in the transfer windown anyway). But Joe Cole will almost certainly be playing today. With him, Jarvis (he of the covershoot in gay magazine Attitude fame), and Noble (if on form) playing behind Cole we do look able to score goals. Top scorer Kevin Nolan is back from suspension and although he is not universally loved I welcome his return. He may slow the game up a bit but a) he scores and b) he adds a bit of grit in defence which is where I always panic.
Injuries means that we have recalled young Danny Potts from his loan spell at Colchester.

3302 days ago
Skipper Kevin Nolan is out thanks to suspension. So much for the lack of yellow card discipline you get with Fat Sam. The good news is that for the same reason the hopeless liability, sorry should that read bedrock of our defence, that is James Collins will also miss the game. Norwich will be gutted about that one.
There are no key players returning from injury and so the four man midfield lining up behind Carlton Cole and Vaz Te upfront will be Noble, Jarvis, O'Neill and Taylor. I cannot say that this strikes me as either rock solid or threatening. Having said that Norwich have a few key players missing too and so it is hard to call the result.
What we do know is that if we win we go to 26 points and that would see some clear claret and blue water between us and the teams battling to avoid going down with the Rednapp and with woeful Reading. That is to say Villa, Southampton, Wigan ( who are bound to escape as the bastards always do) and – arguably – Fulham. If we lose we will have won one game in nine and have been sucked back into the relation mire.
So this is a must win game. I am doing my bit by staying away as West Ham never win when I attend. Having witnessed the Reading debacle first hand I cannot say that I am optimistic so I am off for a long walk and will say a prayer.
Whatever the result I am more and more certain of one thing. The deal with Fat Sam was that we might not like his style but we paid that price for not having to start January contemplating the awful possibility of a relegation dogfight. Whatever happens today, I stand by my view of the other day that in May Sam must go and we need to appoint di Canio as our new manager on a long contract.
COYI, I say rather weakly.

3303 days ago
There will be folks who say that you should back the manager when the club is in trouble. And make no mistake, West Ham is heading for a bottom half finish and if we do not start winning a few games (1 win in eight now) we could still be going down with the Rednapp. And with dismal Reading. My suspicion is that one we get a few players back from injury and with Gold & Sullivan prepared to chuck cash around in the transfer window we will stay up. But it is not a given. And in May West Ham must decide whether to renew the contract of Sam Allardyce. I do not think we should and here is why we should say farewell to Fat Sam and bring Paulo di Canio to Upton Park at once. I start with Sam.

3304 days ago
Vaz Te missed an absolute sitter late on. James Collins handed Reading an early goal with his speciality suicide back passes. It was an ill tempered and unattractive game with neither side showing any flair. Both teams looked like the sort of sides that deserve to get relegated. I am struggling to remember the last time I saw a football game this bad. The girlie's soccer at the Olympics maybe?
Reading will not play many teams that gift them goals in the way Collins does far too often. And 9 out of 10 Premiership strikers would have snaffled Vaz Te's chance. If this is the best this side can offer (and judging by the crowd's unbridled delight, I sense that it is) then on 13 points, Reading are indeed "going down with the Rednapp." Reading are just a crap and boring side and there is no doubt in my mind that they will not only go down but that 'arry's QPR will overtake them in the final furlong leaving the Royals bottom of the table. That would be a fair place for them.
But as for West Ham, we were awful. I stayed to the end but could not wait to get away. I cannot say that I took anything positive away from the game at all. No-one played well and some

3325 days ago
Sign on, sign on, with a pen in your hand, and you'll never work again. Sign on. Sign on.
Or perhaps given the time of year and a chance to think of those less fortunate than ourselves a few choruses of "Feed the scousers, let them know it's Christmas time." Actually I have no hard feelings for Liverpool. My Aunt Lucy's family are all Liverpool fans and my sister was born there. She clearly picked up the Souse mindset in those early days. As a Doctor paid £50,000 plus for two days a week she fits in well: living off the state and not doing much work.
When football Santa grants me the chance to decide the league table, I won't really be thinking about Liverpool. Naturally Santa and I will start at the top. West Ham to come first. Then Santa and I will head straight to the other end. The old man in the beard does not need to ask the first question. Spurs to finish bottom. And then

3339 days ago
Nervously I look at the Championship and see that the form side is Millwall. Now 6th they are on fire and have got to be thinking that they can still secure an automatic promotion spot if the current form continues. I was at Upton Park the last time West Ham met Millwall and have no desire to go to another Derby game ever again. In the absence of Millwall our nearest rivals are Spurs who we play at 4PM today at White Hart Lane. The scum. It is more than the fact that Spurs are local rivals.
There is the little matter of Master Defoe. Judas.