Piers Moron
3226 days ago
Today the three party leaders will sit down and agree to ever tighter controls on the press. Assuming that he is not getting a blow job from a hooker at the time, Hugh Grant will then invoke the name of Milly Dowler and a 300 year tradition of a free press will draw to a close.
If you trust your politicians to behave with honesty and integrity that is perhaps fine. If you are happy for celebs like Grant to give you the hard sell on their latest movies or useless designer products without knowing why their public image is a sham that is again fine. If you are happy for scandals involving taxpayers cash being wasted, paedophile rings run within local councils and at the BBC to stay hidden and protected, then that is fine.
I suspect that none of us are happy that scandal and corruption will now become harder to expose. I am not.
The established press has done itself no favours. Phone hacking was a disgrace. It was also illegal under existing laws. There is no need for a new law to (in due course) get the collar of Piers Moron and others felt. And the press/Westminster cosy club

3295 days ago
The gun rights activist might seem like a bit of a paranoid loon (okay he is a loon) but a) he is one of the folks organising the deport Piers petition and b) his debate is against a man who is not exactly a towering intellect, viz Piers Moron.
The loon just takes Moron apart, before at the end exposing himself as a prixe loon. It is a shame that the ratings for the show make the Jimmy Savile fan club look like a mass membership organisation and that the destruction of the great phone hacker was therefore watched by so few. Join them. It is a delight.
Final scores: Loon 1 (og Moron): Phone Hacker 0.

3306 days ago
The special relationship between Britain and America is under its most severe threat in decades. Stateside, a petition calling for Piers Moron to be deported has garnered enough signatures for President Obama to have to consider it. The world's most hopeless chat show host, self-confessed phone hacker and "lucky" share punter during the City Slickers affair points out that 99% of Americans have not signed the petition. Alan Sugar responded on twitter by saying that those were the people who had not heard of Morgan.
But as this petition grows in size daily, other petitions are springing up demanding that he not be allowed back into Britain. The grounds seem unclear other than the fact that he is a loathsome human being and we would be better off without him.
I would just about consider an Abu Qatada Piers Morgan a good deal for Britain but it is pretty marginal. Perhaps if America agreed to take Russell Brand as well?
In order to win an "It's Time to Leave" T-shirt I offer this picture of two grinning gentlemen. On is a proven loser with no friends very occassionally seen in the House of Commons. And so is the other.
Please post your entries in the comments section below.
You can of course buy your very own "It's Time to Leave T-shirts, hoodies, sweatshirts, coffee mugs and Thermos flogs in my online store here.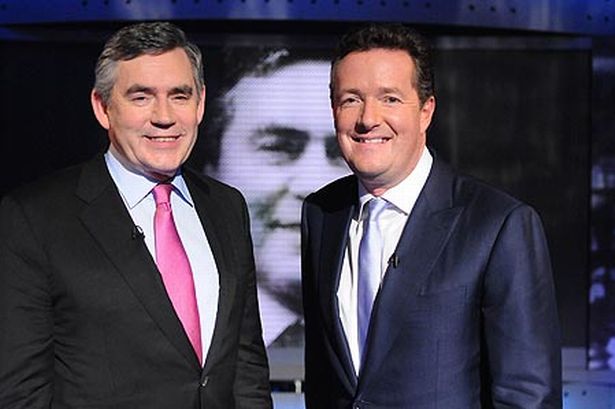 For what it's worth my entry is:
Brown: " I'd like to replace the £9 billion I lost on bullion sales and you say you know Britain's best gold digger – can you get Ms Mills' telephone number for me?"
Last week I asked you for captions to this picture: