The Queen
136 days ago
Uju Anya is a university professor and researcher in "applied linguistics, critical sociolinguistics, and critical discourse studies primarily examining race, gender, sexual, and social class identities in new language learning through the experiences of African American students." If that sounds like bollocks it is. But Carnegie Mellon University likes her stuff. Yesterday she celebrated the impending death of the Queen on twitter. Twitter took dowen the tweet but you can see it below. Carnegie condemned the tweet but that was that. Had a white professor celebrated the impending death of, say, Nelson Mandela by calling him a terriorist, he would have been fired. It is a double standard.  Twitter should leave the tweet up so that everyone can see it and realise what a ghastly waste of space old hag Uju is. If you believe in free speech you can't be selective and the world is a better place for knowing how vile Uju is and what a dump Carnege must be for giving her tenure and for not firing her on the spot.

505 days ago
It is like National Velvet but far better, the rank outsider coming through to win a major sporting event. Emma Radacanu seems such a pleasant young lady discussing how honoured she is to have had a message from a role model that is the Queen, after her win. Wearing that crucifix, so unfashionable in Britain today, this is a girl who has worked hard to get A's in maths and economics A levels just a couple of months ago and who talked of celebrating with chocolate frozen yoghurt with added chocolate. So like the whole nation I wake up thinking how wonderful this British sporting heroine is. But if there is a bandwagon there is always Nigel Farage.

585 days ago
The country is drowning in debt. The Government is running a record deficit so adding to that debt, a burden for all of us as taxpayers and our kids and their kids. So what does Tory MP Joy Morrisey suggest? Yes! Another scheme of such mind-numbing pointlessness for the Government to spunk other folks' cash on. It is so pointless, it is almost as if this was a contest to fund the most appalling use of taxpayers' cash and Joy was determined to win. To think that we are paying Joy an MP's bloated salary and, inter alia, on her expense claims, the cost of a TV license and a packet of face masks, to come up with ideas like this.

682 days ago
Relatively new BBC Director General Tim Davie stated that presenters on the state-funded broadcaster are "activists for impartiality" and that he would be prepared to sack those who breach impartiality guidelines on social media. On that basis, Breakfast TV star Naga Munchetty should be fired in the morning but why bother? She would merely be replaced by someone who acted in the same way, thought the same way and polluted the BBC with woke bias. The issue here is a culture that runs through the DNA of the wretched BBC.

693 days ago
I always will be a Republican. I can see no reason why the Royal Family should exist in its current constitutional position. Having said all of that, if there has to be a Monarch, the one we have and her consort Phil the Greek are, without doubt, the best one could wish for. As human beings, they are thoroughly admirable.

921 days ago
My fellow Republican and heroic campaigner for LGBT rights, but also for free speech, Peter Tatchell, rarely gets it wrong. But on the matter of #BlackLivesMatter and Comrade Elizabeth Windsor, I fear that the heroic one has rather lost the plot. I assume, by his logic, that the Kings of Lesotho and Brunei are also beneficiaries of institutional racism. An incriminating tweet from the heroic one is below. 

2053 days ago
As the Queen wandered among the victims of the Grenfell Tower tragedy yesterday I could not help wonder at what a really very good human being she is. I write as a diehard republican but I cannot help but but admire Elizabeth Windsor. And everyone else seems to do so too. My mind then went back a couple of decades to the death of Diana, Princess of Wales. How differently the Queen was viewed - for a few days at least - back then but how the mood was so similar.

2472 days ago
When we are born we are all equal in the eyes of God. It matters not whether your parents live in Buckingham Palace or in the slums of Liverpool. We are equal. For me that is a core belief and as such I can be nothing other than a Republican. 

I can't say that I feel strongly enough about the issue to do anything about it.

2492 days ago
Australia's foreign minister Julie Bishop has opined that she thinks that it is in Australia's interests that Britain stays in the EU and votes no to Brexit. Meanwhile 99.9% of Britons think that it is in Britain's interest that Aussie nonce Rolf Harris is shipped back to Australia ASAP. As a convicted felon he'd be following a well worn path and frankly there's no reason why the old kiddie fiddler should be allowed to stay here. While we are at it can the Aussies take Germain Greer back as well?

What on earth 

3406 days ago
It is a fun way to waste 30 seconds. Answer 13 questions to see if the Daily Mail hates you. The fact that I have had premarital sex, do not think God Save the Queen and don't like Michael Gove means that my status is officially "detested". I tried the test again answering in the way I think the Mail would like and got to the status of merely "disliked" which is almost as good as it gets.

I answered in the way that the Mrs (the Deluded lefty) would I think answer, and she only got 7 questions before being declared "hated." It is all good harmless fun and a reminder of what a tawdry reactionary rag the Mail is.

To take the test yourself click here




3478 days ago
And so the royal baby is born and I wonder do I really care? Do I understand the hysteria? I have to admit that I just cannot make up my mind on the monarchy although I respect the Old Queen greatly. But more on Peter Tatchell later.
As a meritocrat I can see no earthly reason why I should believe in monarchy. It is an anachronism. However when I consider who we would have had as a head of state had there been no monarch I quickly get out the bunting and start singing God Save The Queen. President Heath? President Kinnock? President Wicked Witch? I will stick with the current set up thank you.
If I am in any doubt as to where I stand I simply look at the terrible deluded and embittered lefties wheeled out by the BBC and The Guardian to celebrate the Royal Birth by saying we should abolish the monarchy. If Polly Toynbee

3865 days ago
I am asked by one reader to explain my nasty comments about the IRA yesterday given that one of my blog heroes is Michael Collins. Another reader suggests that I run a caption competition with the picture below. Okay. Here we go.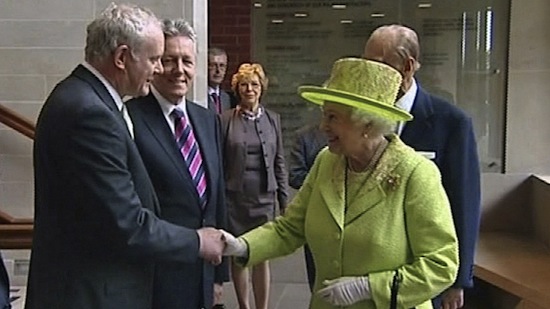 Lets start with the caption competition which is open ONLY to those who follow me on Twitter. Send your entries by Twitter with a deadline of 4 PM Monday. The prize is a meal for two including a bottle of (Chapel Down English) wine at Real Man Pizza Company. It will be the funniest entry that wins and complete lack of taste is no bar to winning the prize. To set a benchmark the butcher says to Her Maj "If you follow me I have for you a pair of your late Uncle's deckshoes I kept as a souvenir." Bad taste is no bar to winning. Tweet your attempts to @TomWinnifrith

3894 days ago
I am not an ardent monarchist. For a start I was brought up to support Ireland at everything. And at an intellectual level if we did not have a Monarch I cannot think we would create one. Except, of course that the alternative is an elected head of state – Queen Cherie Blair, King Trust Me Tony – I would not be a fan. But neither am I an ardent Republican. The Queen is devoted servant of her people, Prince Philip is a hoot and although he has a stack of daft ideas I cannot help but view Prince Charles as likeable. All seem good folk and I wish the whole family a great celebration. But can I really get enthused myself? No.