evil knievil
63 days ago
So much for the spike in Amigo (AMGO) shares yesterday in  the belief that the Court would agree to its plans to pay customers it had ripped off only very partial compensation. The FCA opposed the scheme since it sees those ripped off getting only partial redress while equity holders keep the rest of the cash stolen by Amigo. And the Court, it emerged this morning, agrees with the FCA and myself and Justice Mills slates Amigo. As for foul mouthed bear raider Evil Knievil..

67 days ago
Oh dear. What have I been accused of now? All is revealed in the photos below. I end by thanking you all as we are now at nearly £40,000 for Rogue Bloggers for Woodlarks. Thanks to all who have donated. To those still to chip in, as we are just c£8,000 short, please do so HERE. Sunday's training walk will be the most grim yet. In the podcast, I look at Amigo (AMGO), Evil Knievil's "scum" comment, Hurricane Energy (HUR), Skinbiotherapeutics (SBTX) and Novacyt (NCYT).

131 days ago
Shares in loan shark Amigo (AMGO) are down by 12% today to 12p on what appears to be, well what most certainly is, a regulatory setback. But one loyal shareholder, the infamous short seller Simon Cawkwell, aka Evil Knievil, is not deterred and tells me that the shares will still hit 20p and could even go to 30p. The setback first:

185 days ago
Wine Merchants across the UK are, according to the EU's fave PR mouthpiece the Financial Times, having to add £1.50 to each bottle of wine imported from the EU as a result of Brexit. Natch the poodles on the pink paper tell their rapidly declining number of readers that this is another disaster caused by Brexit. That fecker Farage and we dirty 17.4 million dirty, smelly, stupid xenophobes in the sticks have another crime to account for. But hang on?

199 days ago
Today's expose of Iconic (ICON) is shocking and shows that Dave Sefton is again getting shareholders in a PLC to takle the equity risk for his private ventures. I explain the pattern and what Damon Heath at Shard Capital needs to do about this on Monday. This has got to stop now.  Then I look at the religious cult members Evil is tackling with his Tesla short and how it will play out. I start with my act of lockdown defiance today which has confifrmed to daughter Olaf what a boring old man I have become. 

201 days ago
I refer tio Elon Musk vs my friend Evil Knievil and so far, I am sad to report, the forces of light and truth, that is to say EK, are half a Bernie down and Tesla's Elon is drowning in filthy lucre. I consider life in the year 2000 and today's bull market madness. I look at Plutus Powergen (PPG), MyHealthChecked (MHC),  Grafenia (GRA), BigDish (DISH) and Eurasia Mining (EUA) asking if the regulators will ever force it to make a statement.

220 days ago
So says my good pal the infamous bear raider Evil Knievil and he is right. You and I look at a high flying stock where the valuation is insane but if we go short the valuation can easily go to double insane before gravity kicks in. Especially in fevered times such as those we live in, kicking a man when he is standing strong is not such a smart move.

464 days ago
Fear not you do not need to break lockdown. The event is online and for £9.99 you get access to a line up of stars of the investment world never seen before at a UK show. It really is all star. Carson Block, Gabriel Grego, Mark Slater, Jim Mellon, Evil Knievil, Vin Murria, Peter Hambro, Sam Antar, Adam Reynolds, Luke Johnson, me, Chris Bailey, Dom Frisby, Paul Jourdan, James Delingpole, Malcolm Burne, Chris Bailey, all the team here at ShareProphets, Matt Earl, Lucian Miers, Peter Hambro, the list goes on. As well as the star speakers there is also the Sith Lord Zak Mir and 30 PLC CEOs will also present. Doors open at 8.30 AM amd there will be chatrooms to engage with many of the speakers and each other open all day.  And your ticket will give you access to all the videos right up until Christmas. The booking section of the site is secure ( see the padlock is present) and you can book your seats now & get more show details HERE  

481 days ago
I swear i am not joking. I discuss my life with Evil (no, Mt BBM we are not gay lovers, stop sniggering at the back) and his remarkable macro view.  I also reveal I have a treat for you all, keep May 8 in your diaries! In terms of stocks I look at the scandalous flouting of almost every rule by AIM Casino posterboy Conroy Gold & Natural Resources (CGNR) and the wider issue that the Oxymorons at AIM Regulation will do SFA about. I look at Burford (BUR) and more vindication for my pal Carson Block of Muddy Waters, at Carnival (CCL) – sorry Three Brains -  and at Coro Energy (CORO) where the curse of James "Dracula" Parsons strikes again.

521 days ago
On a daily basis, shareholders in Versarien (VRS) continue to make the most defamatory of allegations against myself and other critics. ADVFN (AFN) occasionally removes a post but seems reluctant to ban these halfwits defaming in defence of a fraud, so they just reoffend.

1055 days ago
This is just to make my pal Evil Knievil jealous. I found myself in Kardamili, Islington on Sea, to use an ATM and to buy Evil a very superior bottle of Greek red wine, to show the old wine snob that not everything produced here tastes of mouth-wash. far from it.

1055 days ago
George Cawkwell is the greatest living scholar on the subject of ancient Greece. His son, my friend, the philistine Simon, aka Evil Knievil. refuses to come to the Hellenic Republic on the grounds that the wine is all awful. He is wrong and I intend to prove it to him and lure him out here to open up his mind. My father attended George's lectures I must educate Simon.

1111 days ago
For reasons explained in the podcast my walk up into the mountains is postponed until Saturday. So the suffering is delayed. Don't delay with a donation to Woodlarks HERE. In the bearcast itself I look at Evil Knievil's World Cup gambles and who he is backing in the final, at a potentially horrid spat at Bacanora (BCN) which looks set to get very nasty indeed, into murky share deals at Cabot Energy (CAB) - a massive scandal in the making and in real detail at the Telit (TCM) disposal announced today. The numbers just do not stack up.

1462 days ago
Oh dear. Poor old Evil Knievil who has been a perma bull of Watchstone (WTG), the former Quenron (QPP), loftily dismissing claims by Slater & Gordon for £637 million and my analysis as not worth the paper they were writen on. Oh how bullish was the great man, at 141p, just a few weeks ago as he posted his bon mots on a Bulletin Board. The shares have duly plunged to just 97.5p so costing EK and his fellow BB Morons a good packet. Poor Evil. Poor BB Morons.

1478 days ago
Here I am in Shipston with my father who enjoys bearcasts if they mention him so just for that reason I record again. His faux political correctness is exposed by the issue of coverage of women's cricket in The Guardian - the dreadful newspaper he has delivered to try to fool my family of public sector "working" lefties that he is one of them. In terms of the market I look at Carillion (CLLN) and 88 Energy (88E). Shares in both companies are collapsing today and I look at why and at what lessons folks should be learning. You could so easily have avoided losing money on both. Please note Malcolm Stacey and other Ocado (OCDO) bulls, lesson one on Carillion is for you. I also make it clear that while he may have some of the attributes of a Bulletin Board Moron as he showed HERE, Evil Knievil is not, in fact, a BBM, I was just joshing him when I suggested otherwise. En passant I look at MySquar (MYSQ) and explain why today's exposes HERE and HERE may refer to events a long time ago but are pertinent. 

1489 days ago
I guess if you write for a website that makes the Official Jimmy Saville Fan Club website seem well read and popular, it forces one to also post on Bulletin Boards in order that your words of wisdom/attempts to ramp your flagging portfolio reach an audience of more than three men and a dog. Speaking of dogs - Watchstone (WTG) is stock which bear raider turned Bulletin Board Moron Evil Knievil has long argued is worth 500p. The shares are now 140p ( and falling) after yesterday's massive revelations from me HERE.

1585 days ago
You might hate bear raiders. You might think that short selling is unethical. But what you cannot argue with is that ignoring men such as Evil Knievil when they sniff out a fraud or accounting malpractice will cost you a packet. At last year's UK Investor Show the Country's top bears did a detailed presention on AIM darling Avanti Communications, one of the AIM companies most beloved by professional fund managers. Since that warning Avanti shares have collapsed by more than 90%. This year the bears have new targets.

1621 days ago
Charlatan Darren Winters coughing up nearly all the cash he owed us after his latest court thrashing was a good reason to celebrate. And thus, I headed to my favourite restaurant here in Kalamata and started with an ouzo. Sadly the fresh octopus was not available. Hmmmmmmm. how to tease my friend the bear raider Evil Knievil with pictures of what treats lay in store? Could I top the honey soaked puddings at the Kourounis Taverna in Kambos (prop. lovely Eleni) or the fresh octopus at this place?

1622 days ago
After the Slater & Gordon (SGH) bearcast earlier you may have thought that I was sleeping off half a bottle of ouzo. Au contraire, I have been touring the Mani with George the Architect, the man who helped me to expose InternetQ last year. We went past Killers Gorge. Why can't you kill unsuitable boyfriends of your daughter or sister any more? As my daughter prepares to turn 16 this year I sadly conclude that this is yet another example of political correctness gone mad.  In terms of stocks I offer a couple of corrections on Tracsis (TRCS) after yesterday's bearcast then look at Xtract Resources (XTR), Ascent Resources (AST), FastForward (FFWD), the over ramped hype company with which my good friend Jim Mellon is involved, Cobham (COB), Infrastructure India (IIP) and also the fraud Cloudtag (CTAG). And I refer to a drooling Evil Knievil ref THIS ARTICLE.

1623 days ago
As you know, one of the joys of being in Greece is in sending back photos of the amazing food on offer to my friend Evil Knievil (pictured) and then calling the Great Bear to describe in detail what I have just enjoyed. The photos of puddings dripping in honey from the Kourounis taverna in Kambos, owned by lovely Eleni, really got him going. But today's lunch will have him slobbering all over his keyboard.

1626 days ago
Whenever I head to Greece I take delight in calling the larger than life bear raider Evil Knievil to tell him what I am eating and how good it is. You can hear the old bear salivating down the line and he says he is jealous. But then he adds that although his father, George Cawkwell, is the greatest living scholar on the subject of Ancient Greece, Cawky jnr will not come here because the wine is just not up to scratch. Arguing with him on this matter is pointless. 

1629 days ago
With the snow still blowing, I set off on the walk from Metsovo to Anelion not really believing that it would take only half an hour as the chap I met last night had told me. Perhaps it was because I took the scenic route through the lower terraces of Metsovo, following the signs marked with a bear print. Evil Knievil has emailed to suggest that we bears stick together and do not eat each other but, more importantly, as I headed lower I remembered that bears, like snakes, hibernate. So the bears of the Pindus will be sleeping, dreaming of honey and Rob Terry. The wolves on the other hand...

1638 days ago
If you have to do a tax return today is the last day to submit if you want to avoid a £100 fine. Last year I goofed. This year the admirable Mrs Evil Knievil of the fine firm of Cawkwells has worked wonders and the form has just gone in. I owe HMRC £2 which I am delighted to say has already been paid by Mrs C so we are all square! The Mrs went one better.

1740 days ago
Following the example set by Paul Warwick the chairman of worthless penny stock Andalas (ADL) in starting a blog, Sir Ben Dover of AIM listed Global Mining Endeavours has decided to follow suit and like Paul promises to be candid in his approach. Blog number nineteen....

1775 days ago
Not a lot of people know this but the middle name of Simon Cawkwell, aka Evil Knievil, is "Modesty". He is thus one of many people who has come up with a helpful suggestion on what to name my son born today - thank you to all of you for your good wishes. In today's podcast I look at Avanti Communications (AVN), Rosslyn Data Technologies (RDT), Levrett (LVRT) and Progility (PGY). I should get some sleep after being up all night but it is a very exciting day for us here. I will be back with a longer bearcast over the weekend.

1785 days ago
I covered Pantheon Resources (PANR) twice on Monday in relation to Evil Knievil's dire trade HERE and in relation to its dire statement HERE. On iii shamed cash for copy tipster Malcolm Graham Wood has made the bull case for the shares. He is talking cock from start to finish and I take his comments apart one by one in this bonus podcast. 

1787 days ago
How do you lose money dealing on the "inside track" Ask bear raider Evil Knievil who has taken a monumental bath on Pantheon Resources (PANR) a company we again warn you about in bearcast today HERE.

1877 days ago
There may not be a bearcast tomorrow. It is all down to the arrival of the Mrs as I explain. Meanwhile I look at Gulf Keystone (GKP) and XCite (XEL). The best time to kick a man is when he is down. So says Evil Knievil. And that applies to these two oilers where events are moving fast and the shares are near enough certs to be toast already. CIC Gold (CICG) is in an even worse state and today's RNS is a shambles. The curse of boy scout mugger Stuart Bromley strikes again. It is doomed. Then I discuss what, if anything, is wrong at TrakM8 (TRAK). Then a question raised by the share price move on Friday at ADVFN (AFN).

1902 days ago
And so the four bears wandered onto stage for the final presentation at UK Investor Show. We majored in on why Avanti Communications (AVN) was a 0p stock but we covered many other stocks besides. Enjoy

1920 days ago
This weekend is all about the London Marathon but in just SIX DAYS time a galaxy of legendary investors will be speaking at UK Investor Show. This is not a platform for share rampers based in dodgy offshore tax havens but a chance to hear men and woman who are simply the best. Make sure you have the date in your diary - Saturday April 30 and this is the LAST CHANCE to grab a complimentary ticket.

Some shows back the share rampers and the City big boys. We dont. We stand alongside private investors. In that vein we have a new speaker to announce today: Mr Bagot, the 80 year old pensioner mugged by City broker WH Ireland but who fought back. He will be joined on the main stage by Nigel Somerville to show what went on and how the City can be tackled. 

All the star writers from ShareProphets will be there and we still have a few complimentary tickets to meet them at the QE2 Centre in Westminster on April 30th and to hear in action a star studded line up including Ed Croft, Mark Slater, Evil Knievil, Nigel Wray, Adam Reynolds, Dominic Frisby, Vin Murria & Amanda Van Dyke.
To get one of these last few seats going simply go to www.UKInvestorshow.com and enter the word FINAL in the box marked promotional code

So who are the legends speaking?

Mark Slater, 

1926 days ago
"Nomad Strand Hanson, Broker Mirabaud, mug punter Evil Knievil, aka Simon Cawkwell, dodgy Russians Mediotor, IR ramper John Heilshorn, we have beaten them all, we have beaten them all!. Phorm PLC, can you hear me? Phorm PLC ... your boys took a hell of a beating! Your boys took a hell of a beating!"

1970 days ago
There are some folks out there - Evil Knievil - who under under the illussion that what is left in Watchstone Group (WTG) has a value, that somehow the collection of frauds assambled as Quindell that even Slater & Gordon was not dumb enough to buy is worth something. Au contraire. I see that the Maine Finance subsidiary has finally filed its December 2014 accounts with a directors' report disclosing;

2000 days ago
Warning: perhaps it is best not to play this podcast in front of the kids. On the agenda today I remember when Evil Knievil was a 3Dimmer - good investors accept that facts change, I note this in reference to MX Oil (MXO). I also discuss the folly of leaping to conclusions with reference to Falanx (FLX) and cover DQ Entertainment (DQE) and why Nomads are so skittish these days. Then it is on to Imaginatik (IMTK) and my old sparring partner the fraudster Rob Terry before I end up with a discussion of spraying ones todger and what to make of the situation at Plethora (PLE), the baby of my old friend Jim Mellon

2006 days ago
For once I am ahead of the game with my tax return. Thanks to the fine firm of Cawkwells - that is to say the long suffering Mrs Evil Knievil, my forms are agreed and being submitted today. But the deadline is looming...

2007 days ago
It is not a great day for the AIM Casino. First down PeerTV (PTV) and now Oxus Gold (OXS) has called in the administrators and Nomad SP Angel has quit. The shares have been suspended since it lost its spurious legal case in Uzbekistan and now the money has all gone.

2010 days ago
Pantheon Resources (PANR) shares have plunged from 140p to just 90p since my pal the bear raider Evil Knievil bought 400,000 of them a couple of months ago - win some, lose some old boy! This is a mug punter fave but if I were a shareholder the question I would be asking is just how much cash is left in the kitty and when is the placing?

2026 days ago
Evil Knievil sent me a snotty email on Watchstone (WTG) of which he is long. I think he is a bit in denial. And so to are some of our readers as they respond to perfectly good articles appearing here today by our new author Cynical Bear, notably on Xtract Resources (XTR) and Challenger Acquisitions (CHAL). All this is discussed in today's podcast.

2044 days ago
And now the heavyweights..well Evil Knievil anyway. This was the penultimate presentation of the day from Gold & Bears, myself and Evil Knievil. Enjoy

2067 days ago
I am attracted to stunning women. My wife and, obviously, Cheryl Cole. Evil Knievil is attracted to fine wines. In fact to any wines. And it seems as if pouting ex Sefton Resources (SER) FD Raylene Whitford is attracted to overvalued cash strapped POS AIM listed oil Companies.

2074 days ago
As of today there are just 4 seats left unbooked for the 2015 Gold & Bears Show on November 28 in London. So book a free seat now for a fireworks event with Jim Mellon, Gabriele Grego (Globo's nemesis), John Hempton, Sam Antar, Evil Knievil, Lucian Miers, Amanda, Dominic Frisby, 50 CEOs etc., etc. To get a free ticket for one of the last seats

2144 days ago
Last year my three part Christmas Carol series concluding on Christmas day featured the Quindell (QPP) fraudster Rob Terry. In a prior year Evil Knievil featured. I was thinking about this year's offering today but whose Christmas Carol will I be recounting?
To give you a flavour of what lies in store, the Rob Terry series can be found HERE.

There are so many obvious targets for satire from the AIM casino.

2181 days ago
Bear raider Evil Knievil yesterday announced that he had bought shares in Quindell (QPP) and claimed that the stock was worth 150-180p – his valuation is not that much different from that of the fraudster Rob Terry who has a 172p target. Both are talking complete and utter bollocks.

2227 days ago
Infamous bear raider Evil Knievil is long an oil stock. That stock being Madagascar Oil (MOIL). Knievil says that wider family interests now own around two million shares and he is thinking of adding to that holding.

2264 days ago
Mitie (MTO) is now the biggest short position of The UK's second best known bear raider (after Lucian Miers, natch) Evil Knievil and the fat man says that he is expecting a big win on Monday.

2285 days ago
The last minute intervention of free speech deniers and Nomad to POS Coms and Tungsten, Charles Stanley, deprived us of the great Kevin Ashton but the bear pit at UK Investor Show still went with a bang thanks to Lucian Miers, Matt Early, Evil Knievil and myself, Tom Winnifrith. Enjoy the video.

2298 days ago
The bear raider Evil Knievil is of the opinion that The Tories should announce that jockey Tony McCoy be made a life peer before The Grand National for reasons that I do not quite understand. I assume that this is election pandering to the Upper Classes in the way that Nick Clegg tries to win the chav vote by taking a selfie with Joey Essex. But Knievil is not backing McCoy to win the National.

2314 days ago
News of new speakers at the UK Investor Show including legendary fund manager Mark Slater has seen a surge in demand for seats for the show of the year on April 18. There are now fewer than 100 of the 2000 seats left for grabs so if you want to attend book your seat now at www.UKInvestorShow.com
I will be doing three or four talks on the day. One with the bears (Evil Knievil, Matt Earl, Kevin Ashton) and one with the value investors (Nigel Wray, Paul Jourdan and Paul Scott) both on the main stage. I have a side room presentation on Sefton where I name some names who need investigation and then a main stage Sheriff slot with Amanda Van Dyke and Malcolm Stacey.

There are also main stage presentations by:

*Luke Johnson of Pizza Express, C4 and The Sunday Times on why City research is so useless and who are the new regulators

*Saved Javid MP on taking the City and business forward

*Ben Edelman with more bad news for blinks and other shocks from the Web Sheriff

*Ed Croft of Stockopedia on stock picking to make money with Thierry Laduguie and Chris Bailey

*Tech stars Stephen Streater, Lorne Daniel, Jason Drummond and Paul Kavanagh on making money in tech

*Amanda van Dyke and David Lenigas lead a session on making Money from resource stocks

To book your tickets go to www.UKInvestorShow.com 

There are also 14 special 1 hour analysts sessions on topics ranging from shells (Adam Reynolds) to mining ( Amanda again), to biotech (Steve Moore) and tech (Lorne Daniel again).
And there are 110 PLC stands with 70 of the PLCs also doing 20 minute presentations on the day.
And 25 of the UK's top share bloggers will be taking it in turn to man the Bloggers café where you can chat informally to any of them
This will be my best and most controversial show ever and that is why there are now fewer than 100 of the 2000 tickets still going. All 2000 tickets will be sent out next week so to book yours go now to www.UKinvestorshow

2329 days ago
Infamous bear raider Evil Knievil has open a small "dipping a fat toe in the water" short position in AIM Casino listed Mar City (MAR) following the recent shocking profits warning and details of related party deals, as explained by Steve Moore HERE.
The bear raider 

2334 days ago
The final gold tickets went last week. There are now fewer than 500 of the 2000 £12 investor class seats left for the show of the year and at current rates they will be gone within weeks so book your seats TODAY for UK Investor Show 2015 and here are 5 reasons why – you can book HERE.
1. The main stage line up is awesome. Starting at 9 AM with Sajid Javid MP it moves on to take in 45 speakers including: Mark Slater, Luke Johnson, Paul Scott, Ed Croft, Evil Knievil, Chris Bailey, Paul Kavanagh, Lucian Miers, Kevin Ashton, Matt Earl, Tom Winnifrith (me), Dave Lenigas, Nigel Wray, Nigel Somerville, Ben Turney, Amanda Van Dyke, Thierry Laduguie, Paul Jourdan, Richard Poulden, Clem Chambers, Charlotte Argylle, Dominic Frisby, Lorne Daniel, etc ending up with Ben Edelman to close the show.

2. More than

2356 days ago
The infamous bear raider Evil Knievil says that he has now closed out his short positions in both Quindell (QPP) and Avanti Communications (AVN). He tells me "I may have made a mistake" but he has a neutral position. Both stocks, however, remain on his watch list and he says he may re-enter the fray and it will not be on the long tack. Both he insists are hugely overvalued but calling short term moves is hard.

2372 days ago
The two leading bear raiders in London, Lucian Miers and Evil Knievil do not always agree but right now both have Quindell (QPP) and Avanti Communications (AVN) as their largest two shorts.

2416 days ago
I can reveal exclusively that bear raider Evil Knievil has traded X-factor badly wrong taking dreadful advice from top share blogger Paul Scott.

2432 days ago
Tomorrow I will be calling rock stars from across the bear community as we need to think of those less fortunate than ourselves. It is time to record our charity single… Feed the Morons. The message has gone out to Gotham City, Evil Knievil, Paul Scott, Lucian Miers, Paddington Bear, Matt Earl, John Hempton of Bronte, Sam Antar, Muddy Waters, Citron Research, Nigel Somerville, A Huntsman, Dan McCrum, Paul Murphy, Pizza hardman Darren Atwater, Cockney Rebel and Kevin Ashton. We gather tomorrow in Clerkenwell to raise money for those facing a bleak Christmas, Quindell staff and shareholders as we record Feed the Morons, Do they know it's Christmas?.
Apologies to Midge & Bob but here we go..

2460 days ago
In this podcast I start with a broad macro sweep following a chat with Evil Knievil earlier. The end of QE (pro tem), interest rates and how this will all affect equities and other asset classes. I then move on to some observations some general but some specific about Quindell, Fitbug, Monitise, Globo, blinkx and Independent Oil & Gas.

2471 days ago
At the weekend we updated the ShareProphets Bear Portfolio compiled by myself, Matt Earl, Lucian Miers and Evil Knievil. So far our average sell is down by 18.2% in just over three months. Better days lie ahead. But which of the ten stocks we expect to slump do readers think will crash most by Christmas. You said:

2471 days ago
So far the bear portfolio of Matt Earl (the Dark Destroyer), Evil Knievil (the fat man), Lucian Miers (the Bard of the Boleyn) and Tom Winnifrith (the Sheriff of AIM) is down by an average of 18.2%. Today one stock leaves the portfolio (New World) having duly collapsed and in its stead goes African Minerals (AMI) which will collapse. But which of our 10 shorts do you think will slump most by Christmas. The deadline for voting is midnight tonight as things are moving rapidly with at least one constituent.

2471 days ago
Back in the summer, July 9, the 4 Bears sat down and compiled our top ten shorts for the summer. There has been one disaster – Concha (CHA) – but despite that an average loss (gain for us) of 18.2% per short is not bad. So where do we stand now?
I speak not for the others but for myself and based on conversations we have had of late. Would we buy any of these stocks? Certainly not. Which in my view are still shorts?

2492 days ago
I have made it clear that I believe that even without an escalation of Ebola, the balance sheet weakness of African Minerals (AMI), the debt laden POS AIM Casino listed miner founded by convicted heroin dealer Frank Timis, will be its undoing. Today the company tried to put the best possible spin on pretty dismal interim results.

2502 days ago
I have been goaded into looking into African Minerals (AMI) by Bulletin Board Morons laughing at Evil for being short given that the stock shot up by 47% yesterday. Evil went short at 20.5p the stock is now 25p (valuing African at c£85 million) and falling and I agree with him that the target is near as matters c0p. Here's why.
The company was set up by convicted heroin dealer Frank Timis. He may not be running it now but has lots of shares. As a watertight rule the heroin dealer always makes money from his companies, shareholders do not. Beware the Timis legacy.
There are two African Minerals – the PLC and the operating company. The PLC – as it has admitted – is almost out of cash. That has to be addressed somehow.

2502 days ago
The father of legendary bear raider Evil Knievil is not only the greatest living classical scholar but in his youth played rugby for Scotland (his mother being Scottish). Somewhere the athletic gene passed his 25 stone son by. George Cawkwell (the father) is, like his son, a NO supporter but feels incensed that as an Oxford resident he cannot vote in the referendum.

2542 days ago
During my career I have had countless letters from companies threatening to sue me for libel. Bear raider Evil Knievil has had a good few too. I am not sure how Evil is doing but I have not yet lost a case.  And have only once or twice caved by taking an article down. The behaviour of companies that resort to legal action is telling. And incidentaly those that have threatened me have nearly all, already, gone tits up.
Good companies do not attract hostile comment from folks like myself, Evil, Gotham City and other bears. We only make specific allegations of wrong doing when we can a) prove them and b) when they are material from an investment point of view. If per chance we get it wrong a good company has nothing to fear. It simply points out factual errors and we will always correct any mistakes made – well I will anyway. And a good company can afford to do – as Rob Terry of Quindell – says he is doing just sit there and "let the results do the talking." The share price will follow suit and bears will be burned.
Bad companies respond by going to their lawyers.

2544 days ago
Infamous bear raider Evil Knievil believes that equity markets will have a poor next few months but his short portfolio is based on company specifics. In a conversation just now we discussed his biggest three short positions. And they are: 

2551 days ago
It seems as if the infamous bear raider is going soft in his old age as he has urged me to stop using a phrase I first coined "Bulletin Board Moron." I am afraid that I am as likely to take advice from Evil Knievil on how I write my articles as I am on his handy tips for weight loss.
Evil suggests: 

It is true that anonymity on bulletin boards causes dreadfully silly stances to be taken or suggested and attended by a host of muddled thoughts and where I hesitate to offer any immediate solution. But they are just people doing what people do in their usual muddled way.
So I question the wisdom of constantly abusing them and showing contempt.
I think Evil misunderstands me. 

2557 days ago
Two weeks ago Evil Knievil, Matt Earl, Lucian Miers and I served up our top ten stocks to short this summer and why – HERE. Avanti Communications (AVN) has already done the decent thing and issued a profits warning. We asked our readers at the weekend to vote on which of the ten would be next And the results are:

2557 days ago
Famed bear raider Evil Knievil has been greedily buying more shares in AIM listed Victoria Oil & Gas (VOG) in recent days. Greed and Evil are two words that are often found together. To understand why Evil is buying have a look at this video of CEO Kevin Foo presenting at the UK Investor show a couple of months ago.

2565 days ago
I noted in a previous article HERE that Phorm (PHRM) was only a few weeks away from running out of cash and going tits up. Notwithstanding its $10 million fund raise in March it will be on its way to PLC heaven in mid-August unless some more mug punters like Evil Knievil are found to keep this fare going. I know that the company is telling a jam tomorrow story to investors right now. But before they fall for that ask Phorm about Brazil.
Now groupies of this stock state that Brazil is old hat. Phorm says it is winding down there to focus on higher growth opportunities, like Turkey and China. But as I revealed HERE that is a lie. Phorm had to shut up shop in Brazil, as its operations were banned under law. The same happened in Rumania. And before that in the US, UK and the rest of the EU.

Now what I alert you to today is how Phorm misled investors over Brazil for almost three years.

2566 days ago
Ten days ago, Lucian Miers, Matt Earl (The Dark Destroyer), Evil Knievil and I served up our top ten shorts in London. One of them, Avanti Communications (AVN), has already done the decent thing and issued a profits warning. So who will be next to see its shares price slump. Who do you think it will be? 
As a reminder, the original article is HERE. 
Deadline for voting is midnight Sunday in case one of the ten wishes to fess up on Monday Morning

2573 days ago
Anyone who was at UK Investor 2014 knows that the Bears session (HERE) saw some great calls. And so ahead of a long sweaty summer I asked Evil Knievil, Matt Earl (The Dark Destroyer) and Lucian Miers for their top 5 shorts of the summer and for good measure I add in my own. Between us we have thus compiled the top ten stocks to short in London!
Starring with the heavyweight – Evil Knievil. His top 5 are:

2573 days ago
Until now bear raider Evil Knievil has been the highest profile supporter of Chinese gym shoe producer Naibu (NBU) arguing that on a PE of c1 and yielding 12% the shares were cheap. However I can reveal that he has seen the light and sold out completely.
Knievil says

2578 days ago
The Sheriff of AIM is feeling rather fragile today in the wake of the AIM Cesspit awards dinner. Do not expect a great deal of output from me today. I had a good time and think that others did too. The wine and beer flowed freely, Evil Knievil and Lucian Miers gave good talks and David Lenigas pitched in with his thoughts on Nomads. A brave Quindell (QPP) shareholder turned up and was teased a bit but took it well. But you want to know who won.
The Winners

2586 days ago
You may not like short sellers but the bear raider panel at the UK Investor Show 2014 called things right on a range of stocks from blinkx (BLNX), to Globo (GBO), to Quindell (QPP) as you can see in the video below. Evil Knievil, Lucian Miers and Matt Earl (The Dark Destroyer) have all promised to return for another main stage masterclass at UK Investor Show 2015 on April 18.
The 2015 show will also feature Nigel Wray, Paul Scott, Ed Croft, Mark Slater, Ben Edelman, Amanda Van Dyke, Dominic Frisby, and Vin Murria – in fact 50 big name speakers. Tickets are now on sale at £60 (Golden Ticket) and £12 (Investor ticket).
But you can buy early bird tickets at a 50% discount up until midnight tomorrow (Monday 30th June) HERE.
The 2014 video is below…

2586 days ago
This time I shall gain admittance! Naibu (NBU) has just confirmed in writing that I shall be allowed to attend as the representative of Evil Knievil who (for reasons that I cannot understand) is long of this stock. And I have a few questions for the board. For starters:

2586 days ago
Ed Croft of Stockopedia is the latest big name to sign up to speak at the UK's leading one day investor show, UK Investor. Ed will be doing a main stage presentation with a top chartist on fundamentals versus technicals, looking at the wider debate plus analysing key stock picks of Nigel Wray and Mark Slater plus some audience suggestions. Ed will also be doing a solo lunchtime session in a 250 seater breakout room. Remember the 50% off early bird ticket offer ends at Midnight on Monday 30th June. Do you remember Ed's star turn from 2014?
Ed is joined on the main stage 2015 by Nigel Wray, Vin Murria, Mark Slater, Ben Edelman, Amanda Van Dyke, Matt Earl, Lucian Miers, Evil Knievil, Dominic Frisby, Charlotte Argyle (picture) and many others. We already have 35 big name speakers and a really big name has today agreed to join them...more on that later.
There are also now 60 of the 110 growth companies booked in to attend.
Details of all this can be found at www.UKinvestorshow.com 

2586 days ago
We can reveal exclusively that infamous bear raider Evil Knievil has opened a material short in Plus500 Ltd (PLUS), the AIM listed financial services company. 

2592 days ago
I am afraid that the two free tickets for the AIM Cesspit dinner offered thirty minutes ago have both been snapped up. But you can still buy tickets for the dinner on June 30th in Clerkenwell for just £40. The evening includes a three course meal, half a litre of wine per person and talks by Evil Knievil, Lucian Miers and a few words from me. We will also be handing out the nine AIM Cesspit Trophies.

You can book your ticket and select your menu options HERE
 
And remember to vote in the Cesspit awards – you can do so HERE.
Best wishes
The Sheriff of AIM

2593 days ago
The global conspiracy theorists are at it again. Clearly Quindell (QPP) shares are falling only because of the concerted and organised attack involving myself, Gotham City, EvilKnievil and no doubt Mossad and numerous others. Nothing whatsoever to do with the numerous red flag, the industrial deafness numbers that don't stack up, the UKLA rejection, etc., etc. The Bulletin Board Moron of the week, IfonlyIknew on the LSE Quindell thread serves up a classic.

2593 days ago
Post the report from Gotham City on Quindell (QPP) the colourful insurance come technology come country club company made great play of how it had issued a number of lawyer's letters to those involved in what it saw as a "co-ordinated attack". One recipient of such a letter was bear raider Evil Knievil.
Mr Knievil had not at that point spoken to Gotham and filed his letter from Quindell's uber-expensive City lawyers in his dustbin. He has not responded. Two months later Quindell has not sent him another missive.  Come on Rob Terry this is poor form.

2594 days ago
Bear raider Evil Knievil says that his mind is too occupied with real investing to bother with shares today. He is, as a member of the working classes, sweating away with his nose pressed to the grindstone figuring out the form for the Ascot Meeting. Oh how the poor man toils.

2595 days ago
I return to the dual themes of free speech and the intolerance of the left when it comes to dissent in this week's video postcard.
I have had to record early when too tired after Thursday's Quindelliferous day in order that Darren can get away to celebrate his wedding anniversary. But the message should still be clear.
If you support free speech feel free to come along to the AIM Cesspit awards dinner at Real Man in Clerkenwell on 30th June with myself, Evil and Lucian. Tickets can be bought for £40 HERE
My weekly financial video postcard looks at the way that Quindell deals with the press and analysts. It is almost unparalleled in my 25 year career and it can be viewed HERE

2613 days ago
Legendary bear raider Evil Knievil reckons that for an outlay (or has he describes it "an investment") of £15,000 he is set to trouser a £200,000 on the Epsom Derby at 4PM on June 7th.

2614 days ago
There is little doubt that the two most bombastic men in the City are Avanti Communications (AVN) CEO David Williams and bear raider Evil Knievil.  The battle continues as we can reveal exclusively.

2614 days ago
On Monday 30 June we will be handing out nine trophies in the 2014 AIM Cesspit awards. All those who have made the Aim Casino the crony capitalist den of iniquity that it is will be honoured.
There will be guest speakers present: Evil Knievil and Lucian Miers and everyone should have fun. No lawyers will be allowed to attend so you can say what you want.

The meal offered is a three course (pizza and pasta) offering featuring such delights as the Range Resources (RRL) pizza, a bit fishy and with very little oil.

Tickets for the event, which starts at 6 PM, cost £40 and that includes the three course meal, coffees and ½ litre of very drinkable French wine.  Attendance is restricted by the size of The Real Man restaurant at 91-95 Clerkenwell Road, London EC1R 2BX and so book early to ensure you get a seat.

You can book your ticket and select your menu options HERE

2622 days ago
It is time to highlight and celebrate the very worst of AIM with second annual AIM Cesspit awards sponsored by Shareprophets.com. At an awards ceremony and dinner in Clerkenwell on June 30th (Monday) compered by The Sheriff of AIM, real trophies will be presented to those who have helped make AIM the Cesspit it is and we will be entertained by guest speakers Lucian Miers and Evil Knievil. There are seven awards.

Two are objective mathematical awards and the rest are awards where the winners will be decided by the investing public. The Cesspit year runs from May 1st 2013 to May 1st 2014. The awards are:


2622 days ago
I can reveal that legendary bear raider Evil Knievil has reinvested a material portion of his horse racing winnings on the week (£135,000 to date) in shares in AIM listed Oxus Gold (OXS) at 2.2p.

2628 days ago
Bear raider Evil Knievil has revealed to me that his biggest short position is now Mothercare (MTC). Evil opened his position at north of 170p ten days ago and the shares are now 157.25p, off another 2.5p today. Knievil warns that a big collapse is on the way.

2645 days ago
No not the pop group, but the AIM listed tech stock whose shares have already collapsed by 50% after certain issues with revenue recognition came to light. 
But bear raider Evil Knievil reckons that there is more bad news to come for Blur (BLUR) and 

2647 days ago
It is now a day less than a  year until the 2015 UK Investor Show but following the smash success of the sell-out 2014 show, the UK's leading investor show is already able to announce the first 31 speakers who have agreed to appear in 2015! And there are 27 more names to reveal as the show moves up into superdrive
Our new speakers are Matt Lofgran of Nostra Terra and Matt Suttcliffe of Alaxander Mining and they join on stage Nigel Wray, Evil Knievil, myself (Tom Winnifrith), Clem Chambers, Vin Murria, Ben Edelman, Paul Scott, Lucian Miers, Steve Moore, Robert Sutherland Smith, Cathal Friel, Andrew Bell, Marcus Hanke, Amanda Van Dyke, Matt Earl, Thierry Laduguie and..
NEW For 2015: Charlotte Argyle, Ben Turney, Jason Drummond, Cassandra Harris and BrokerMan Daniel
Some failing shows manage only a handful of speakers but UK Investor Show delivers both changes each year AND the big names. Over the coming weeks we will announce more big name speakers as we plan an increased number of sessions as we take on more floor space. Brace yourself for a 50 speaker show!

And

2647 days ago
The Mrs dropped off at the airport I venture into Athens alone for a few days of peaceful work, doorstepping Globo (GBO) and relaxation. I always stay at the same hotel but cannot for the life of me remember its name or what street it is on.
However the taxi driver dropped me off somewhere in Placa, the ghastly tourist district next to the Acropolis and I trot along streets that seem vaguely familiar, resisting the urge to buy assorted tourist tat which is sold in every shop. Like a homing pigeon it takes me just a few minutes to arrive at the hotel Adonis, a modest three star establishment but it has a hidden gem.
I haggle on price with the man and get a room for two nights for 80 Euro, a 20% discount and then just about squeeze myself and my rucksack into its tiny life. This is the first bad news for Evil Knievil, the son of a distinguished classical scholar who has himself never been to Greece. I am urging him to make a trip but fear that the lift in the hotel Adonis is er….too small for him.

The internet works, my room is quiet and cool. And so to the highlight of a day at the hotel Adonis…breakfast. Bad news again for Evil, there is no "Dublin fry up" it is all healthy rabbit food or bread, cheese and ham. And worse still the old boy would have to walk up 12 steps to the roof terrace for breakfast. But it is worth it….
As you munched your cornflakes this morning what was your view? This was mine. For the utterly ignorant among you it is the Acropolis which stands tall and proud directly ahead of me as I ate, drank coffee and – as one can do here – had a cigarette with my caffeine. This is my perfect way to start the day.

2662 days ago
It is still just over a year until the 2015 UK Investor Show but following the smash success of the sell-out 2014 show, the UK's leading investor show is already able to announce the first 21 speakers who have agreed to appear in 2015!
They are: Nigel Wray, Evil Knievil, myself (Tom Winnifrith), Clem Chambers, Vin Murria, Ben Edelman, Paul Scott, Lucian Miers, Steve Moore, Robert Sutherland Smith, Cathal Friel, Andrew Bell, Marcus Hanke, Amanda Van Dyke, Matt Earl, Thierry Laduguie and..
NEW For 2015: Charlotte Argyle, Ben Turney, Jason Drummond, Dominic Picarda and BrokerMan Daniel
Some failing shows manage only a handful of speakers but UK Investor Show delivers both changes each year AND the big names. Over the coming weeks we will announce more big name speakers as we plan an increased number of sessions as we take on more floor space. Brace yourself for a 50 speaker show!

And there will also be 110 stands for PLCs to exhibit and present from. Already we are almost 20% booked out and we will start announcing those exhibiting very soon.

There are two classes of tickets:

A Golden Ticket guarantees you a front three row seat in any of the days 110 sessions plus a pass to the after show party with CEOs, speakers and journalists. It costs £60 (inc VAT)

An Investor class ticket gains access to any session at the show and costs £12 including VAT.

BUT you can buy either type of ticket with a 50% early bird discount if you book NOW. You can buy your early bird tickets HERE

2669 days ago
Yesterday I got a bullying letter from lawyers to a listed company. So too did Evil Knievil. Different companies same sort of threats. To Evil first. 
Bully boy City lawyers Olswang, acting for Athens based Globo (GBO), have demanded that he does not comment on matters affecting their client at the UK Investor Show on Saturday.

2674 days ago
You can book one of the last twenty or so seats at UK Investor either online HERE or by calling 07761030374 until 4.30 PM TODAY (WEDNESDAY) and we guarantee to get your ticket in the last post first class today. If you want to see real fireworks BOOK NOW.  What fireworks you ask?
Ben Edelman the Blinkx destroyer is making a rare UK visit and will publicly rebut the Blinkx statement of Monday. Already Ben has halved this company's market cap – what damage will he do live on Saturday?

Nigel Wray, Britain's Buffett, gets grilled by Ed Croft about his portfolio and whether a machine could do better

Evil Knievil, Lucian Miers, Matt Earl and myself will launch full frontal assaults with new material on Globo, Quindell, Gulf Keystone and Avanti and a couple of new targets…

Richard Poulden and I will debate the UK House Price crash. Is it inevitable? Of course it is!

Dominic Frisby & Amanda Van Dyke will be joined by four gold company CEOs. Is gold just a useless yellow metal and are gold stocks even more useless?

David Lenigas and 3 other oil CEOs will be put on the spot in the oilers lunch

The 90 Growth PLCs with stands will be presenting at CEO level in special breakout rooms 

At the bloggers café those share tipsters you love and hate will be there writing, tweeting and taking your questions

Book one of the last few seats by 4.30 PM Wednesday (TODAY) either calling me direct on 07761030374 or online HERE. I shall be able to take calls and get tickets posted guaranteed first class delivery in tonight's post at Mount Pleasant if you meet that deadline.
If you are coming to London for the whole weekend and fancy a relaxing meal the night before, myself Steve Moore and a raft of speakers will be at Real Man Pizza Company at 91-95 Clerkenwell Road, EC1R 5BX on the Friday night.
Bring your ticket along and there is a 20% discount on your bill and myself, Steve Moore, my wife and others would be delighted to have a relaxing pre-show chat.

I look forward to seeing you this Saturday (perhaps Friday as well) at the UK Investor Show.
Best wishes 
Tom Winnifrith
Book one of the last few seats by 4.30 PM Wednesday (TODAY) either calling me direct on 07761030374 or online HERE. I shall be able to take calls and get tickets posted guaranteed first class delivery in tonight's post at Mount Pleasant if you meet that deadline.

2675 days ago
Bear raider Evil Knievil lost £40,000 shorting Quindell Portfolio (QPP) last time around but he has opened up a material short position after results yesterday, but has been prevented from letting folks know about it. I am always here to help…I am that sort of all-round nice guy.
At 35p Quindell is now capitalised at £2.1 billion. Results for calendar 2013 were released yesterday and are not designed for easy reading. There is so much verbiage, restatement of prior year numbers, PR flim flam and general information given that it is terribly hard to get a clear picture of what is going on.

The bulls would point to a 133% increase in sales (to £380 million) and how adjusted pre-tax profits soared by 133% to £133.7 million giving adjusted earnings of 2.54p an increase of 75%. A PE of 14 for such growth surely this is a bargain. Well er…up to a point.

Profit is a matter of opinion, cash is a matter of fact. And the cash generated at an operational level was truly pitiful 

2676 days ago
Shares in Gulf Keystone (GKP) have slumped by 9% to just 90p today amid ongoing concerns about the company's rescue $250 million bond offering which has to succeed if Gulf is to avoid going tits up in May.

Infamous bear raider Evil Knievil has revealed to Shareprophets today that he is now short of 200,000 shares.  While declining to set a short term target price, Knievil says that the see through value of Gulf's equity based on the 15% yield to redemption on Gulf's existing $325 million of bonds is c30p.

2677 days ago
Nigel Wray, Ben Edelman, Evil Knievil, Vin Murria, Cassandra Harris, Lucian Miers, 90 Growth Company CEOs, myself, Steve Moore, Malcolm Stacey, David Lenigas, Amanda van Dyke, 34 other star speakers, 1500 serious investors will all be in Westminster on April 5 for the Investor Show of the Year? Want to join them? There are now fewer than 50 seats left – you can book HERE
Book this weekend and your tickets will be in the post at Mount Pleasant before first post Monday.

This is a once a year event. The list of growth companies attending is awesome and can be found HERE

The full speaker list is HERE

And there are now fewer than 50 seats still going free so if you want one book now HERE

I look forward to seeing many readers of this blog in London on April 5, in just six days time. Incidentally if you are making a weekend of it in London for the show, bring your ticket along to Real Man Pizza Company on Friday and you get 20% off. I shall be there with Steve Moore, my wife and various speakers and CEOs and would look forward to saying hello ( and you buying me a drink!)

2683 days ago
Bear Raider Evil Knievil warned last week that Albermarle & Bond (ABM) was on its death throes and that a short was free money. The company has today warned that the banks will not support its recovery plan and that it must therefore try to sell assets but this will not realise even the amount it owes. Albermarle thus concedes that its equity is worthless and its shares have been suspended. We warned you to sell last week HERE.
To those who ignored that warning

2683 days ago
In light of this week's Bulletin Board Moron & Bigot of the week story posted earlier there can only be one picture for this week's caption contest. If you think that you can better my entry please post it in the comments section below:
My entry is:  As the Judy Garland blares in the background, the entire Shareprophets Editorial team and Evil Knievil decide that there is no point in living a lie and all come out…as bears of Gulf Keystone."

2687 days ago
Praise the Lord that I am in Bristol not London today as various other folks are right now stuffing envelopes with letters, tickets, full speaker line up details as we start to post out tickets to the UK Investor Show on April 5 in Westminster. All tickets ordered as of today will be sent by last post Friday with most going out TODAY.
With 44 big name speakers lead by Nigel Wray, Ben Edelman, Vin Murria, Terry Smith, Evil Knievil and Lucian Miers the show is known as the UK's Number One Investor Show. The full list of presentations can be found HERE.
There are also 90 growth companies attending not only manning booths but also in most cases doing 20 minute presentations for those really interested. Ranging from Advanced Computer Software, to Minoan, to Leni Gas & Oil, to Amara Mining the full list can be found HERE
We still have 10% of the seats available so if you wish to join 1,500 other active investors in London on April 5 please book your seats NOW HERE
I hope to see many readers of this blog in Westminster on April 5
Best wishes
Tom Winnifrith

2687 days ago
Shares in Partnership Assurance Group (PA.) were knocked sharply yesterday and have fallen again today to 126p thanks to the budget proposal to allow folks not to take an annuity when their pension is due – annuity provision is a major part of Partnership's business. Bear raider Evil Knievil reckons the market has got it wrong and has bought the shares.

2691 days ago
Infamous bear raider and gambling addict Evil Knievil tells me he is "exhausted" after a hard week's work studying the form for Cheltenham. His tax free winnings are £150,000. No doubt George Osborne thinks that EK would be "happier" paying 40% tax on them. In honour of the great man – a star speaker at UK Investor Show – we depict this "worker" labouring away with the tools of his trade.
Please supply suitable captions on the comments section below. The best entry wins a 50% off voucher for Maribelle's




For what it is worth my entry is:

"London Electricity reconnects power & vintners across London celebrate as a member of the labouring classes puts in a week of honest graft and finally pays his bills."

I am sure you can do better. Post your captions in the comments section below.

Last week I asked for captions for this picture.




A Maribelle's voucher is on the way to Happytrucker for:

Due to Government cut backs, Somali Pirates steam in on the new UK Aircraft Carrier.

2691 days ago
Bear raider Evil Knievil says that he will be resting this weekend after what he describes as " a hard week's work" gambling on Cheltenham. 
Assisted greatly by yesterday's Gold Cup tip for Shareprophets readers (HERE) which netted him £50,000 his total winnings from Cheltenham week have been £150,000. Knievil says that this is a festival where no-one tries to throw races so studying form pays off but "it is jolly hard work." 
What next? 

2693 days ago
Bear raider Evil Knievil is now £90,000 ahead on the Cheltenham Festival, in good part thanks to yesterday's 10-1 nap romping home. He says that this is "hard tax free work" and looks forward to a good sleep this weekend. But he is not finished yet.

2694 days ago
Yesterday at Cheltenham Evil reckons that he won £10,000 overall to add to his £30,000 from day one of the festival. And as a bonus his nap published HERE yesterday came in as a winner by 6 lengths. Today he offers up two tips for the World Hurdle which starts at 3.20. 

2696 days ago
Surely 12 sessions and 44 speakers is enough for the UK Investor Show on April 5 in Westminster? Well it is but we had forgotten something: UK residential property. Problem fixed – we have squeezed in an additional debate with a bull and a bear.
You can read full details of the 44 speaker line-up headlined by Ben Edelman, Nigel Wray, Vin Murria, David Lenigas, Terry Smith, Mark Slater, Evil Knievil & Lucian Miers HERE

The debate is between two libertarian thinkers trained in economics. Richard Poulden will argue that there will be no crash. I shall argue that there will be one.
This is our sixth annual debate and the score is currently 3-2 to Richard. 
Our debates are informal if information packed. Hence we kick off this one at 9.20 AM as a sort of warm up for the main talks which start at 9.50 AM.  Doors open at 9 AM.

The show is as of today 81% sold out. If you want to get a ticket (while stocks last) you can book HERE

2700 days ago
AIM Cesspit posterboy Globo (GBO) has put out a statement saying that there is no reason for its shares to have tanked. The market is not impressed and the stock now trades at just 48p having lost almost one third of its value in two days. Worse may be to come. 
Globo refers worried investors to its upbeat trading statement of 28th January. Yadda, yadda, yadda.
It then clarifies why it has changed auditors for the second time in six months but  - as we explained yesterday HERE – questions over the timing of statements remain.
Worse still

2701 days ago
Five days ago bear raider Evil Knievil was the biggest cheerleader in town for internet stock Phorm (PHRM). But five days is a long time on the AIM Cesspit. 

2702 days ago
Last week AIM Cesspit listed Phorm (PHRM) was presenting to potential investors at the offices of its London broker Mirabaud. Among those to whom it presented was the bear raider Evil Knievil. I have a lot to say on this AIM Cesspit listed enterprise but let's start by getting dirty. 
Mr Knievil called me in great excitement on Friday. What aroused my interest was a claim he made that he had been told in the meeting that Phorm reckons that Google was engaged in some sort of dirty tricks campaign against it so terrified was the web giant of the threat posed to it by or AIM listed minnow – a company that has in six years ploughed its way through $328 million. Its last reported results (interims) showed revenues of $28,545.

Instinctively, as I noted yesterday 

2703 days ago
I noted at the weekend that bear raider Evil Knievil had gone long of AIM Cesspit listed internet company Phorm (PHRM) at 13p. Having considered the matter, I certainly would not buy the stock and am almost tempted to open up a short. I serve up a few red flags for you to consider.
This company's technology is old. If it was going to make a breakthrough it would have done so years ago. I am not sure that I understand what exactly has changed.


The company raised £10 million in November but is – quite incredibly burning its way through between £2 million and £2.5 million a month. That means that it will be out of cash sometime between end March and end April. It is quite clear to me that the company is on an active roadshow at a time when markets are jittery. I would thus expect its next placing to be at a material discount to 13p. So even if I believed it, which I am not sure I do, I would buy after the placing not before.


The company claims

2706 days ago
The last time bear raider Evil Knievil met Phorm (PHRM) he was shorting it at £35. He made a packet. But I can reveal, exclusively, that following a two hour meeting with the company at the offices of broker Mirabaud last week, Evil has gone long at 13p. 

2710 days ago
Bear raider Evil Knievil is short of shares in medical products company Lidco (LID) shares in which trade at c22p. He reckons that they should fall to close to TNAV (c6p per share) but admits that there are a "lot of believers" he would probably close out at 15p. But will he get his paws badly burned?

2714 days ago
The UKInvestor Show already has 42 big name speakers but this weekend it will announce its biggest and hottest name speaker yet. Flying in from the US just for the show this man will set the cat amongst the pigeons. Watch this space! 
Meanwhile we are pleased to announce that there are just 15 Golden tickets for the show left. These tickets give attendees guaranteed seating at any talk plus an invite and transport to the after show champagne reception with key speakers and attending CEOs. 

More than half of the ordinary tickets which give access to all events at the show have also been reserved.

You can book golden or ordinary tickets HERE

The speaker line up already boasts names like Nigel Wray, Terry Smith, Vin Murria, Lucian Miers, Mark Slater, Ed Croft, Lucian Miers, the dark Destroyer Matt Earl, Cassandra Harris, Dan Levi, Paul Scott and Evil Knievil - for a full line-up go HERE 
And with 90 growth companies exhibiting, the show will also provide a fantastic opportunity for investors to find out more about stocks they may be invested in or size up potential new investments. The stand line-up can be found HERE
More details of the speakers and of how to book both classes of tickets can be found at www.UKInvestorshow.com

2721 days ago
37 big name speakers, experts in everything from tech stocks to gold to value investing to emerging markets to shareholder activism. The variety and expertise is there for all to see. That is the line-up for UK Investor Show on April 5 in London – no wonder that most of the tickets have already been booked. So who is speaking?
Well what are you interested in?  On the main stage…hosted by Louise Noel:
Value Investing?  There is a session with Ed Croft of Stockopedia, Nigel Wray and Paul Kavanagh of Killick.
Shareholder Activism? There is a session with Roger Lawson of Share Soc, blogger and activist Paul Scott, music teacher and activist Nigel Somerville and Richard Hemans of the Vialogy action group
Emerging markets? The Legendary Terry Smith is on stage
Growth Investing? There is a Mark Slater Presentation
Already most of the tickets for this event have been sold. So to book yours NOW click HERE
Tech Stocks? A panel session featuring angel investor Cassandra Harris, Vin Murria of Advanced Computer Software ( the Queen

2737 days ago
Naibu (NBU) has today issued a trading statement boasting that its sales in 2013 zoomed ahead by 15% and that with increased production capacity due onstream in February 2014 this year would be even better. If you believe that the shares are stonkingly cheap. Bear raider Evil Knievil does. Bear raider Lucian Miers, bear Matt Earl (The dark Destroyer) and I do not.

2750 days ago
Bear raider Evil  Knievil (aka Simon Cawkwell) has joined the ever growing list of those demanding that the FCA throw the book at disgraced Silverdell CEO Sean Nutley and Knievil has also demanded that the regulator looks into the actions (or inactions) of Silverdell Nomad FinnCap. His letter sent today appears below.
15th January 2014
The Manager,
The Financial Conduct Authority,
Dear Sir,
Events at Silverdell

2779 days ago
Just a quick drink said Lucian, who was already well refreshed aster launch with Evil. I am bringing Matt Earl ( the dark destroyer) and A.N. Other who has asked to have his identity protected and not be be quoted on anything. Just a quick drink, Lucian promised.

I don't feel very well this morning and am watching hangover Despina Vandi music videos as I ponder the day ahead. I do not think that it will be a terribly productive one. But hey, it is Christmas.

2784 days ago
I had 250 free copies of my Amazon listed book (normal price £10.25) on offer for free. All bar a couple of dozen are now gone. So if you fancy picking up a free copy of "The 49 Golden Rules for Making Money from Shares" …HURRY UP!
You can get hold of one of the few remaining free copies on my book HERE
We also have about 20 copies of Evil Knievil's new guide to making money from short selling ( with an introduction by me) still going and you can get yours HERE
Happy reading & Merry Christmas
Tom Winnifrith 

2789 days ago
Our pals at Spreadbet Magazine on Friday published a new e-booklet by the legendary bear raider Evil Knievil and we had 250 copies to give away. We now have just 150 copies to go - it is first come first served while stocks last.
The publication comes with a brand new introduction by my good self. But we now have just 150 copies to give away on a first come first served basis – to get your copy CLICK HERE

2797 days ago
As the late great Max Bygraves might have said, I wanna tell you a shtorrry – and this tale comes to you all the way from Central America. Read carefully for it is a bit complicated.
It starts back in the early part of this millennium when a fellow called Greg Smith was running an AIM listed company called Petrolatina (PELE). I have to admit that I was taken in as was my fat friend Evil. Greg is a very plausible salesman.

2800 days ago
Movember update – four days to go. As you can see below the Movember tash is continuing to grow. I am actually rather starting to like my "follicle splendour" as Mr Kit Ingoldby described my tash.
Mr Gary Ashworth of Interquest (ITQ) – which incidentally served up a very decent trading statement today and is a buy at 94p – was rather less charitable, saying the tash was "More Ian Beale than Rhett Butler." Mr Beale is a character in East Enders. Hmmm.

At least Gary is not trying to "out me" as gay like Evil Knievil.

You can sponsor my Movember efforts and help the fight against testicular and prostate cancer here



2802 days ago
I see nothing wrong with being a homosexual or looking like one (if there is such a standard look). But despite going to the sort of school (perhaps it is because) where buggering younger boys was part of the core curriculum, Evil Knievil has less tolerant views.
He has therefore emailed me today to say "you look like a homosexual" which he, no doubt, regards as a deep insult. Whatever…
I think he refers to my moustache which 25 days into Movember might just get me into the sort of seedy Soho bar where you would get to meet stacks of Evil's contemporaries from Rugby.
To show solidarity in the face of this homophobic assault please sponsor my Movember efforts raising money to fight prostate and testicular cancer HERE

2810 days ago
We are approached by all sorts of spread-betting firms to partner up with them. After one not so great experience I am very picky about who we deal with. And so I am delighted to say that we have kissed the frogs and without reservation teamed up with ETX.
I have opened an account ( for a Christmas trading challenge with Steve Moore) and you too can do so here

2820 days ago
Bear raider Evil Knievil started shorting LED Company Dialight (DIA) at 1200p three weeks ago and I wrote at the time that I agreed 100% with his analysis. The stock has opened down 33p at 1033p today after a less than impressive trading statement. Evil says he is "delighted". We both expect the shares to slump to 600p in due course. Here's why. 

2822 days ago
We are approached by all sorts of spread-betting firms to partner up with them. After one not so great experience I am very picky about who we deal with. And so I am delighted to say that we have kissed the frogs and without reservation teamed up with ETX.

I have opened an account ( for a Christmas trading challenge with Steve Moore) and you too can do so here


Shareprophets will earn a small percentage of the spread each time you deal with an ETX account opened here so I hope that you do open such an account.

It was pretty much the same deal on offer across the board so why did we pick ETX?

1. They will allow you to spreadbet all the normal bets ( indices, forex, blue-chips, commodities) but almost uniquely they will also allow you to place a bet ( long or short) on small caps with a market cap of as little as £10 million. So you can short like Evil in a way you could not before but also0 place leveraged buy bets on the long tack.

2. ETX is a long established and pukkha firm which won't be disappearing overnight like some newbies in this market. They are good guys.

3. You get a bonus of up to £500 for just opening an account. Can't say fairer than that.

I will start my Christmas trading challenge with Steve (any profits we make on that will go to the Woodlarks charity) next week.  Spreadbetting is not suitable for everyone, your leverage means that losses are in theory unlimited.

But if you fancy a free bonus for signing up and want to spreadbet small caps I hope that you open an account HERE



Tom Winnifrith

2830 days ago
AIM listed Globo (GBO) is a stock that both Lucian Miers and Evil Knievil are shorting. I reckon that it is a slam dunk sell as does the Closet Chartist. But the dark destroyer is top analyst Matt Earl who has today published a seminal piece of forensic analysis. Anyone not selling after reading Matt's article is mad. And an RNS out today is bizarre.

2837 days ago
Infamous bear raider Evil Knievil is keen that all should know that he made £134,000 over the weekend from horse racing. But how to double up on the market? Evil admits that may be harder. However his two big short positions remain intact.  

2843 days ago
Bear raider Evil Knievil and I have had a long chat this morning about Dialight (DIA) of which he is short. The core analysis here comes from Matt Earl – the nemesis of Avanti (AVN) who has got to be the UK's top forensic analyst and has just signed up to the UK Investor show as a star speaker. 

2858 days ago
It's the last day to get a 50% discounted early bird ticket to the investment show of the year – UK Investor 2014 on April 5.
We know that other investor shows are free. They have weak speakers and the sort of companies that pitch up to present are of little interest to me or you. On April 5 in  the UK's top location, the QE2 Centre Westminster the UK Investor Show will boast an all start line up of speakers and already 39 of the 80 companies set to man a booth but also present are booked in.
This is a show for serious investors and we do not want time wasters attending and clogging up the aisles: so we make a small charge to attend.
You can buy an ordinary ticket (normally £12 inc VAT) or a golden ticket (£60 – and which brings a range of perks including a place at a champagne reception afterwards with key speakers and CEOs) at half price until Monday midnight (TONIGHT) ONLY at the www.UKInvestorshow.com website.
So who is speaking?  We have a value investor panel led by Ed Croft of Stockopedia, Nick Leslau and Nigel Wray plus Paul Kavanagh of Killick with 1 more tbc. There is a gold panel led by Dominic Frisby and Amanda Van Dyke with Richard Poulden and analyst turned CEO Matt Suttcliffe with 2 tbc.  There is a bears panel lead by Evil and Lucian Miers with 2 tbc.

Terry Smith ( a real hero of mine) will do a stand alone talk on how to make money from Emerging Markets. 
There is a bloggers panel led by myself with Brokerman Dan, Doc Holiday and 2 tbc. There is an oil lunch panel (with free sandwich) with David Lenigas, Matt Lofgren, Paul Atherley and 2 tbc. Mark Slater will be flying solo. There is a traders panel led by Clem Chambers and Alpesh Patel with 2 tbc. And there is one more solo speaker of whom more next week.
You have just a few hours to book your early bird half price ticket and can do so HERE
There are also big name breakout sessions for 100 people where the 75 gold ticket holders get priority booking. These include Amanda Van Dyke, Roger Lawson of Share Soc and Evil Knievil ( with me)
You have just a few hours to book your early bird half price ticket and can do so HERE
And then there are the companies each of whom will man a stand but also do a 20 minute presentation in a smaller side room. The list of those attending grows by the day and can be found at www.UKInvestorshow.com but already includes: EMED, EnablesIT, Stanley Gibbons, Inspirit, Nostra Terra, ECR Minerals, Conroy Gold, 1Spatial, Leni Gas & Oil, Alexander Mining, Red Rock Resources, AfriAg, Regency Mines, @UK, ADVFN, Alliance Pharma, Ariana Resources, GLI Finance, Asher Resources, Fastnet Oil & Gas, Kibo Mining, Eurasia Mining, Leyshon Resources, Noricum Gold, Ortac Resources, Symphony Environmental, Killick & Co, Mechan Controls, Minoan, Sound Oil and of course Woodlarks. More companies will be announced every week…
Hundreds of serious investors have booked already. I hope that you will join them and to see you on April 5th in Westminster but remember to get a 50% discount on your ticket you need to book now on a secure online form HERE.
Best wishes
Tom Winnifrith

2861 days ago
Like everyone else in the email address book of Simon Cawkwell, aka infamous bear raider Evil Knievil, I have today received an urgent message – it seems as if the fat man is in a spot of bother. It reads:

2862 days ago
The UK's only serious investor show is UK Investor which takes place on April 5 2014 at London's top venue: the QE2 Centre in Westminster. But you now have just FIVE days to book your early bird half priced ticket HERE
Three quarters of the 30 top main stage speakers are already lined up including legendary Nigel Wray and Evil Knievil. More than half of the 70 growth companies due to present at the show are already booked in including Leni Gas & Oil, 1Spatial, GLI Finance (have a look at its 5 year chart!), Leyshon Resources, Inspirit, Sound Oil, Nostra Terra Oil & Gas and @UK. More companies sign up every day. 
You can find out more about the companies presenting and the all star speaker line up at www.UKInvestorShow
This is not an investor show for time wasters and so we charge a small fee for entry and also offer a limited number of "gold tickets" giving one to one access to key speakers. You can book your tickets now and there is a 50% discount for those booking tickets before September 30th.
Book today via a secure online platform at www.UKInvestorshow.com
Best wishes

Tom 

2884 days ago
There is only one investor show worth attending if you want to hear an array of big name speakers in sparky debate and meet dozens of growth companies. And this year the UK Investor Show has a new format and a new venue, the Queen Elizabeth centre in central London. The date for your diary is April 5th 2014

But to get a 50% discount on your ticket you need to book before September 30th HERE

More than 20 big name speakers are already signed up to appear including Britain's Buffett Nigel Wray, legendary bear raiders Evil Knievil and Lucian Miers, gold gurus Amanda Van Dyke and Dominic Frisby, Ed Croft of Stockopedia, controversial mining analyst turned entrepreneur Matt Sutcliffe, infamous bloggers Brokerman Daniel and Doc Holiday, Clem Chambers, Tom Winnifrith and Roger Lawson.  

2915 days ago
Fully listed CPP Group (CPP) shares have rocketed to 16.5p in what infamous short seller Evil Knievil describes as "the biggest bear squeeze I have ever seen". Evil, aka Simon Cawkwell, remains short and expects the shares to collapse, but admits that they could easily go higher short term.

2926 days ago
Shareprophets can reveal that infamous bear raider Evil Knievil has acquired a near disclosable stake in AIM listed mining stock (OMI) after buying heavily at c7p. The shares are now 9.875p valuing Orosur at £7 million but Knievil (the alias of Simon Cawkwell) argues that on a break-up basis the gold producer is worth $30 million

2939 days ago
I can reveal exclusively that infamous bear raider Evil Knievil has opened up a short in AIM Cesspit listed Cyan Holdings (CYAN) at 0.35p. Knievil's old adage is "the best time to kick a man is when he is down" and Cyan is certainly down, if not yet out, following its (lack of) profits warning earlier this week.

2940 days ago
Bear raider Evil Knievil ( Simon Cawkwell) has been short of AIM Cesspit listed Avanti Communications (AVN) a good while and after today's profits warning he says that he remains short, telling me that "Avanti is simply not investment grade material." Cawkwell says that Avanti may turn the corner but equally it could disappear altogether. He says that he has no intention of closing his short.

2955 days ago
The wine flowed freely at the awards dinner. So freely that my speed of writing today has been not even snail's pace. Non-existent is the word.  I found myself playing the straight man in talks by Lucian Miers and Evil Knievil which were funny and hard hitting. From the floor various CEOs and other types chipped in. The food, naturally, was superb…as you would expect at The Real Man Pizza Company.

2960 days ago
THE CEO of an AIM listed company offered at the weekend to pay for 6 private investors to attend the AIM Cesspit awards dinner/Sefton legal case fundraiser with Evil Knievil and Lucian Miers on Monday 24th June in Clerkenwell London. Those 6 seats were allocated on a first come first served basis but two of the winners have now pulled out.

As such I have two free tickets on offer.

They will go to the first Shareprophets.com or TomWinnifrith.com readers to email a request for the seat to [email protected]
I look forward to seeing two of you on Monday

2972 days ago
When: Monday 24th June 7PM
Where: Real Man Restaurant in Clerkenwell
Registration: It is £75 a ticket and you can order tickets and your food on the evening HERE

The AIM Cesspit awards 2013 will be handed out to those companies that have disgraced themselves most gloriously on the junior market on 24th June. The occasion will be a special dinner which will also aim to raise money to assist Tom Winnifrith in fighting the libel case brought against him by Sefton for pointing out how it has mislead investors on a serial basis.

The guest speakers are infamous short sellers Lucian Miers and Evil Knievil.
There is a special menu which you can view HERE

You can book your ticket or tickets HERE

2976 days ago
Vote now in the 2013 AIM Cesspit awards.
The trophies will be handed out on June 24th at a  special dinner hosted by Evil Knievil and Lucian Miers which will also raise funds for the campaign to fight Sefton Resources as it attempts to stop its activities being exposed by using bully boy lawyers.

2979 days ago
What are you doing on Monday 24th June from 7PM?
How do you fancy hearing talks and jokes from Evil Knievil and Lucian Miers?
How do you fancy seeing the 2013 AIM Cesspit awards handed out to the companies and CEOs who have made the bottom end of AIM the joke that it is?
Would you be inclined to make a donation to the costs incurred by myself in battling Sefton Resources and other AIM companies, exposing the way that they have misled investors on a serial basis? Interested?


The awards will be handed out at a dinner at the Real Man Restaurant in Clerkenwell. Our guests of honour who will both give talks on the night are bear raiders Evil Knievil and Lucian Miers who will discuss fraud and investor deception on AIM.


We will announce the 2013 AIM Cesspit awards to those CEOs or companies who have done most to discredit the market over the previous 12 months.
There is a special menu for the day.


The total cost for the evening is £75, 80% of which will go towards the costs of battling Sefton and one or two other AIM listed companies that seem not to like facing the cold light of truth.


I look forward to seeing you on the 24th in Clerkenwell.


You can reserve your seat and choose your menu options here.


2979 days ago
This was meant to be a relaxing half term family week. Hence fewer articles, no midweek Tomograph and general jollity. It turned out to be a total horror show. But progress has none the less been made with my good friend Darren the hero of the hour.

That will all be discussed in the Weekend Tomograph which will also have information on how to vote in the 2013 AIM Cesspit awards, of an awards dinner with Evil Knievil and Lucian Miers and much more.

To ensure that you receive your edition of the Tomograph on Sunday evening please REGISTER HERE

2979 days ago
This has been well spun by AIM Cesspit pin-up boy Cupid (CUP) but yesterday's trading statement was a disastrous profits warning. 
On March 5th folks were expecting half year EBITDA in excess of £6 million (up from £5.9 million in 2012).  Just 86 days later we are told EBITDA will now be just £2.5 million which means a pre-tax loss. Bear raiders Evil Knievil and Lucian Miers are both short. Their current take:update#sthash.ZHiUiIbm.dpuf

2997 days ago
AIM Cesspit listed Quindell Portfolio has yet again put out a statement saying that there is no reason for its share price tanking other than wicked shorters and the press getting it wrong. Sorry fellows here is a good reason "you do not fxxxxxg well answer valid questions."
My top question has always been "To whom was the £15 million loan on the year-end balance sheet made and why?" There is no reason why Quindell should be making loans so what the hell is going on. I contacted Quindell via its foxy PR bird Bex this morning and was told I would get a call back with an answer. I have had no such call. Others have asked broker Cenkos. No joy. I tried the company direct. No joy.
And that is the problem with Quindell.

3000 days ago
They do not like it up 'em. Shares in some of the darlings of the AIM Cesspit have taken a bit of a hit of late and some folks, the believers, believe that this is the result of a great conspiracy involving myself, Evil Knievil, Lucian Miers, Zak Mir, Red Evans and others. How about a quick look at the facts.
It is almost flattering to think that our wee band could wipe £300 million off the market value of Quindell (QPP). If only we were so powerful. As it happens Zak, myself, Evil and Lucian were all bearish on this company and we have been proved right. We are not always right but here we were correct. But the whole world is asking valid questions of Quindell now and that is why the shares have tanked. It is just that we called it correctly first. Is it a crime to be right and to ask valid questions?

3001 days ago
With its shares having tanked from 14p a few weeks ago to just over 7.41p with most of the falls following annual results on Tuesday, Quindell Portfolio (QPP) – hitherto a darling of the AIM Cesspit – has put out a statement late last night. It is a truly dismal effort. In the words of Evil Knievil "it is not an invitation to short but now an obligation."
The statement, crafted by foxy PR bird "Bex" SH who also acts for Cupid (CUP) reads:
The Company is aware of recent press speculation regarding the equity swap and an active short position in relation to the Company's ordinary shares. In light of this, the Board wishes to clarify that further to its recently reported record results, the Company has a strong balance sheet and continues to trade profitably with significant traction in the insurance sector.   The Company knows of no valid reason for the recent share price decline. Furthermore, the equity swap asset, which has also been subject to speculation, accounts for a small part of the Group receivables and is not a material contract in relation to the size of the Group.  This was issued as part of the funding for the acquisition of Accident Advice Helpline, announced on 3 December 2012 and was deemed to be the least dilutive funding mechanism at this time. It is not currently being exercised, and the Company believes that the counterparty will continue to not make any material transactions in respect of the Company's ordinary shares unless the share price is at substantially higher levels.
Er… in plain English what on earth is all of that about?

3001 days ago
Shares in AIM listed Quindell Portfolio have slumped to 7.12p following a disastrous results presentation. But that still values this strange stockmarket beastie at more than £400 million. Folks cannot say that they were not warned about this… On my new www.shareprophets.com website, myself, Lucian Miers and Evil Knievil (SBM editors 'pal'!) all warned folks to get out well before the current debacle. Personally, I still see the shares as a strong sell – there are just too many red flags here.
Supporters will tell you that the stock now trades on a PE of 5 and that the recent slump from 13p is all down to wicked short sellers and scumbags like me spreading disinformation. Er…no. I list below the red flag issues which should tell you that this will end in tears for the bulls and obscenely excessive bacchanalian celebrations round at Real Man Pizza Company for the bears.

3002 days ago
Bear raider Evil Knievil and I chatted tonight and he is in celebratory mood following the post results meltdown in the share price of AIM Cesspit listed Quindell Portfolio (QPP). The numbers raised red flags but it is the shocking revelations of how shareholders cash was used to punt on Quindell's share price that has caused the stock to slump.
I revealed here a while back that Quindell was Evil's biggest short.

 Bear raider Lucian Miers also wrote up his concerns about Quindell here on Shareprophets two weeks ago as you can read here.


Is it illegal for a company to use CFDs to bet on its share price going up? Evil tells me that it is not since a CFD is a derivative. However

3015 days ago
In case you missed the UK Investor Show and fancy watching real master investors this weekend we have it all on video and those videos are now starting to go live. 
If you want to hear what infamous bear raider Evil Knievil is buying and selling or what top chartists Zak Mir, John Piper and Clem Chambers are long or short of there is no need to leave your own living room this weekend – it is all here on video for you.
Or fancy Mark Slater's top share picks and thoughts on the market – he is here too with a full slide presentation and video. As is gold guru Dominic Frisby, the UK's most cerebral short seller Lucian Miers and also Nigel Farage MEP in full flow.
The videos are from the UK Investor Show two weeks ago so if you want to hear what these folks are thinking, buying or selling just relax, pour yourself a beer and spend the weekend at your PC.
There will be more videos appearing over the weekend featuring Britain's Buffett Nigel Wray, Secret Millionaire and property guru Nick Leslau, mining guru-ess Amanda Van Dyke as well as the CEOs of Leyshon Resources, Fastnet Oil & Gas and a dozen other companies. For alerts on when they appear register now at www.shareprophets.com
Meanwhile, sit back, relax and watch the explosive action.
To see Evil Knievil, Zak Mir, John Piper and ADVFN CEO Clem Chambers in action – click HERE
You can watch UKIP leader Nigel Farage here
You can watch gold guru Dominic Frisby & access his slides HERE
You can watch small cap legend Mark Slater and access his slides HERE
And you can watch infamous bear raider Lucian Miers HERE
Over the next 48 hours we will also be publishing videos featuring Leyshon Resources, Fastnet Oil & Gas, Nigel Wray and Nick Leslau and mining guru Amanda Van Dyke. For all their thoughts and hot tips and much more stay tuned to your PC this weekend.
Following the amazing success of the UK's only serious investor show we have just announced that the 2014 event will be held at a larger venue in Central London on April 5th  . More details soon.
We will upload more videos from UKInvestor very soon to give you something entertaining to watch from home all weekend
Now, for me, back to the beach.

3016 days ago
Okay you have missed the only show worth attending for this year. Shucks. But following the amazing success of UK Investor Show 2013 we have now set a date for UK Investor Show 2014. So put it in your diary now: April 5th2014.
And in response to the success of the first show we have secured a larger venue in Central London for the 2014 event. More details to follow.
If you did miss the 2013 event videos of the main speakers and of 12 PLC presentations were recorded and are now starting to go live.
You can watch gold guru Dominic Frisby & access his slides HERE

You can watch small cap legend Mark Slater and access his slides HERE
And you can watch infamous bear raider Lucian Miers HERE

Later today UKIP leader Nigel Farage MEP goes live on ADVFN with short seller Evil Knievil to follow shortly afterwards

3025 days ago
At an also-ran investor show in a few weeks time Evil Knievil has been asked to give a talk on "my time at t1ps.com." But he has been ordered to not, under any circumstances, mention Tom Winnifrith in that talk. Truly some folks are fascist morons.
For the record, t1ps was founded by me with Evil as its company secretary. We did the paperwork together in his flat in 2000. Its greatest triumph was the 3DM campaign. Who did the legwork, stayed up till 2 am calling folks across America? Er… Tom Winnifrith. Who wrote the 500 page dossier for the FSA which t1ps produced in the name of Evil and myself to get 3DM censored? Er… Tom Winnifrith and Monisha Varadan. Who edited (extensively) Evil's two books published by t1ps? Er… Tom Winnifrith. Who organised the Evil t1ps seminar in London? Er…Tom Winnifrith. Who recorded hundreds of Evilcasts over 5 years with EK and then edited his diaries three times a week? Er ….Tom Winnifrith. This goes on and on. And on. And on.
I worked with Evil years before t1ps when the young men now in charge were still at primary school. I still chat to him all the time.  He read the lesson at my daughter's Christening during his time at t1ps. He sent Olivia a very nice Olive tree which like her is now quite tall and flourishing.
Given that after five days in existence my new www.shareprophets.com website attracted more traffic yesterday than ALL of the websites owned by my former employer put together I can understand why certain young people may wish to airbrush history.
But as someone with a bit of experience who looks forward not back I suggest that the young men who have more decades than I to look forward to, consider the attractions of free speech and try not to rewrite and airbrush history. Be brave. Try to stand on your own two feet (rather than MY share tipping record). It is time to move on fellows.

3026 days ago
I am still completely wiped out. It is incredibly draining doing presentation after presentation and half way through the post event celebrations I fell asleep (ok I had enjoyed a few drinks as well) but I still feel utterly drained. And so once I have ruined a few other weekends by breaking news of a planning oil company merger involving a well-known name I think I am off to sleep again.

Thanks for the many emails from folks who said that they enjoyed the show. On balance so did I. I thought that the talks were more interesting than for many a year. They have been put on video and so will start to go up from Tuesday in a variety of places. But suffice to say you should register now at www.shareprophets.com to catch many of them.

The location was not ideal. Not least that in order to feed my addiction I had to scrounge a spare packet of Marlboro Light from David Lenigas who had thoughtfully come well supplied. But ADVFN and I know enough now and the show was a success and so we are now planning for UKInvestor 2014. Watch this space – we will announce the date soon.
Highlights for me?

The young man who now writes tips appearing disguised in dark glasses to gain entry (not having booked a ticket). When spotted by Steve Moore, he claimed that he was at Excel to go to the International Cake show down the hall and made a swift exit.  

Nick Leslau and Nigel Wray – optimistic about the UK economy and as a double act far more powerful than as individuals. A lot of wisdom was shared by the pair.

Losing the debate with Richard Poulden once again. I am now 3-2 down but I really will try to do slides next year and stage a comeback.

Mark Slater. The obligatory dirty joke but the quality of his analysis of the markets and of individual stocks (three of which have been tipped by myself and Steve) was incredible.

Nigel Farage – unscripted, lucid, funny and on most issues bang on the money. I had a good chat with him and Chris Booker after the event and he is a very funny and pleasant chap. C Booker's Thatcher tribute was bang on the money and nailed a number of leftie canards.
Above all I really enjoyed meeting so many of you who attended (particularly, I should say, David from Oxford). Thanks for all the kind words and I hope that you enjoyed the day. On stage I had more fun than I have had for years. I can say what I like these days and I feel like a weight has been lifted from my shoulders. I actually enjoyed the day in a way that I have not enjoyed MI days for a long time. With the speakers, stand holders and the audience I felt far more at home than I can remember being for years.
The home team from RMPC & ADVFN staging our first show should be thanked, notably John W, Clem, Fiona and especially Mike Hodges and from our side Darren, Nigel, Sarah, Steve, Robert Sutherland Smith and Martha. It was their first run at this, the second time is always easier.
So thank you to all who attended. ADVFN and RMPC starts work on Monday on UK Investor 2014 which will be bigger and different. I hope to see even more of you there then.
Tom
PS I should mention one other highlight. The after show pool games. I defeated Andrew Bell of Red Rock. Zak Mir fluked a victory against me. And then it was the final: The UKIP volunteers against myself & Zak. They had been trying to persuade Zak to sign up to UKIP although he is obviously a bit too right wing for them. And so with the prize being that if Zak and I won they would allow him to become the party's immigration spokesman (Zak's views are unprintably stern on this matter, making Evil seem like a total Guardian reader) we played.  The bad news for UKIP is that Zak and I won.

3032 days ago
Loverat (ADVFN Sefton thread) posts:
Well, that pretty much backs up what I have been saying for a while. The shorters and derampers (masquerading as tipsters) are organising another attack on an AIM company. I have to say, I reckon the confirmation that Cawkwell is shorting not only confirms he is joined at the hip with Winnifrith, but it has just strengthened the company's complaints to the FSA/FCA.
Jeepers. If I was in cahoots with the old fool Cawkwell he would have gone short BEFORE I wrote God knows how many pieces on Sefton not AFTER. Cawkwell is short now because he has finally woken up to the fact that after the latest RNS lie 24 hours ahead of a placing by Sefton it is toast.
The company's complaints to the FSA/FCA about me have about as much merit as those made by Minmet or 3DM and we all know what happened there…
Loverat – just how thick are you? Sefton issued a statement about its output which was a blatant lie on March 5th. It then issued shares in a placing the next day! You think that the FSA/FSC are looking at what I have written about this and not at Sefton? Jeepers again.

3033 days ago
My only question is why it took Britain's fattest bear raider so long to go short of Sefton (SER)?  But it appears that Evil is now short. He has posted the following on the ADVFN Bulletin Board today:

Gentlemen,

I have shorted Sefton this morning. Surely, the situation is hopeless. It has perhaps £600,000 left (wasting money on fanciful litigations and God alone knows what other drivel) and is spending it at £200,000 a month whilst showing no prospect of trading at a profit before overheads. Only a lunatic would hold shares. Certainly, no sane Nomad will stay with Sefton.

Simon Cawkwell
Ends.
I think EK has got his sums wrong. I reckon that cash net of liabilities (including huge legal bills round at Pinsent Masons) is now sub £500,000. But Evil is correct on the cashburn (in fact he may be underestimating it). I reckon that my target price of 0.01p or worse will be reached by June,  that is if the shares are not suspended – as they should be – first.
The share price is now at an all-time low of 0.465p. It is only going one way.

3041 days ago
For me it is pretty clear. My father, mother and step-mother went to Oxford. And so did all their fathers and three out of four brothers ( C Booker went to the other place). I was born in Oxford and somehow managed to scrape a place there too as did my youngest sister Naomi. And so naturally I support Oxford. Evil Knievil was born in Oxford and his father taught at Oxford and Evil was (understandably) rejected by Cambridge. And so he too supports Oxford.
My sister Tabby went to Cambridge and so as well as supporting ideas such as global warming and welfare hand-outs all round she also supports the 'tabs. There is a consistency in her thinking.
But most people who do not regard this institution as elitist nonsense seem to support one side or other and for the oddest of reasons. I cannot say that I have any great feelings of warmth for the City of my birth, the City of Lost causes. I do not really care who wins most Varsity contests. But the Boat race is a bit different. Come on the dark blues. Or is it the Light blues. I can never remember which is which. Come on Oxford.

3045 days ago
The UK's only serious one day investor conference is now less than three weeks away. Details can be found at www.UKinvestorshow.combut the final touches are now being put in place for what seems set to be an explosive day. If you have registered for a ticket it will by now have landed with you. A bit more on tickets later but first to the prizes on offer for those attending.
The show is at Excel and doors will open at 9 am sharp. The day ends at 5 PM, In between you can mingle among the dozens of stands manned by PLC CEOs chatting to them about whatever you wish. A full (reasonably up to date) list is on our website www.UKInvestorshow.com or you can listen to a series of talks by investment legends, folks who really are Master Investors, such as Mark Slater, Lucian Miers, Dominic Frisby, Nick Leslau and Nigel Wray.
Prizes?
The first talk starts just after 10 am and is a three way session with property legend and secret millionaire Nick Leslau and his long time business partner Britain's Buffett Nigel Wray with me in the middle. I get to choose most of the questions but… five of the questions come from the audience and win prizes.
We will send out an email shortly to all ticket holders with a short form on it asking for your questions for Nick & Nigel. Simply print that off fill in your question and when you arrive at the Excel centre drop the question off at the Real Man stand before 10 AM.
If your question is picked a bottle of premium English wine from the Chapel Down vineyard is yours.
More prizes? How fat is Evil Knievil?
Well a second anyway. On that form we will also ask you to guess the combined weight in stone and pounds of Evil Knievil, myself and Zak Mir. I give you a hint: - Evil is almost half of the total on his own. Entries in Kilogrammes will automatically be disqualified. Imperial only.
And there are more prizes to come. We will send out details with the next email.
For full details on the all-star speaker line-up and on the companies presenting go to www.UKinvestorshow.com
One last favour? All tickets were sent to those who booked last week. If you have not received a ticket to the show please email [email protected] ASAP and we will send one before Easter.
And if you have got a ticket but cannot use it please let us know. We have now been able to allocate tickets to most folks on the waiting list but there are still a few waiting. If you are not using your ticket let us know so that we can give it to someone who wants to attend.
If you wish to attend and have not booked we cannot guarantee that there will be a place on April 13th for you but you can apply to join the waiting list at www.UKinvestorshow.com
Tom Winnifrith
PS Off for a run now to see if I can lose a couple of pounds and push Evil's share of the combined weight to more than 50%

3046 days ago
Some folks think that I am the lackey of bear raider Evil Knievil, writing to order to suit his needs. Au contraire. He does not work for me and vice versa and given how insufferable the old boy can be when he gets it right, I – like many – take a perverse pleasure when one of his short positions sees his financial toes roasted close to the fire. And online retail giant ASOS (LSE:ASC) has roasted Evil badly over the years. He has been short for much of its meteoric rise and he is still short with the shares at 3,334p – he will carry on getting burned.
I write this totally objective comment on ASOS even though it uses as its PR form College Group which I appear to be having a bit of a battle with as of this afternoon. To read about Kay Larsen PR prude at College Group PR, Pornography, Cheryl Cole, sheep shagging and Advanced Computer Software click HERE

Moving on from the prude to the bear. Cawkwell (that is to say Evil Knievil) has always been of the view that ASOS shares trade on too high a PE because at some stage the earnings growth rate will slip. So far it has not happened and I guess it will have cost him several hundreds of thousands of pounds. It will cost him more.

3047 days ago
I may have become a bit of a chinless wonder on this video. Normally I cut off the top of my head. This time I did the reverse. But the light looks good and the sound works and the content...I think I am on form and this is one of the most interesting video postcards for ages. You may disagree. Whatever. It is 15 minutes long.
On the Agenda

1. How companies react to short sell advice or negative comment, lessons learned: Minmet, Cupid, 3DM, Sefton, Caradon

a) The FSA, Evil Knievil, Lucian Miers, market abuse
b) Spin re bids
c) The sordid PR person/established media axis of corruption
d) Play the man not the ball

2. Internet companies, commodity goods, no room for many players

3. The freedom to write - launch of new website.

3059 days ago
As you may have gathered, I am increasingly of the view that London's Alternative Investment Market is, to use the technical term, buggered. It is heading the way of the old USM (younger readers please do a Google search). Those who could save the day are simply too busy instead grubbing out deals to pay their bloated wages and expense bills, to make the changes needed The situation gets worse by the day…
Less than 20% of the companies on AIM are profitable. Such is the poor quality of many of them, and so limited is their earnings visibility, that I would not bet more than a few of Evil Knievil's increasingly worthless Ruspetro shares on many of those 200 making a profit this year!
Chatting to Nigel Wray, "Britain's Buffett" over the weekend, he made it clear that he had not invested in any new companies on Aim for several years. That says it all. Wray, arguably the UK's most successful small cap investor of the past thirty years, would rather invest in private companies than on stocks listed on AIM. Why is that? Because Wray is an investor not a gambler.

3066 days ago
Orosur Mining (LSE:OMI), the AIM and Canada listed, South America focused gold producer and explorer much beloved by my fat friend Evil Knievil, last month announced the completion of a development that "will enable the company to access higher grade transverse stope ore at Arenal Deeps for the first time in the last quarter of the financial year ending 31 May 2013". That seems like good news yet the shares now trade at lows not seen since 2010 – a current 32.125p share price capitalising the company at little more than £25 million.

3073 days ago
Fully listed Russian Oil producer Ruspetro (LSE:RPO) first came to my attention when it issued a disastrous profits warning at 6.3 PM on the Friday of New Year week. It thought no-one would notice? I did. Coming just six weeks after an upbeat trading statement that RNS was a horror. Then there was the announcement of a debt for equity and debt refinancing package. But that fell through too. And today there is another shocker. Those who own shed loads of these shares like my fat friend Evil Knievil keep on telling me that things cannot get any worse. And then they do.

3088 days ago
Bear raiders Lucian Miers and Evil Knievil are meeting for lunch today. I know, as I was invited but my liver is not up to it. However the main course should be humble pie. The bears predicted that Avanti would miss its targets at the interim stage. Moreover the results demonstrate very clearly that it is already more than two thirds of the way to hitting 2014 (not a misprint) numbers and that it continues to win business. The shares are a buy at 265p and could move sharply as the bears are squeezed. I sense that margin calls could well be served up at Evil towers today in time for pudding.

3089 days ago
Those who are not registered to receive my twice weekly Tomograph Newsletter may have missed this news but on Friday, ADVFN issued a regulatory release announcing that all 2500 seats at the UK Investor Show on April 13 had already been booked. We know other shows are struggling to fill seats but the speaker line-up at UKInvestor Show is so awesome that a full house was never in doubt. Wray, Slater, Leslau, Evil, Lucian, Frisbey, Van Dyke, Booker, etc simply do not appear at other shows. Anyhow, thanks for booking. I do ask one favour.
If you go to www.UKInvestorshow.com you will see that we are now running a waiting list for tickets. Already there are almost a hundred names on that list. If you have booked a ticket to UKInvestor show but cannot now attend please do let me know by emailing me at [email protected] so that I can reallocate that seat to someone who wants to attend but is now on the waiting list.
In advance, many thanks.
When we first announced that Nigel Farage would be one of our 25 speakers at the show I know that certain folk at my former employer scoffed at the idea. Heck, I knew – and ticket bookings reflect this – that he is not the major draw but I wanted him there since I am a UKIP sympathiser. Hey ho, I see that Nigel is now speaking at the other show. Imitation is the sincerest form of flattery. I somehow think that our headline speakers of Messrs Wray, Leslau, Slater, etc will not be making a double appearance at the other, smaller, event.
Incidentally having already announced the first 30 PLC stands at UKInvestor Show we will be announcing the next 20 very shortly. Watch this space.

3093 days ago
That is the news as of tonight. On a day when two more PLCs signed up to present (Ariana Resources and The Innovation Group) we did our sums and there are now just 50 seats out of 2,500 left unallocated for what is clearly the UK's leading investment show.
It is hardly surprising that two months before the event, nearly all the seats are allocated given the all star speaker line up:
Nigel Wray, Nigel Farage, Mark Slater, Evil Knievil, Lucian Miers, Nick Leslau, Richard Poulden, myself, Dominic Frisbey, Clem Chambers, Amanda Van Dyke, Christopher Booker, Mike Hall, Roger Lawson, Simon Denham, John Piper, David Buik, Steve Moore, Robert Sutherland Smith, Paul Atherley, Jan Nelson, Ronald Duncan, Craig Brown and the list goes on and on…
And with companies booking in at a rate of one a day almost 50 of the 80 PLC stands are now reserved and you can check out a list of some of the big name exhibitors HERE.
And so what are you doing on April 13th? At some stage tomorrow we will close the lists and start running a "reserve" ticket list for folks who MIGHT get a seat if we have a cancellation. That is a MIGHT.
We have just 50 seats left to allocate. You can still grab one of them if you book now HERE.
I hope to see you all on April 13.
Tom Winnifrith

3109 days ago
When the markets are plunging you tend to read quite a bit about Evil Knievil in the press. Every graduate trainee journalist wants to know what the UK's best known short seller has to say. When markets are rising as they are now, he tends to fade from view somewhat. Of course you can get the greatest shorting opportunities when folks lose sense of reality in a bull market. But you can also do your conkers as folks can stay mad and shares can defy gravity for quite a while. So if you have not heard from the Great Bear for a while, fear not he will be back.
Evil Knievil acquired that moniker during his shorting of Maxwell Communications. The great socialist newspaper proprietor tried to silence his critics with lawyers letters (something all liars attempt) and so when sending out faxes to explain to dumb City analysts why the sums did not add up Cawkwell signed off as Evil Knievel. The publisher of his first book did not wish to get into trouble with the motorbike rider so made that Knievil. It stuck. Call up Simon Cawkwell and you just ask for Evil.
Like myself Cawkwell's father was an academic. A distinguished one to boot. George Cawkwell was also an international sportsman (Scotland, rugby). His 23 stone son is no sportsman and no academic – he failed to get into Cambridge. That is not to say that he is not clever, just that he was never suited to the world of academia. Cawkwell trained as an accountant instead.
Although he still practices, for many years he has made a living from the markets. His ruin (other than eating and drinking far too much) is that he is a self-confessed gambler

3113 days ago
AIM-listed international online fashion retailer ASOS (ASC) has published a positive update on December trading – sending the share price up to £26.60, which capitalises it at more than £2.19 billion. The following reviews the trading announcement and current investment proposition from this company that great bear Evil Knievil has consistently shorted and consistently got wrong…

3123 days ago
I note that your esteemed editor was hoping to buy shares in Ruspetro at sub 60p on Monday following the company's shock profits warning at 6.30 PM on Friday 3rd January. He was denied as the shares never got that low – they are now 63.25p. But I think the boss may yet get his chance… My helpful suggestion is that he declines to take it. This whole company stinks.
A reminder – On 19th November the company published a bullish trading statement saying that output was 7,853 bopd and that it was on track to hit 10,400 bopd by the calendar year end. Good news all round. Fill your boots. Congratulations to my fat accountant, Evil Knievil who was long (oops!). But then on January 3rd ( a day when few folks were working) the company announced at 6.30 PM (when even those folks were on their fifth pint at the pub) that output was actually 6,540 bopd and that it continued to "experience slower than anticipated production growth due to additional modifications required to surface field equipment and curtailed well completions in December." It blames "technical challenges in stabilising condensate from hydrocarbons produced."

3124 days ago
We can always learn more about how to be better investors by learning from the experts. If your New Year Resolution is to do that then you need to book a ticket today to meet real Master Investors on April 13th in London at the UKInvestor Show, organised by ADVFN. The speakers are not career stockbrokers or rent a quote journalists but men who have actually made hundreds of millions of pounds by buying and selling the right assets. True master investors.
You can book your free ticket HERE
Leading the line-up are Nick Leslau and Nigel Wray. Nick was one of TV's secret millionaires and is probably the most successful property investor of his generation. The firm he runs owns Madame Tussauds, thousands of pubs and much else. Over many years he has worked closely with Nigel Wray, aka Britain's Buffet , the master of small cap investing. Nigel is the biggest shareholder in Domino's Pizzza (LSE:DOM), having bought in at 36p – the shares are now c£5 – and is also a big holder of Alliance Pharma (LSE:APH) another stock worth watching.
Next up is Mark Slater, son of Jim and an extraordinarily successful fund manager in his own right. For detailed bottom up analysis of smaller growth plays you just cannot beat Mark and his detailed stock specific presentations are always packed with ideas. He is followed by Dominic Frisbey, comedian and gold guru. Have you ever seen his debt bomb video? If not watch it http://tomwinnifrith.com/articles/204/debt-bomb-great-video-well-done-dominic-frisby as it is a classic. Dominic is not only someone who writes about gold but he has made more than a million quid from more or less zero capital buying and selling the stuff. His theme: gold.
We have the UK's two best known bear raiders in conversation (with me). That is to say Evil Knievil and Lucien Miers (profiled HERE). In what is promised to be a structured presentation they will outline their market views but also specifically a top ten shorts for 2013.
Moving on we also have a keynote presentation from another Nigel. That is Nigel Farage MEP the leader of UKIP on why the UK should save itself billions and quit the Evil Empire. Farage is funny and articulate and he has a good point don't you think?
If you want a free ticket book NOW HERE, as the 2,500 seats will go on a first come first served basis
But it does not end there. During the afternoon we have two alternatives for you.
Choice One is the Traders Session. Lead by Clem Chambers of ADVFN, half a dozen of the UK's best known traders will discuss strategies, charts and ideas to make money in 2013. On stage are Zak Mir, John Piper, Simon Denham of London Capital and Alpesh Patel.
Choice two are the breakout rooms where you can hear presentations on how to make money in mining stocks by Amanda Van Dyke a partner at Dundee Securities and chair of Women in Mining, on turfing out useless boards and shareholder activism by Roger Lawson of ShareSoc, on how climate change laws will cost you dear by Christopher Booker and on making money from alternative investments by Mike Hall of Stanley Gibbons. Each speaker will do two presentations.
That knockout line-up is surely enough. To book free tickets which will be allocated on a first come first served basis click HERE
Not enough? Well how about the companies attending giving you a unique chance to chat to the CEOs of companies you may be invested in or thinking about backing. Among those already lined up are: EMED, Minoan, Vatukoula, Stanley Gibbons, Ortac, Intandem, Leyshon Resources, ReThink Group, Northern Petroleum, 1Spatial, Wishbone Gold, PGC Entertainment, Anglesey Mining, Red Rock Resources, Regency Mines, Sharescope, Mechan Controls, Symphony Environmental, K3 Business Technology, @UK, Alexander Mining, London Capital Group and the list goes on and on. There will be around 80 stands on the day.
The venue is Excel in London and the fun starts at 9.30 AM on April 13th. There are 2,500 tickets available and they will go on a first come first served basis. But hurry. Already the show is one third booked out!
If you want more details or to book a seat go HERE to the UKInvestor Show website.
I look forward to seeing you in April
Tom Winnifrith

3127 days ago
Lucian Miers often finds himself overshadowed by the larger than life figure that is Evil Knievil (Simon Cawkwell). The two men sometimes share ideas and bear raids but on other occasions they disagree. They are very much their "own men." I sense that perhaps because of his casual and light hearted approach to life, folks underestimate Lucian. That is a mistake.
Known as East London's most feared short seller, Lucian is about as much of a cockney as myself or Prince Charles. His family used to own rather large amounts of real estate in the area around Upton Park and hence "the Bard of the Boleyn" is a devoted West Ham supporter. But he is (like Cawkwell) quite a posh public school educated fellow. And like Cawkwell he did not quite make it passed the final interview when it came to applying to Oxford. That is not to say that Lucian is not very clever, just that he is perhaps not a true academic.
The highlight of Miers career as a stockbroker was his short selling of Pan Andean Resources as the world and his wife bought the stock on the back of hopes (and puff pieces in the Daily Mail) for South American drilling success, Miers took the trouble to call the site of the well on the phone to be told that it was dry and that the directors were at that stage flying back to Ireland.

3144 days ago
f you want to hear quality speakers there is only one UK Investor show to attend next year and that is The UKInvestor Show held on April 13th at Excel in London. The speaker lineup is now almost complete with news that Mark Slater, the most successful fund manager of his generation is on board.
Mark joins as the other main stage speakers: Nigel Wray (Britain's Buffett), Nick Leslau (property legend and secret millionaire), bear raiders Lucian Miers and Evil Knievil, gold guru Dominic Frisby and UKIP leader Nigel Farage.
And that is not all: The trader's session (also a main stage event) is chaired by Steve Moore and stars Clem Chambers, Alpesh Patel, Simon Denham, John Piper and Zak Mir (plus one name to reveal shortly)
And in the breakout rooms we have the Goddess, Amanda VanDyke on making money from mining stocks, Stanley Gibbons boss Mike Hall on alternative investments, Roger Lawson on shareholder activism and Christopher Booker on how global warming costs you so much.
There is the Poulden v Winnifrith debate (10 minutes of main stage comedy) and 80 companies presenting at CEO level.
No other show comes even close to assembling such an all star lineup.
There are just 2,500 tickets on offer. They go strictly on a first come first served basis. Already more than a fifth are gone ahead of the official launch of the show campaign in the New Year. Treat yourself to a free gift this Christmas. To book your free seat and to get more details click HERE.

3148 days ago
UKInvestor Show is an event about making money but I have always thought such a show needs one non investment speaker and I am delighted to say that Nigel Farage MEP emailed this morning and he is up for it. The leader of UKIP will talk about how staying in the EU costs all of us so much and why we should leave now.
And so on April 13th at Excel we now have a main stage line up of Nigel Wray (Britain's Buffett), Nick Leslau (property legend and secret millionaire), bear raiders Evil Knievil and Lucian Miers and Dominic Frisbey, Mr Gold and Nigel Farage. And there is one other surprise for you on the main stage.
The traders session ( also a main stage event) is chaired by Steve Moore and stars Clem Chambers, Alpesh Patel, Simon Denham, John Piper and Zak Mir ( plus one name to reveal shortly)
In the breakout rooms we have the Goddess, Amanda VanDyke on making money from mining stocks, Stanley Gibbons boss Mike Hall on alternative investments, Roger Lawson on shareholder activism and Christopher Booker on how global warming costs you so much.
There is the Poulden v Winnifrith debate (10 minutes of main stage comedy) and 80 companies presenting at CEO level.
You have to admit that is a cracking line-up. No other show even comes close. If you want to hear a master investor speak this is the only show worth attending. To register for your free ticket on a first come first served basis go HERE.

3152 days ago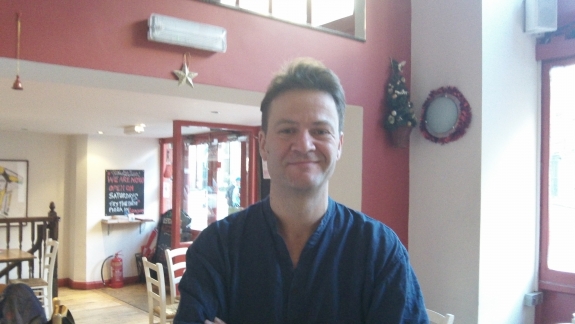 Green Street is not only a film (starring the hobbit) about football violence at, ahem West Ham, it is the road that runs alongside the ground. Once every two weeks it is a beery place packed with fat white faces. The rest of the time it is pretty much an ethnic ghetto. I wonder how many of the folks who live there support West Ham. How many of them loathe the club. I don't know. There is little interaction.
But, having an hour to kill yesterday I interacted and wandered into the "Unisex saloon" for a hair cut. I was the only non afro Caribbean there.

3163 days ago
The share price of AIM listed satellite group Avanti Communications (LSE: AVN) was marked down by 10% yesterday. Oh no! Is bear raider Evil Knievil right after all? Is there an institution bailing? The emails flooded in. Evil is not correct. A director has bought shares this morning and there is also an upbeat broker research note out from Cenkos this morning. If there was something amiss then Avanti would have had to declare it at its recent AGM. It did not.
My own support for Avanti is well known. The stock was a share tip from me at 116p on t1ps.com but I continue to value it at a multiple of today's 223p – a market cap of £251 million.

3165 days ago
Having called both Falklands Oil & Gas (LSE:FOGL) and Borders & Southern (LSE:BOR) pretty brilliantly as oil junior shorts my pal the bear raider Evil Knievil and I had a good chat about which of the 90 or so juniors out there are the best shorts now. The odd thing is that despite a series of disasters across the sector, private investors still seem to be in love with a raft of pretty ordinary juniors. The astute commentator Was Shakoor summed it up the other day on twitter "why is it that across a string of wells where there is said to be a 15% chance of success only 5% seem to be successful?"

3170 days ago
My friend the bear raider Evil Knievil always tells me that if you discover that a chairman or CEO has told one whopping lie, the odds are that he tells lots of lies. And on that basis unless the company has mammoth asset backing and highly visible earnings and cashflows the shares are a slam dunk short. And that brings me to Terry Bond, the chairman of AIM listed Vialogy (VIY) who is – as I shall demonstrate below – someone who just last week told a whopping lie. Since his company has minimal (and fast disappearing) asset backing, and sod all revenues this company is a slam dunk sell.

3186 days ago
A good chat with bear raider Evil Knievil today throws up the fact that his biggest short position right now is online celebrity driven retailer ASOS (ASC) but also that he is looking at another stock that I have already written up as a slam dunk short – more on that later. Those who have followed the great bear will remember that Evil has consistently shorted ASOS ( betting against the lure of Stella McCartney, Kate Moss etc) and consistently got it wrong. His losses over the years on this one must be well into seven figures by now but undeterred he is at it again. But is he right?

3213 days ago
Shares in AIM listed satellite operator Avanti Communications (AVN) have slumped today by 62.75p to 286p after results for the year to June 30th 2012 were announced and were received poorly. Adding to Avanti's misery bear raider Evil Knievil announced that he had gone short at 295p. He is wrong and this is a buying opportunity. I say this as someone who tipped the shares first at 116p in August 2004 and who has continually rated them as a buy at anything up to an all time high of almost £8. I still believe that the shares will in due course move sharply higher and my target price is £16.81. Here is why.

3278 days ago
Many folks might think this phrase refers to the conundrum scousers face as they try to cross the Mersey. The answer in that case is of course you and me via the welfare system. But classical scholars such as Evil Knievil will instantly recognise this as a reference to Charon, the character who transports the dead across the rivers Styx and Acheron and into Hades, the underworld. Because Charon did not work for free, when a Greek died it was customary to place a coin in his mouth to settle that bill and give him or her passage.
You did not have to be dead to go to Hades. Certain heroes travel there and return, most notably Aeneas. Thus in book six of the Aenid (which I had to study for O-Level Latin – grade A natch), Virgil describes the ferryman thus:

3300 days ago
Those who short shares, bear raiders are almost universally disliked. And for good reason. Whilst all of us involved in the stock market are ultimately motivated by the desire to make money, at least those of us who buy shares are creating a more liquid secondary market allowing companies to raise capital to expand, create jobs etc. And so we serve some purpose. Those who short serve no purpose in that sense. Moreover when a share you own is being whacked by shorters it is easy to start shouting at your screen, "Damn Evil Knievil/Lucian Miers/ A.N. Other Teddy – you are a: insert the sort of words John Terry might use. But that does not mean that shorting should be banned. Au contraire.