Belgrano
2948 days ago
I snuck out last night to watch the World Cup. The longer it lasted the more I could put off driving back along the long and windy road in the dark to the Greek Hovel. And even worse, to getting out of the car, walking ten yards through the grass to the Greek Hovel wondering what wildlife was lurking in the grass or inside the hovel. As it happens it was a wildlife free experience. Even Mr Rat seems to have "taken his medicine" and disappeared.
The taverna was packed and it soon became clear that I was the only person not supporting the Argies. As the Argies "scored" the taverna rose as one. As the linesman raised his flag for offside one fist punched the air. It was then that the dirty looks started.
How I wished I spoke Greek and could have explained that I too loathe the krauts but that the Argies are for Falkland's related reasons even worse. But I spoke no Greek and so the loud cheers and increasingly timid punches from me continued. And then the Belgrano moment…The Argies sunk by a sub.  The Taverna was not happy. I was rather hoping that it would go to penalties so postponing my encounter with wildlife diversity back at the hovel but on balance was delighted.
Watching Germans celebrate and Angela Merkel smile and clap with joy caused me no great pleasure but 

3485 days ago
The Argie Type 42 Destroyer the Santisima Trinidad was the flagship of the invading forces the last time the Argies chose to ignore the principle of self determination and practice imperialism in the South Atlantic.
After Margaret Thatcher (rightly) gave the order to sink the Belgrano, this ship and the rest of the Argentine Navy headed back to port and sat out the military humiliation of their country in peace. The ship was decommissioned in 2004 but has sat in its full glory in port since then as a reminder of the Falklands campaign.
And this is it yesterday. Sinking faster than the Argentine economy.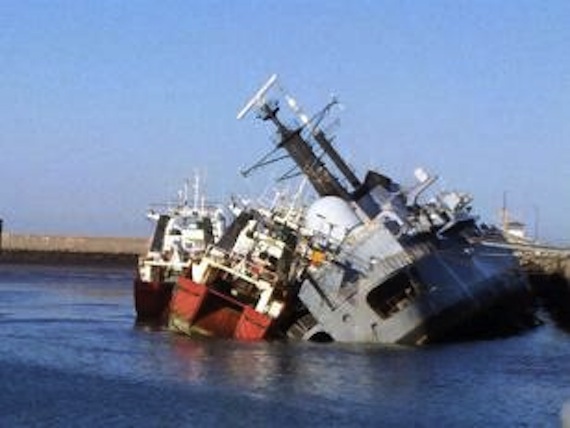 3575 days ago
I find myself once again drawn to the blog of politically switched on first year student blogger Victoria by her article "Husband Application Form." Before you accuse me of having John Peel-esque tendencies I stress that I read on only in the interests of research. Damn. That did not help Pete Townshend. Anyhow I digress.
I am, as it happens, not drawn to women too young (or to old) to name all the members of Blur or to be able to remember where they wept the day Margaret Thatcher was ousted by the Euro traitors and where they celebrated the sinking of the Belgrano.