As you may know, my daughter is a diehard West Ham supporter. She is also, incidentally, a total goal machine for her top of the table side. Her membership of Slaven Bilic's claret and blue army is good for me as it is someone to talk to after a game: The mrs is not interested and has never been to a game with me. I am ticked off by my daughter when I start talking about relegation but we can share the joy after the mighty Irons get a result as we did yesterday.

We deserved to beat Palace. Okay Palace missed a penalty but we should have had one when Cresswell was brought down in the area. Giving him a yellow for diving was an appalling call by the ref and we all know that Noble would have scored from the spot. So the three points were well deserved. Now we can look forward to better days ahead.

But on balance, being a West Ham supporter has more lows than highs. And thus it has been suggested that I should have been reported to social services for inflicting such misery on my daughter. Surely her life would have been happier had she supported Chelsea or Man United like the other kids? Whatever, the die is cast..her veins flow claret and blue.

But what of little Joshua? We live in Bristol not London and so there is the option of supporting City or even Rovers. The latter would mean cheap tickets, fun games and the expectation of underperformance giving true rapture when victory is secured. Derby games against Swindon, what a pleasure. With West Ham the bullbles fly so high but then always fade and die. With Bristol Rovers, if a bubble even gets off the ground it would be a cause for wild celebration.

I think it would be a bridge too far if young Joshua supports a "big club" like the other kids so Bristol Rovers could be the "third way." But on the other hand, if the Irons wins the next game we are mid-table and my daughter and I can start dreaming again. Surely Joshua would like to join in? Social services really cannot complain if we are mid table and have the odd cup run can they?

Meanwhile Joshua has met his grandfather as you can see below. I offered to let the Old man change a nappy but he declined. I think it is not a thing that folks of his generation did. Indeed he seems rather nervous of holding the baby at all but was, none the less, glad to meet up with the latest Winnifrith.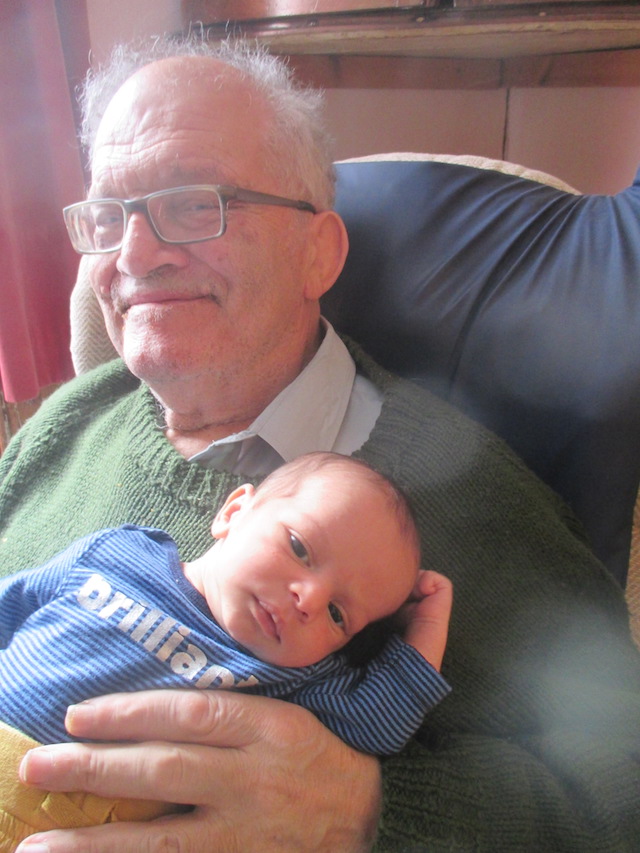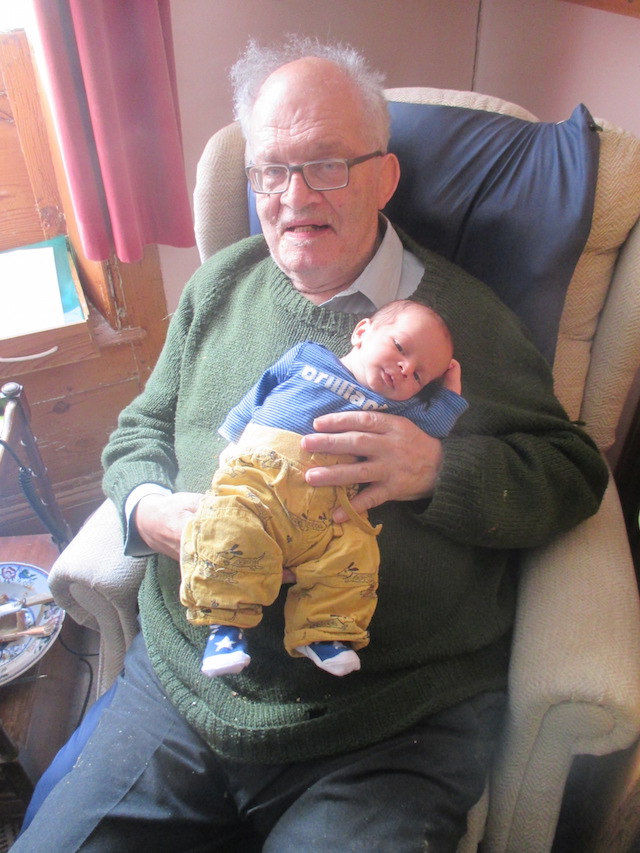 If you enjoyed reading this article from Tom Winnifrith, why not help us cover our running costs with a donation?