We have already left the EU and on December 31 a transition period to new trading arrangements ends. We really will be out of the Evil Empire for good and I shall be celebrating hard the end of 45 years of family pain, together with the Mrs (a leave voter), Metaxa and a bonfire. Anyone who cares to join us at the Welsh Hovel is more than welcome, whatever restrictions our clinically insane leader Mad Mark Drakeford imposes on us. However it seems others are not so happy being afflicted with severe cases of Brexit Derangement Syndrome. Places such as Oxford, North London and bath are particular hotspots for this viurus which causes folks to behave in the most irrational of ways. Other symptoms include believing what is in the Guardian or on the BBC, thinking that proven fantasist Carole Cadwalladr deserves another Orwell prize and banging on about global warming, especially when flying to Tuscany for a holiday.
On twitter today these poor folks are ouit in droves. Pity poor folks like Michael M who thinks wearing a flag of somdewhere he does not live will see the UK rushing to rejoin the Evil Empire. Or Susan Baker who cannot spell but knits socks for her snowflake nephew so that we 17.e4 million might realise the error of our ways, birn of our own stupidity and xenophobia. Or Marina Sirtis who, and I'd better not tell my wife, a person of colour who voted for Brexit about this, knows that all 17.4 million of us were old white racists. And the 16.8 million were all so clever, well educated, multi cultural and just all round lovely peiople. I know what you are saying Susan, please insult we dirty peasants who don't live in London and the South East a bit more and we might realise how foolish we have all been..
Anyhow, let is pray for these folks for they are ill and in places like Islington, as we approach the 31st, there are signs that this disease is now completely out of control.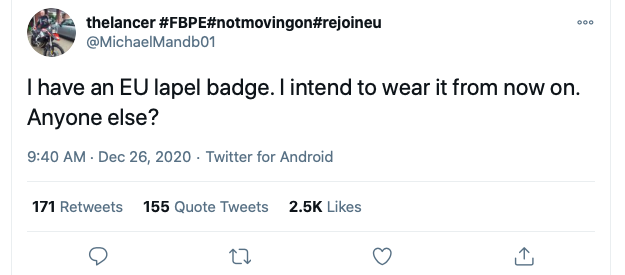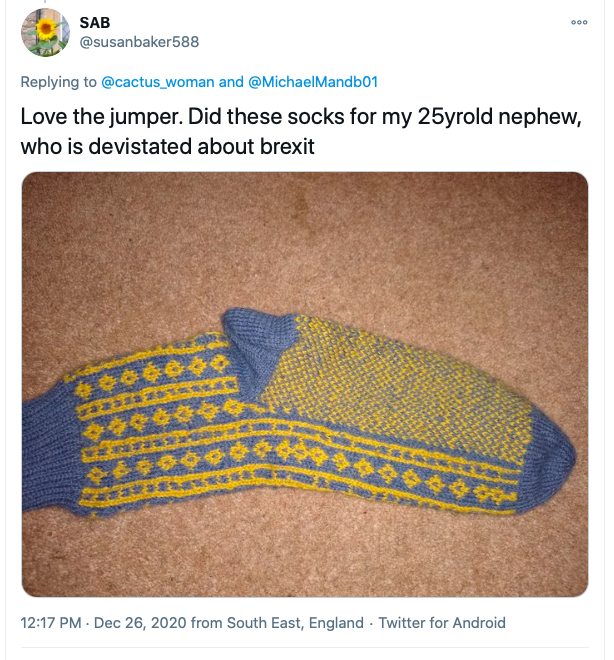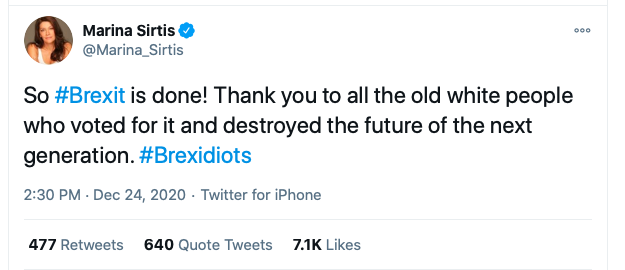 If you enjoyed reading this article from Tom Winnifrith, why not help us cover our running costs with a donation?