Fingers crossed I am off to Greece with Joshua, but not the Mrs, a week tomorrow. And so do I have time to make some elderflower champagne? With a quick recipe from Hugh Fearnley-Whittingstall, I am giving it my best shot.
800g of sugar was dissolved in two litres of hot water. Then I added three litres of cold water, 10 elderflower heads (Hugh suggested eight but I like a stronger taste), the zest and juice of four lemons, half a teaspoon of yeast and a dash of white wine. This I shall leave for six days and then strain and bottle, burping it every day before I go and hoping the Mrs burps it a few more times.
Hugh says this should stay good for up to two years but certainly for long enough for me to enjoy what the Mrs and our house sitters do not enjoy when I get back to Wales.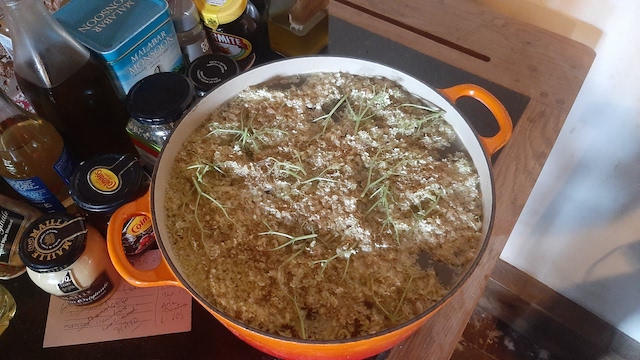 If you enjoyed reading this article from Tom Winnifrith, why not help us cover our running costs with a donation?