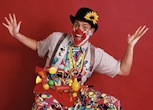 Abu's legal aid bill tops £500,000 and to celebrate he has moved him and his large welfare funded family to a brand new luxury pad paid for by you. This fat, welfare dependent, bearded loon is open in how he despises the West, wants a global Sharia Kingdom and is clearly linked to Islamofascist terrorists across the globe. I imagine his new neighbours are not happy to see him in the hood. Well I imagined wrong. The local vicar is reported to have said:
'Absolutely anyone is welcome to our church and I would encourage Mr Qatada and his family to join in our Christmas celebrations and reach out to the local community.'
Heck: maybe Abu could pop along to the gay marriage presided over by a transsexual priest planned by the Rev for Boxing day. Go on Abu reach out and join in. The C of E loves you. The C of E loves everybody.
The Established Church and is desire for inclusiveness and brotherly love: you have to admire its style as it disappears into oblivion.