An enjoyable evening at Real Man Pizza Company finally drew to an end. Zak picked up the tab. I hope he submits it as an RSH expense claim.
I suppose after my last 5 AM bender with Zak I should feel lucky to escape at 10.30 PM. We were joined by Richard Jennings of SpreadBet Magazine – he is the one on the right.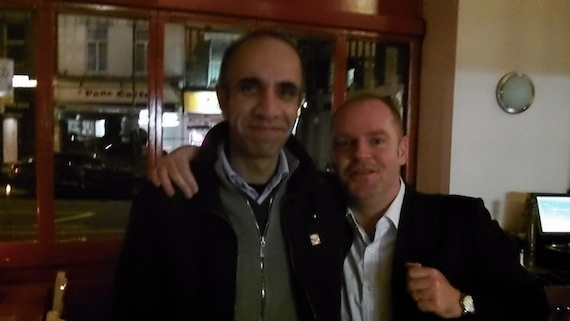 The two Northerners (some GNSH & Glasgow respectively) engaged in an act of macho bravado with an order of the Snaefell Diabola, the hottest pizza in the UK. Jennings was demanding water within seconds and wimped out after less than half a pizza. Zak claimed that as an Asian he was used to hot food. He managed one slice.
Perhaps you are more of a macho man than Zak Mir. Feel free to pop along and out it to the test.