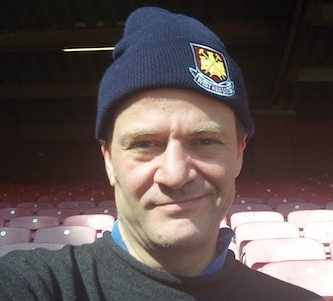 My daughter loved the game and the chocolate pizza at Real Man Pizza Company afterwards. For me, it was great to be back at Upton Park. The same seat as ever. A bloke called Roger standing next to me as he always does. I know nothing about Roger except that we always shake hands and he is a nice chap. There were some new folks behind – Ulster Hammers. I am glad my daughter did not ask me to explain why those around us were chanting "She said No" whenever Titus Bramble got the ball.
West Ham conceded a soft goal. On balance we looked the better side and Kevin Nolan's last gasp equaliser was the least we deserved.
The defence frailties continue to concern me. If our back four and goalkeeper keep on insisting on making howlers and giving away easy goals this will be a long season. In the middle of the park Nolan and Noble look dominant and Diame was a deserved MOTM. I think young Miss W is getting the hang of "Mark Noble … his veins are claret and blue, he's West Ham through and through."
Up front I am starting to lose patience with the Carlton Cole, Vaz Te formation. The latter had a weak game and the former needs more support. When Jarvis and Yossi appeared on the pitch West Ham started to look far more threatening. Until Carroll returns this could be a hard slog but how about Fat Sam rests Vaz Te and Taylor and starts with Jarvis and Yossi? At least the former will supply Cole with dozens of crosses and surely he must get his head on one of them?
Five games down, eight points and we are eighth. Put another way we are 20% of the way to safety with 13% of the season gone. The last time we were in the Premiership we reached eight points at some point in November.
PS> A great 4-0 win for my second team is a bonus. Now just two wins off the top spot, the di Canio bandwagon is starting to roll. Rock on Swindon.