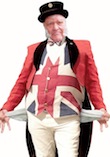 The wicked Tories are – as we all know – forcing local councils across the land to cut back on vital front line services. And apparently it is the poor in the inner Cities who will suffer the most. Places like Lambeth.
Indeed reading the blog of council leader Steve Reed I see the man pontificate:
The Tories and Lib Dems in Government have chosen to cut Lambeth's net budget by nearly one third. Prime Minister David Cameron said 'we're all in this together' when he promised that the broadest shoulders would bear the heaviest burden in paying down the cost of bailing out the banks. But he has done the opposite. Britain's poorest communities and poorest families are losing the most.
By the time the funding cuts have all been made, Lambeth will lose £94.5m a year out of a total budget that was once around £300m. Our Labour councillors are doing our best to manage that devastating reduction in a way that minimises the damage to our community. We made a number of promises that we are determined to keep: we committed to:
 Protect services that matter most to local people
 Cut the back office to protect the front line
 Protect the most vulnerable
 Support people's aspirations for a better quality of life including better housing, schools, and a clean environment
 Keep people safe and secure
This piece does go on but I cannot face it. I have spent five minutes on Reed's blog and I feel the need for a stiff drink already.
Anyhow it is good to see that Reed is cutting spending in a manner designed to protect core services. Like? er, well let's go to the jobs page on Lambeth Council's website.
FIN0297 Mayoral Services Macebearer, Chauffeur and Assistant
Grade: Scale 6
Salary: £25,515 rising in annual increments to £27,009
1 x Permanent
2 x Fixed Term Zero Hour Contracts
Redeployees have priority
An exciting opportunity has arisen within the London Borough of Lambeth for one permanent and two Fixed Term Mayoral Services Macebearer, Chauffeur and Assistant. The post holders will be responsible for providing transport, macebearing and administrative support for the mayoralty. Duties will include acting as the macebearer at all ceremonial events many of which will be held during evenings and at weekends, and chauffeuring the mayor and/or the deputy mayor to and from civic engagements.
The post holders will need to hold a clean full UK driving licence and will be required to work on a rota basis (including evenings and weekends), with overtime payable for hours worked beyond the weekly full time equivalent hours of 35 hours in line with the Councils overtime provisions.
Lambeth stresses that it is an Equal Opportunities employer. 'Natch.
It is truly heartening that in the face of, what Reed terms elsewhere, an "onslaught" from Central Government it has got its priorities right. Bravo comrades. Power to the People and all of that.