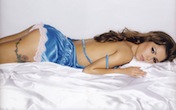 I am a bit of an anomaly on this website. Most of the material is technical analysis and most of that is non equities. And so my small and mid cap fundamental analysis seems to be a bit of light relief. I am not sure how many folks who day trade ETF contracts or the AUD/USD on the basis of technical analysis read my stuff but it seems to be a few. The only other fellow commentating on equities seems to be my pal Zak Mir as one of his moonlighting jobs away from you know where..
As you know, I am not really into charts. Okay, you push me, I think TA (Zak excepted of course) is an utterly bogus science. However, the site also offers up some interesting macro-commentators notably David Fuller of Fullermoney and on the subject of gold I often find nuggets of interest there.
TradingResearchPoint is owned by FSA authorised Stockcube Research which has a good track record as a financial research house. The chaps I deal with there are honest, helpful and do what they say. That is a pleasant way to do business.
You can find the first paragraph of all my articles on TradingResearchPoint and a link to the main piece here on TomWinnifrith.com. Typically, after a slow start up, I am now producing four or five pieces a week for the site which works out at (when I am not in a multi-book completion phase) around one sixth of my output.
How do I make money from this? Simple I am paid according to the number of times an article is read and given the way that TomWinnifrith.com. is now attracting traffic on a scale that I could not have hoped for on its launch that is starting to pay a few bills. Obviously … do not let me discourage you from reading any of my articles on this fine website. Christmas is coming after all…
What is the business model of TradingResearchPoint? I believe that it is advertiser driven. Stockcube is a prudent and well run firm with a good track record so I am sure that it knows what it is doing. I hope so. There are no restrictions on me using colourful language on the site and I can say pretty much what I think as long as it is compliant from a regulatory standpoint and as such it is a pleasure doing business with such folks. I'd happily crack on in this vein for many years. We shall see.
The articles produced for TradingResearchPoint to date are:
Reach4Entertainment – Bad Dog is Getting Better Daily: Speculative Buy?
Range Resources – what on earth is the CEO saying?
Avanti Communications – A Day to Buy as Results Go Down Badly (Evil Knievil wrong)?
Chaarat Gold – Great Grades, Share Price All Wrong
Range Resources: Dismal Results & Funding Concerns Increase: Sell
Shanta Gold – New Loan – What is going On? Still Dirt Cheap
EMED – down but far from out – Long Chat with CEO: Buy
Norseman Gold – A total Disaster But NOT a write off although Administrator in (at subsidiary level)
Vatukoula Gold Mines – Down but far from out
Ortac Resources – No obvious insider dealing so bid spec in Telegraph wrong
Intandem – Catch up with Gary Smith
ReThink Group CEO Chat -Looks a Buy at 8p
I do not believe Wessex bid rumours – sell and switch into Northern Petroleum
Lunch with Paul Atherley of Leyshon Resources – Valuation is just wrong
As you can see it is mostly bull-case analysis with the odd report back on a lunch but there are also a couple of no-punches pulled gutsy sell notes on Range Resources (RRL) from last week (here and here). A more craven publisher would have balked. TradingResearchPoint did not flinch at all. My sort of guys.
Next week… Christian Science Monitor