Libya
1501 days ago
As I write civilian airlines have been told to get out of Syrian airspace for the next 72 hours. The very real fear is that the USA and possibly Britain and France will launch air strikes against President Assad's regime. The justification -the alleged chemical attack on Douma. If the West blunders in, it does not do so in my name.

1523 days ago
What do the following have in common: right wing Sunday Times polemicist Rod Liddle, Conservative Sunday Telegraph columnist Chris Booker, right wing blogger Tom Winnifrith and his (closet) reactionary father of the same name and Right wing polemicist Peter Hitchens of the Mail on Sunday? When it comes to Jeremy Corbyn quite a lot...

2134 days ago
As the bodies are prepared for burial the war of words as to who is to blame for the outrage in Nice is underway. Fresh from calling for a ban on guns in America after Dallas, the liberals are now calling for a ban on lorries in Europe. Okay they are not. No-one ever accused the liberal left of being consistent in its prejudices or thought processes. But if you wander around the Internet you can see more or less everyone gets blamed somewhere.

At this point I'd just remind you of the words of two former Prime Minsters and I start with the war criminal Tony Blair.

2144 days ago
British Squaddies continue to face trial for war crimes where individuals or a few folks died. Yet hundreds of thousands have perished as a result of the war the UK and US launched against Saddam Hussein. And the Chilcot report makes it clear today that Tony Blair was a key architect of that war, urging on George Bush to invade with British involvment, for two years before the troops actually went in. It makes it clear that Blair, at best dissembled, and at worst lied to Parliament and to the Attorney General as well as to the Britsh People to get us into that war.

Jack Straw is also exposed as having suppressed one report and sexed up others in order to get us into war. The truth was a casualty of his campaign to start a war for which there can be no justification at all. 

If I were a juror and was asked did these two men take actions which caused their country to enter an illegal war, an illegal invasion of another sovereign nation I would - on the basis of what appears in Chilcot - find both men guilty without hesitating for a second.

That makes me unsuitable 

2847 days ago
My weekly video postcard finds me sitting on my newly constructed eco-loo. More on that in a later photo article.
The main theme of this postcard is the folly of Western meddling abroad. It was the great Dr Ron Paul (pictured) who coined the term blowback. The theme runs through Iraq, Afghanistan and is now playing out in Syria, Libya and the Ukraine.

When will our leaders learn and stop lying?
The Christopher Booker article I refer to is HERE

My weekly financial video postcard covers the uncertainty of earnings where margins are apparently supra-normal. Yes this means Quindell & ASOS. I also look at why the market mood has changed. It can be viewed HERE
Tom Winnifrith has just published his new e-book, The 49 Golden Rules of Making Money from oil, gas and mining shares. You can buy it on Amazon for £6.25 or you can order a FREE copy HERE

3189 days ago
Apologies for the delay. Well there is a lot happening right now. Following the highly successful interventions in Afghanistan, Iraq, Egypt and Libya it seems as if we are about to intervene in Syria as well. Will we ever learn?  Away from the folly of our leaders my mind this week centred on victory in my battle with AIM POS Sefton Resources and its liar and crook chairman Jim Ellerton. Bully boy lawyers Pinsent Masons has yet to throw in the towel officially (heck why not rack up some more fees while you can?) but it is only a matter of time.
If you missed the victory at Pinsents Video please watch and pass the link onto everyone you know. I gather the bully boys are hating all this bad PR. Given its role in the Sefton dirty tricks campaign against me Pinsents deserves all the shit it gets. So please watch the video and pass on the link to EVERYONE YOU KNOW - it is  HERE
This week's picture  is below. Please post your captions in the comments box below.
For what it is worth my entry is

3275 days ago
I see that the EU is lifting its embargo on arms sales to Syria at the insistence of Britain and France. Why UK trade policy should be dictated by the Evil Empire escapes me but that is not the issue here – the concern is that the UK is set to give weapons to the FSA ( the coalition fighting President Assad). This is sheer insanity.
For the past few months the Western powers have tried to show that Assad is a truly evil man committing war crimes on a daily basis. It is surely only a matter of Time before Tony Blair pops up to suggest that he has Weapons of Mass Destruction capable of hitting Britain in 45 minutes. The agenda all along has been to supply arms to the rebels.
Of course evidence on the ground shows that both sides in Syria are committing atrocities on a daily basis. William Hague may feel able to play God and decide that one side is better than the other but I cannot. Both seem utterly loathsome.
One thing that is clear

3444 days ago
The British taxpayer is to cough up £2 million in hush money to some poor bloke we picked up in Hong Kong and sent back to Libya to be tortured by Tony Blair's murdering pal the late Colonel Qadaffi. The poor chap was sent back on a flight with his family three days after the man who wishes to be the President of Europe met the man who organised Lockerbie and sent guns to the IRA to secure oil concessions for British Companies in Libya. I guess it is all part of what the late Robin Cook termed "New Labour's ethical foreign policy."
In order to win a "Its Time to Leave" T-shirt please post suitable captions to the picture below in the comments box. The deadline is a week today
You can of course buy an "It's Time to Leave" T-shirt, mug, thermos flask, sweatshirt or hoodie here.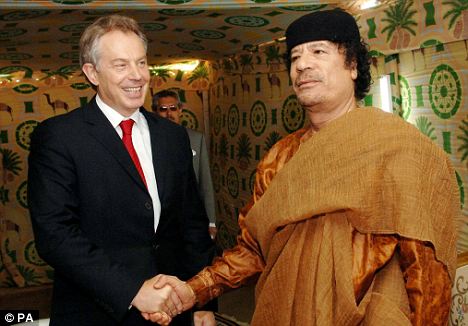 My entry is:

3510 days ago
Thirty years ago the Mujahidin were fighting against an evil Russian installed regime in Afghanistan. I think we all knew that the Mujahidin were not very nice people either but your enemy's enemy and all that and so we in the West, gave them stacks of guns and money. Among the lucky recipients was that fellow Osama Bin Laden who sure showed his gratitude to the West and the USA (the largest donor of guns and money) at a later point.
And so we turn to Syria where Mitt Romney, after consulting with his dressage horse for the tax implications, says that the US should provide weapons to the Syrian rebels – the FSA: not the UK financial regulator or the body trying to stamp out the evil that is home made jam, the other FSA.