The Guardian newspaper recently produced a list of folks, statues of whom it thought suitable to replace that of Lord Nelson in Trafalgar Square. Nelson may have saved the nation, given his life for his country but a speech in favour of slavery in the House of Lords means he is toast. The only question is who is next for the fascist liberal left to erase from history? I suggest George Washington, he may have founded a nation and all that but - like all his peers - he was also a slave owner. That will be his undoing. So who replaces Nelson?

You will not have heard of most of the list which is overwhelmingly female, non-white or gay or usually at least two of three. Diversity Guardian style means no straight, white men. One non straight white male nominated is the heroic gay rights and free speech campaigner Peter Tatchell. As a republican Tatch has several times turned down CBE,s etc. I hope he'd argue against a statue on similar grounds.

Of the non-entities nominated by the Guardian, Tatch would get my vote. I somehow doubt that 100 years after Tatch goes to a better place a future heroic President of South Africa and man who did more to fight racism than all the Guardian's editorial team, will be named Tatchell but Peter, though no Nelson, is, at least, a contemporary hero. Today he tweets on gay rights in Africa and is half right.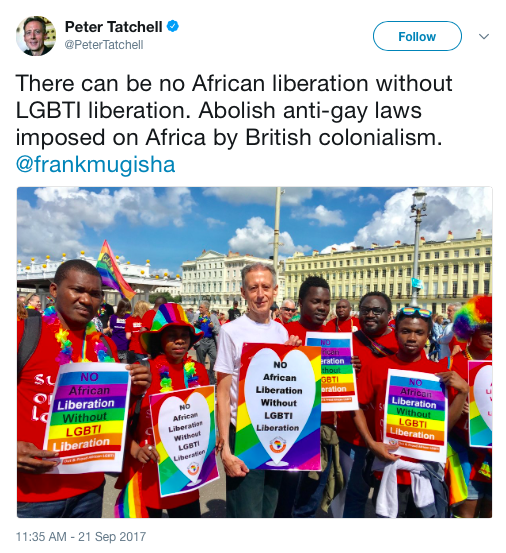 Of course, for Africa to be liberated and free that must encompass full equality and liberty for the LGBTI community. On that we can agree. But then Tatch goes for a bit of Imperialist Britisher bashing. Yes the anti LGBTI laws in some African countries went on the statute as those were the laws in Britain at the time. But before we evil Britishers arrived were these places gay friendly paradises? Of course not.

There would not have been laws in a written statute against homosexuality before the evil British arrived as there were no written statutes on anything but you can bet your bottom dollar that Greek love was not only not tolerated but was dealt with in a far more brutal manner than it was back in Blighty.

The idea that we imposed our mores on the otherwise enlightened Africans is laughable. The fact that 50 years after Silverman and the decriminalisation of homosexuality in Britain, gays are still prosecuted in Africa is a result of innate cultural prejudices in Africa that were there before the evil Britishers and are still there decades after we left.
Tatch is on this occasion just a colonial with a chip on his shoulder.
If you enjoyed reading this article from Tom Winnifrith, why not help us cover our running costs with a donation?