It is great that gay couples can be parents and as such you have to wish Olympic diver Tom Daley and his husband the film director Lance Black the best of luck. But the BBC reportage seems to skirt around certain biological issues. We are told:
British Olympic diver Tom Daley has announced he is expecting a baby with his husband, US film director Dustin Lance Black. They both shared the news on their social media accounts.
The couple got married in a service at Bovey Castle Hotel on Dartmoor, Devon, in May last year. A spokesman for the couple told the Press Association: "Tom and Dustin are thrilled to share that they are expecting their first child in 2018."
The couple posted a photograph of themselves holding up a baby scan picture on Instagram and Twitter, with the caption "Happy Valentines Day!". They have not revealed any more details about the pregnancy.
Ends
Hmmsmmm   - so who is actually pregnant? Not that the BBC mentions this biological fact but it would be a woman, someone paid to carry a baby for the lucky couple.  Of course the mule can do with her body as she pleases and that includes having a baby for two rich gay men who can compensate her for the inconvenience. But wqhen the BBC says that "Tom and Dustin "are expecting their first child" what they actually mean is that "a woman is expecting a child whose father is either the diver or the luvvie but that the baby will then be brought up by t6he father and his husband."
.Good luck to all concerned but the BBC narrative is straight from the post fact era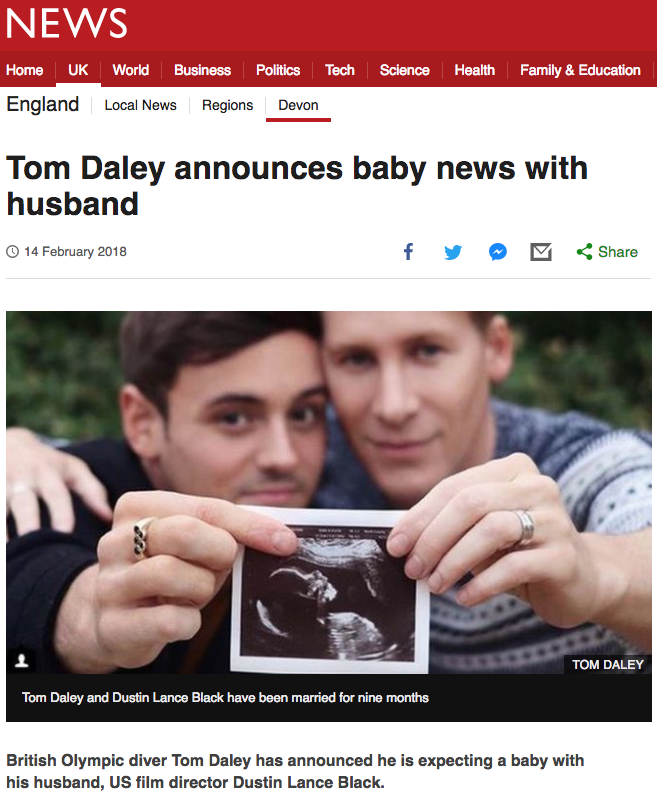 If you enjoyed reading this article from Tom Winnifrith, why not help us cover our running costs with a donation?