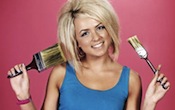 I am not exactly the target audience for I'm A Celebrity Get Me Out of Here. For starters I have an IQ greater than 75. And I am also handicapped in that I have no idea at all who most of these celebrities are. I am also a bit confused as to which one is Ant and which is Dec. I have never known and never wanted to as they both strike me at utter morons. But in the interests of research I managed to survive about twenty minutes of the show last night before retreating to start watching Series Five of Brothers & Sisters on download. That is the last series, post car crash and I am gripped.
Back in the Jungle my observations are that ex darts player Eric Bristow ("the crafty cockney") who I recognised, seems a likeable fellow. But then he always did have a real charm. Boxer David Haye also seems likeable enough referring to Nadine Dorries as "that politician bird." I did have a vague idea who Haye is and his politically incorrect turn of phrase endears me to him.
As to the rest of the cast I really do not have a Scooby. It strikes me that Britain would not be that much worse a place if they all (plus Ant and Dec) stayed put in Oz for good. Being a vulgar and brainless bunch they would probably fit in rather well.
Dorries was up for what is, I gather, termed a bush tucker trial and so was locked in a pit and had thousands of maggots and insects poured on top of her. Also in the trial was a woman who has just got to be the most airheaded and wimpish creature on this planet. My diligent research has led me to discover that she appears on Coronation Street where she plays a totally wimpish airhead. Type casting.
The airhead lasted about ten seconds. Dorries stuck it out for almost five minutes and I am not sure I would have lasted so long. She gave it a go. I suppose that being in a packed House of Commons must have been good training for being locked up in a small space surrounded by maggots, parasites and other creepy crawlies. The MP for Mid Beds showed a nice touch in self-deprecating humour and some compassion and generosity to the airhead.
Before this show I had Dorries down as justifiably being known as "Mad Nad," an expenses abuser and an appalling self-publicist but in the twenty minutes of my life I wasted watching this piffle I found myself rather warming to her. I sense that if Old Etonians like Call Me Dave and Sir George Young think that crucifying this woman for appearing on this show will help them reconnect with ordinary folk in Britain they may be making a bit of an error. Nadine appears like she is almost a normal human being.
That is it. I feel that I have done enough research on Dorries in the Jungle. I suffer for you dear readers but the show is truly dreadful and there are limits to my dedication.