9 AM Wrexham, vets, booster jabs for cats Sian & Quincey. 7.45 AM Welsh Hovel, the Mrs lets Quincey escape from the confinement I had arranged prior to our trip to the cat doctor. Cue a few cross words from me and frantic searching for an errant cat.
Eventually I put Sian in her box and drove off with an empty box in case Quincey was spotted down the lane. He was. The Mrs – in the car with Joshua on the way to nursery – and I set off in hot pursuit. Oncce, as all three of us roamed across other folks gardens, I nabbed him, he scratched and bit and I let go with my arms bleeding. In due course Sian and i went to the vets and about an hour later returned home. Who should wander in, demanding attention and friendly as can be? Quincey.  Little does he know that a new appointment has been made for him tomorrow. Pro tem he sleeps after this morning's game of pursuit.
Though undoubtedly very naughty he is, I am sure you will agree, adorable.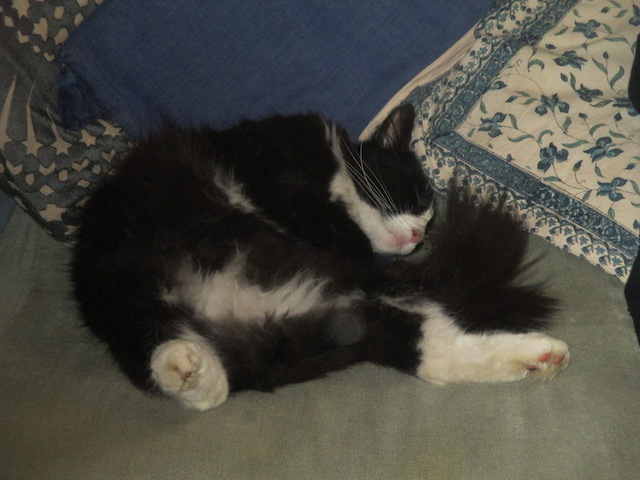 If you enjoyed reading this article from Tom Winnifrith, why not help us cover our running costs with a donation?