Regular readers will know that in August, Kardamili, the town where my hero, Paddy Leigh Fermor, made his home, becomes Islington on Sea. I dislike its new visitors as a breed and go there under sufferance. But as Uncle Johnny aspires to be a member of the metropolitan liberal elite and, as a now qualified Shipman, can afford to buy into the lifestyle we took him for a visit.
Johnny went shopping for a panama hat as that is the sort of thing that Islingtonians sport on their heads, while strolling around the wonderful old town with its Venetian styled buildings, in search of a copy of The Guardian. The Mrs went shopping because that is what women do and Joshua and I went for a fruit juice as that is what we "manos" do. I bring you the A-Board from the establishment we visited. You will note the signature dish is "Diversity pie" – which is a pie including all of the appetizers on the menu. It did not appeal to me but I can imagine that many of the North London lefties in town would have approved greatly. 
There are two restaurants in town we frequent. We took Uncle Johnny to one on the right as you head out of town up the hill going South. It overlooks a bay bordered on its Northern end by the pier which features in the film "Before Midnight" although, in real life, the pier is empty not full of with tables and diners. It is a spectacular view and Uncle Johnny says that he ever meets Miss Right he will bring her there.
Much though I loathe Kardamili, we visited it one more time during our stay as it was felt that Joshua might like to go to the sea. With Kardamili's stoney beaches he was not that taken but it allowed us to visit our favourite diner, Elias, which is almost at the end of the road out of town along the sea front. By this time the holiday season was hotting up but we did not have to wait for a table. Again there were few non Greek voices.  The spread, as you can see, was pretty spectacular. Though it is in Kardamili, and thus expensive, I view the place as a treat. So from left to right it is gigantes (giant white beans), zucchini balls, fava, beetroot salad and – largely for the pest – Octopus in pasta. And, of course, a bit of rose.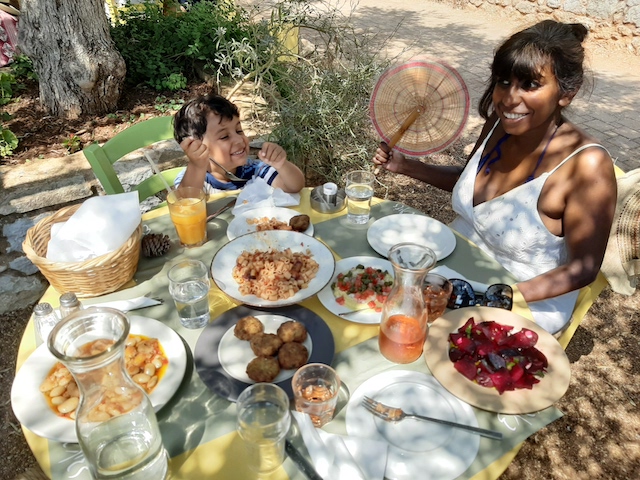 If you enjoyed reading this article from Tom Winnifrith, why not help us cover our running costs with a donation?