I have moved from a managerial position to that of an honest peasant labourer in the gardens of the Welsh Hovel, the area formerly known as the jungle, which runs along the lane from the Hovel up to the centre of the village. We started with the planting of 100 lavender plants to create a wall alongside that lane. Spurred on by a discussion earlier about how I had once eaten lavender ice cream, Joshua felt motivated to join myself and my colleague Paul and, as a bonus, he brought the lady who looks after him two afternoons a week who, it turns out, has green fingers.
Paul rotovated a narrow strip along the edge of the garden halfway between the real edge and where my cherry trees are showing some real growth. He and I then laid out the 100 plants I had ordered having calculated exactly how many I needed to go from the end of the jungle up to the rhubarb patch at the top. Natch I had got my sums wrong and so we ended up putting a "wall" up around the eight rhubarb plants which, I can report, are already poking up through the soil so all is looking good for another fine harvest.
Having lined up all the plants, Joshua was encouraged to do the first hole into which special lavender compost was poured, a plant inserted and the earth pushed back around it. Luckily he got bored at this point as his pace of work was glacial. And so the A team got to work. Paul moved a plant aside, I dug a hole, he chucked in some of the special compost and dumped the plant on top. In due course we got to plant 100, at the edge of the rhubarb patch and started to work our way back down the garden filling in the earth as we went.
Digging holes is back-breaking work and I was glad that a couple of neighbours emerged to break Mark Drakeford's house arrest and have a chat as both Paul and I needed the odd break.
At this point where we started filling in the holes, Joshua reappeared and when it came to filling in holes he was a bit of a natural. His childminder H was even better and she started at the other end. She can come again. And voila, the lavender wall is complete. Right now the plants are about two inches high. They should reach 30 inches. And at that point, I can start considering the production of lavender bags for the pillows, ice cream, lemonade, syrup, and possibly gin.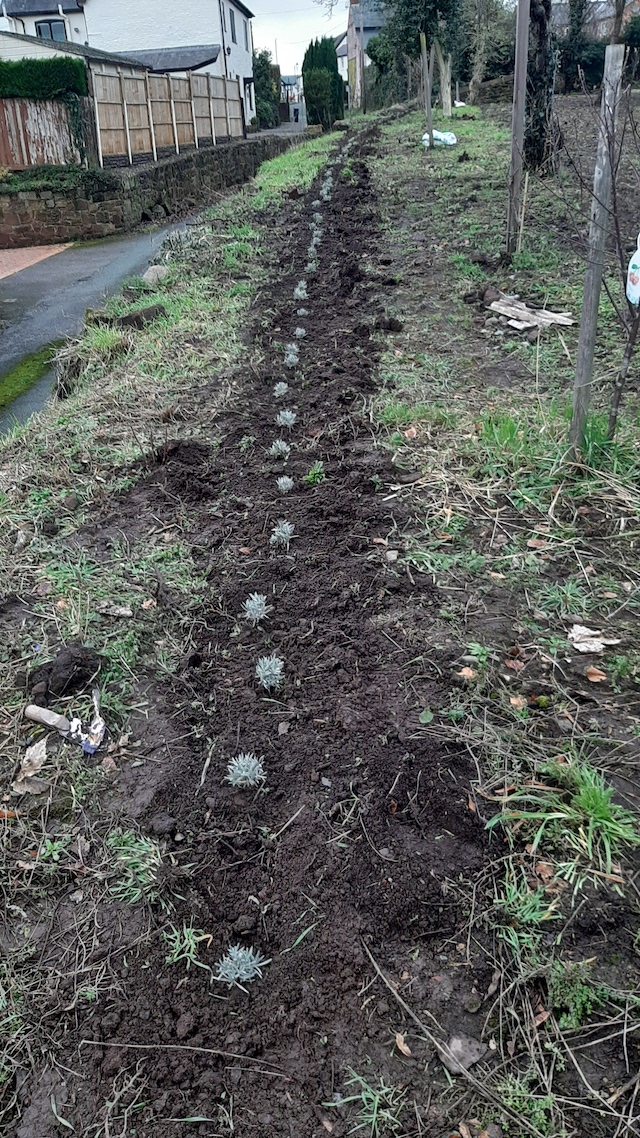 If you enjoyed reading this article from Tom Winnifrith, why not help us cover our running costs with a donation?