Fading celeb Anthea Turner has learned a valuable lesson for 2021 – never tell the truth if it might offend anyone. The poor woman tweeted out the common sense point that most of those who were not old or frail who have died from covid were largely obese or unhealthy from self-inflicted illnesses. I write this as a fat diabetic. What Anthea said is true but that is neither here nor there in 2021 Britain. She was quickly set upon by a pack of twitter hyenas, folks who sniff out folks saying anything that might offend anyone, including, natch, the Guardian's Owen Jones, the witchfinder general of the woke legions on twitter. His supporters piled on en masse.  Pretty soon, Anthea, facing the ruin of what is left of her career, was forced into issuing a grovelling apology. 
That will teach her. The truth is no defence. As long as you are seen to be caring and talk lovingly of an NHS that never fails anyone and of how death can be overcome, although not via faith in Jesus obviously, then say what you want in a post fact era.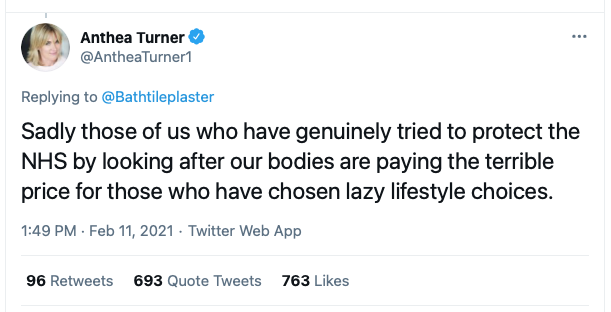 If you enjoyed reading this article from Tom Winnifrith, why not help us cover our running costs with a donation?