woke
8 days ago
Merseyside police do not have any useful work to do. After all, there were only 49,414 violent crimes in the Merseyside area in 2020. That is 135 a day. So with nothing better to do, I bring you a picture of four cops from the supposedly cash-strapped Merseyside Force "in action" outside an Asda in Liverpool yesterday. They are, of course, breaking the law.

13 days ago
The Welsh Government has found £170,000, in these times of austerity, to spunk on a report into statues, buildings, and street names that are linked to slavery or are racist in other ways. Naturally, folks like Sir Francis Drake, Nelson and Wellington are all in the firing line because their tangential or fairly minor connections to the slave trade must completely overshadow matters such as saving the nation from invasion and foreign domination. But it is my local town of Wrexham which shows up the monumental stupidity of this exercise, masterminded by the certifiably insane first minister Mark Drakeford and rubber stamped by the grossly overpaid pygmies of the Sennedd, in greatest detail.

18 days ago
Fading celeb Anthea Turner has learned a valuable lesson for 2021 – never tell the truth if it might offend anyone. The poor woman tweeted out the common sense point that most of those who were not old or frail who have died from covid were largely obese or unhealthy from self-inflicted illnesses. I write this as a fat diabetic. What Anthea said is true but that is neither here nor there in 2021 Britain. She was quickly set upon by a pack of twitter hyenas, folks who sniff out folks saying anything that might offend anyone, including, natch, the Guardian's Owen Jones, the witchfinder general of the woke legions on twitter. His supporters piled on en masse.  Pretty soon, Anthea, facing the ruin of what is left of her career, was forced into issuing a grovelling apology. 

20 days ago
Do you remember Muriel from The Tube back in the early eighties? Since then she has made millions from the BBC but more importantly from setting up a production company which she merged with that of BBC star Kirsty Wark which got a shed load of work from the BBC and which was then sold for £12 million. Lovely jubbly.

26 days ago
Yesterday I revealed how joining the ever longer list of things that became racist in 2021 was celebrating the life and mourning the passing of Tom Moore. Who said so? A Church of England Vicar.

32 days ago
Dinah Rose is a leading QC. She is also President of Magdalen college in Oxford but for how much longer? Rather like SNP MSP Joan McAlpine, Ms Rose is a solid lefty with impeccable woke credentials but now she is in the eye of a storm. Her crime? Doing her job.

46 days ago
Women's Running UK is a magazine about running. It's for women and is sold in the UK. Today it talks about how comedian Eddie Izzard takes on "her" latest incredible challenge. Izzard was once, and I follow his own words, a transvestite, then a "lesbian trapped in a man's body" and is now genderfluid. Whatever. Izzard has a penis and he is a man whatever he is wearing or whoever he is shagging.

61 days ago
This rather surprises me. I was convinced that the top 30 would be packed full of waspish, libertarian or anti-woke articles. But it seems that many of the most read pieces on this website are the ones the Mrs thinks no-one reads, about life at the hovels here in Wales but also in Greece. Anyhow, here are my top 30 non financial articles of 2020.

64 days ago
Now that we are out of the EU for good, surely the next great national campaign has to be to #DefundtheBBC. It really is a most nauseating institution. The clear liberal left bias of its news coverage, the woke and unfunny comedy and the smug air of superiority makes it almost unbearable. As it attracts ever fewer viewers and listeners, it ups the bloated pay of its staff, never questioning why folks are deserting it but instead doubling down on the sort of activities which arouse so much anger.

79 days ago
I noted earlier, in another context, that it was increasingly hard to tell genuine hate-filled woke liberal Twitter warriors apart from parody accounts of hate-filled woke lefties. Is this vicar/lecturer at a Marxist madrassa/Guardian reader a member of one of the Teacher's Unions for real or just another send up by Andrew Doyle?  That brings us to Steve McKellen whose deranged outpourings on the matter of Brexit featured here yesterday.  Is Steve for real and thus a man we should pity and pray for as he battles severe
BDS

or is he a parody?
Surely even those on the left could not be so filled with hatred & contempt for freedom that they are advocating snitching, Stasi style, on colleagues for voting for Brexit and advocating P45s for the "deplorables"?  These days I am afraid that such a stance is seen in some circles as perfectly acceptable.  Anyhow, Steven is tweeting again. What are the odds for our own in house Euro loon Jonathan Price being one of the 31 who liked this tweet?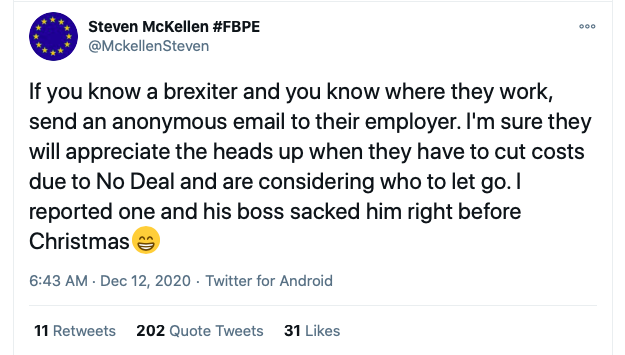 " target="_new">Does Steve McKellen have such severe Brexit Derangement Syndrome that he wants 17.4 million folks sacked tomorrow or is he a parody?

I noted earlier, in another context, that it was increasingly hard to tell genuine hate-filled woke liberal Twitter warriors apart from parody accounts of hate-filled woke lefties. Is this vicar/lecturer at a Marxist madrassa/Guardian reader a member of one of the Teacher's Unions for real or just another send up by Andrew Doyle?  That brings us to Steve McKellen whose deranged outpourings on the matter of Brexit featured here yesterday.  Is Steve for real and thus a man we should pity and pray for as he battles severe BDS or is he a parody?

80 days ago
This issue for Darren was prompted by me discussing "cousin" Axl Rose yesterday.  I start by discussing day 12 of Joshua's Advent calendar, then what Darren needs to record for you this Yuletide. Then it is the strange tale of Calisen (CLSN), Goldman talking woke nonsense and finaly BBC #fakenews on cheddar cheese prices and why my grandfather, Sir John Winnifrith, was right in 1975 and why food prices, therefore, could and should fall from January 1. 

84 days ago
On Saturday, Millwall Supporters booed as their players took a knee in support of an organisation that most Britons (both white & BAME) think INCREASES racial division, that wants to end capitalism & the nuclear family, to boycott Israel, defund the police and shut jails. Millwall supporters spoke for the nation. Fraud promoter Gary Lineker said the supporters were racist in opposing the organisation that increases racial tension, Black Lives Matter. Whatever. Gary is a prick. Tonight Millwall face QPR in the Championship.

87 days ago
I support West Ham with a bit of a passion, albeit from the wilds of North Wales. I bring my kids up to support West Ham, something which many folks would consider a reason to report me to social services given the misery such support often brings. So my second team is, obviously, anyone playing Millwall. The tribal feelings are strong when it comes to our friends from South of the river in East London. I really want them to lose every game if only to ensure that we never have to play them again, given what has happened in previous games: pitch invasions, fighting and even stabbings. I was there the last time Millwall visited Upton Park and it was truly awful. Thankfully, only one person died. But you get the gist – I do not like Millwall football club or its fans. But not today. Well not completely.

88 days ago
There is a new poll out today which shows that the red wall is collapsing. A year ago in traditionally Labour seats like Wrexham, where I live, the Tories were on 48% with Labour on 39%. Now Labour leads by 47% to 41%. Of course, there are four years to the next election but MPs such as the ghastly Sarah Atherton, in these parts, should see that the writing is on the wall. Like so many folks here in Wrexham handed P45s thanks to insane lockdown policies – supported by silly Sarah –, folks like Ms Atherton will themselves be encountering a P45 in due course.

92 days ago
For seven years, as I described here, I have been noting the various ways that the National Trust has pursued a costly woke agenda, alienating its core supporters, and, as a result, being less able to deliver its core mission of saving historic buildings and lands. My Bennite grandfather, Sir John Winnifrith, who ran this body as its Director General, would, I am sure, have washed his hands of the NT in disgust by now, resigning his membership. This weekend, the Trust doubled up on its latest woke blunder: the publication of a detailed report which, effectively, branded one third of its properties as racist.

98 days ago
I buy a poppy in remembrance of my Great Uncle Francis Cochrane who died while fighting the Germans in North Africa in 1942. I hope my cash helps an ex serviceman or servicewoman in need. But does it?

106 days ago
The handouts are happening in the woke US state of Oregon.  More than 75 strippers will be each given grants of $2,250 for assistance with rent, utilities and internet.  It is all so 2020.

109 days ago
For seven years I have been recounting various episodes which will have caused my grandfather, Sir John Winnifrith, a former Director General of the National Trust, to spin in his grave. Slowly, the organisation he loved is destroying itself but like the frog in slowly heating water it seems oblivious to its fate. For those who run the Trust live in a small liberal and elitist bubble.

119 days ago
EU-loving loon Femi Oluwole may have lost the Brexit battle but he is still fighting the woke wars and today his attack is on poppy wearing which, as you can see below, he terms a "war-related campaign".

121 days ago
If you call all folks with whom you disagree Nazis or facists, you dilute the evil one associates with real fascists and Nazis, the sort of folks who actually murdered 6 million Jews rather than, say, voting for Brexit or Donald Trump. Now meet Renee Graham who pens columns for the liberal Boston Globe and also appears on taxpayer funded radio in uber-woke Massachusetts.  Renee thinks folks who campaign for Donald Trump are like ISIS Jihadists, you know those chaps who engage in mass rape, chuck gay men off tall buildings and behead their opponents and British aid workers. You think I am kidding?

133 days ago
The deadwood press gives Ms Gilmarrtin an easy ride because she is a female CEO so will not call her out for bullshit and her convenient share trading. But, having no truck with such woke niceties being a gender blind meritocrat, let's tell it as it is on the day Claire has announced that she is to step down as Trainline (TRN) CEO in six months time. For starters her company has not delivered for investors, is in crisis and clearly never will deliver.

151 days ago
Last week's New World Order show hosted by unfunny bearded comedian Frankie Boyle included a section where someone joked about killing white people. Boy how the panel laughed because that is not racist or offensive at all. This week's show discussed capitalism.

155 days ago
As each day goes by, there seems another sign that the University in the City of lost causes is, itself, becoming more of a lost cause. Meet Dr Jennifer Cassidy. You can hire her as a speaker if you have an appetite for expensive woke nonsense and her agency says of her:

158 days ago
My father is a closet reactionary who tries to hide some of his less woke opinions from my lefty sisters by continuing to order the Guardian. Its lack of intellectual rigour, fake news and all round sanctimony angers him greatly so, don't tell sisters T&N, so he far prefers reading a one day old Daily Mail supplied by his delightfully right wing carer E. My last gift to E was a MAGA baseball cap for she is one of Donald Trump's biggest fans and her high point of recent years was coming within a few feet of the great man as she visited Vietnam. And so for E, a new gift, as you can see below, which arrived at my father's on Friday.

160 days ago
The National Trust has finally published its widely flagged report into which of the houses it has been bequeathed are tarnished by associations with slavery or the evil that is colonialism. My late grandfather, Sir John Winnifrith, will be – yet again – spinning in his grave.  The report is a predictably dire and academically flawed document but the sort of exercise in self-flagellation that has become compulsory for guilty white, Guardian reading, liberals in 2020. If the report itself was not bad enough, the coverage of it by the BBC was excruciating and another reason why we must #defundthebbc. But we must now also #DefundtheNationalTrust.

165 days ago
Rabble Books & Games, a bookstore in Perth Australia, has a death wish. It has said that it will not stock any new books by JK Rowling including those written under the pseudonym Robert Galbraith. Folks desperate for a Harry Potter novel can get it as they will be stored under the counter like smuggled cigarettes from Vietnam in your local newsagent. Why would a bookstore take off its shelves one of the world's best selling authors? This is an act of commercial suicide.

172 days ago
This should not be a left and right issue but, in the culture wars, it now is. Folks are cancelling their Netflix subscriptions in thousands not only in protest over its deal with Prince Harry and his ghastly woke Mrs but, now, because of a new film it produced and screened, Cuties. It tells the tale of young, only just teenage, girls wanting to be "dancers" and the sexualisation of these kids. Them fondling themselves in all regions on stage is, more or less, paedophilia. Netflix is now Nonceflix.

187 days ago
My friend Bill Long and I attended a lecture a few years ago in New York, given by the historian Madge Dresser and organised by the American branch of the National Trust. Its theme was the links between slavery and National Trust properties. Although Madge and I disagreed a little on the history of the South Sea company, it was balanced, fair and very interesting indeed. But in the wake of BlackLivesMatter, the NT has decided that it has not acknowledged its sin fast enough or sufficiently enough and so has commissioned a major new report. Yes: that is the same NT that is firing 14% of its staff, 1200 folks, because it says, untruthfully, that it faces a cash crisis and there is no other way.

188 days ago
Cat Lewis is the producer of the BBC's Songs of Praise and has leapt into the debate on Rule Britannia in spectacular style. If the state broadcaster had any sense, it would fire her at once for stupidity, ignorance and for insulting 99% of those whose taxes pay her bloated salary. 

191 days ago
Okay, this is only one store in a medium sized Welsh village. The one I live in. Perhaps, unbeknown to me, absolutely all of my fellow villagers spend their nights re-reading the works of Ayn Rand, brushing up on Austrian economics or on the greatest 100 quotes of Ronald Reagan and we are somehow atypical. My instincts are that this is not an unusually enlightened place. And thus in light of my article earlier in the week on #BoycottBenandJerrys and the woke hypocrisy of Unilever (ULVR) I bring you a photo from the village store.

193 days ago
Yesterday I noted how the woke revolution sweeping listed companies was making the 1% richer at the expense of we plebs who just own shares. But big corporate is not only alienating shareholders with such antics but, in many cases , its customers too. Nowhere is the stench of this virtue signalling more apparent than at Ben and Jerry's . But this saga is far worse.

194 days ago
I fully expect to be slated as a misogynist old geezer for saying this but the woke revolution is again and again merely facilitating the transfer of wealth from the 99% to the 1%. Meet Sandra Bates. She is a busy bird…

220 days ago
I start with the rather stupid, uber-woke dismal Tory MP for Wrexham Sarah Atherton and her latest photo tweet. I move via International Consolidated Airlines (AIG) as I discuss just how awful the real economy is, how no-one, especially Intercontinental, has any earnings visibility and the steps companies are taking to maximise cash but to mislead about their cash position. I mentioned Primary Bid. Make sure you are registered HERE.

221 days ago
Nadia Whittome MP is an uber woke member of the Alt Left, who today has waded into bat for the rights of the trans community. She offers up a terrifying vision of the Orwellian state she wishes to create.

222 days ago
The Day is an online newspaper which targets school kids, founded and edited by Fleet Street great and good member Richard Addis. It comes with the full endorsement of the Department of Education. But why is this, supposedly Tory, Government urging kids to read such hate filled filth.

223 days ago
Yeah whatever… in this era of competing to scramble up the pyramid of victimhood, Covid 19 has been a Godsend to many of those who do not actually do anything useful for society. So what if more than 60% of Covid deaths are men, let's flag up a study on how women have suffered. Have you spotted a similar study for men? Me neither.

237 days ago
The army is there so that if our nation is threatened, they can go and kill the bad guys. I don't care who is in the army, just so long as they are folks who I can rely on to go and kill bad people. That is why we have an army. It is not there as a decorative force to mirror society. Only fruitcakes on the left worry about quotas. Do we really need 0.2% of soldiers to be transgender and 2% to be LGBT? Or do the gays not matter in this game and we should only focus on women soldiers and those from ethnic minority backgrounds?  And why pick on the army and not other public sector bodies? Surely we have a right to know how many gay and lesbian dustbin operatives there are? From what I gather, that sector is mostly entirely male. Why is that? Where is the gender equality in dustbins?

243 days ago
She is a lucky young lady that Claira. A Harvard graduate, a great job waiting for her with accountants Deloitte, and then she goes and posts a video on the internet saying repeatedly that she will stab any white person who says that white lives matter. Their "sheer caucasity" enrages her as you can see below. Maybe at Harvard, these days "caucasity" is a real word. How times change.

247 days ago
Before anyone kicks off because they may not like my conclusion, let us be clear, Black Lives Matter as a slogan is fine. However, White Lives Matter really is, at best, meaningless gibberish. You need to put this into context.

259 days ago
The power of a twitter witch hunt by the woke mob should not be underestimated. It can, in the current climate, ruin lives and careers, erase history and crush businesses. It does not need to have any factual basis at all. In New York this morning, trending on twitter was #BoycottDominos. This will astound you.

264 days ago
Though, as I demonstrated earlier, he invested not a cent in slaving, the statue of philanthropist Thomas Guy is now officially for the melting pot. First they came for the statues. Then they came for the comedy. I have just played the video below to my woke Islington based daughter Olaf and she laughed loudly.

399 days ago
The job of a bank boss is very simple. It is to lend money to folks who have a good chance of paying it back so that shareholders see a net return, the bank stays profitable and staff keep their jobs.  It is not to change society. No doubt RBS boss Alison Rose will be praised for risking £1 billion on ultra-woke virtue signalling. MBE, Member of the House of Lords, it all looks more likely but this is folly.

407 days ago
For me Laurence Fox will always be Hathaway in Lewis and as he was an actor I assumed he was a virtue signalling lefty git like the rest of his profession. Last week's Question Time therefore startled me as Fox emerged as a true hero of the thinking libertarian right taking on the woke battalions. He even dared to call out as racist some daft professor of Ethnicity from the joke institution that is Liverpool Edge Hill University as she essentially said that as a white man Fox was inherently racist so could not challeng her assertion that folks were only nasty to Princess Meghan as she is a woman of colour. 

415 days ago
My paternal grandfather, Sir John Winnifrith, was a Bennite so I'd imagine we would not see eye to eye on everything although, as an ardent Eurosceptic, we would have agreed on some things. I have noted before on this website, how as Director General of the National Trust, he thought the organisation's remit was to preserve historic buildings and landscapes. Today the Trust is almost as woke as Prince Harry and wastes vast sums preaching to us all and annoying many of us who might be minded to back it. I am, for that reason, not a member.

421 days ago
I found this in Pickering in the far North of England. I am sure Titania McGrath would not visit a place like this as it is horribly white and full of Brexit supporting racists. But there does appear a voice of sanity in this sea of fascism. Meet poet Howard Owen Griffiths.

425 days ago
For the second time this season Stoke and Ireland player James McClean has got a match halted after what he claimed was racist chanting aimed at him, that is to say Huddersfield supporters chanting "Fuck the IRA". The FA says that it is now investigating this racism. But so woke is the FA that it sniffs our racism even where it does not exist, as in this case, and in the process insults – with a racist slur – the vast majority of folks of Irish descent.

429 days ago
My sister N is funny, kind, intelligent and thoroughly laudable. Except that like the rest of my family, with the honourable exception of step sister F, she is on matters political utterly deluded. She works for the State, reads the Guardian and her husband, who works for the State, goes on stop Brexit marches, well he did up until recently. I guess after "the people's vote" on December 12 he might now accept that we smelly thick plebs get to have our way after all. A few years ago, N gave him membership of the Labour party for Christmas. You get my drift…

434 days ago
I say this as a Star Wars groupie: I went with my daughter todaty and it was pure woke rubbish. It really was awful. I was bored, annoyed and almost walked out.  I thenm discuss Bidstack (BIDS), caught up ion its own lies and running out of cash and Zoetic International  (ZOE) caught up in its own poor judgement and running out of cash.

434 days ago
I was nine when the first Star Wars film came out and almost ever since I have been a true groupie. I have seen every film, in the case of the original three, dozens of times. I have Star Wars Trivial Pursuit which I should warn you all that I am rather good at. There was even a vague attempt to include in my daughter's names Leia but I am afraid that the Force was not with me in that battle. And thus my daughter and I headed off yesterday to see the final instalment of this nine movies phenomenon, the Rise of Skywalker.

470 days ago
There are no guests in this week's show which is sponsored by Open Orphan PLC (ORPH). It is just me and I start with the tale of Lyin' Chris Cleverley, the lying fraudster cousin of Tory Party chairman James. Lyin' Chris runs listed companies and there is no doubt he is a liar and a fraudster so why has the FCA not acted? Then it is onto PureCircle (PURE) a billion dollar fraud, where after six years, myself and Lucian Miers are utterly vindicated. I invite you to read its 2018 annual report and despair at the woke world of best practice in corporate governance. If you like this and can't wait seven days for more of the same and are tired of being a cheapskate you should listen to my Bearcast every day.

477 days ago
Firstly so many thanks to all of you who donated to the Woodlarks Christnas Grotto appeal. 101% of our target has now been reached so I'll call it a day. Thank you again. In today's podcast I also discuss Big Dish (DISH), and Dev Clever (DEV) two examples of why you should never invest in an IPO and I have data to back that up. I look at Tern (TERN) and at Sound Energy (SOU), shame on James Parsons, and then in detail at Velocys (VLS).

519 days ago
However bad our leaders are in this country, my colleague Darren Atwater cannot truly laugh as he is Canadian. And the Canadian PM, Justin Trudeau is a truly pathetic figure. His attempts to dance Indian style made Theresa May's dancing Queen seem kind of cool. Perhaps more importantly he has helped to train wreck the economy, is mired in corruption scandals and is the crown prince of "high woke". Seriously, Titantia McGrath could not compete with a chap who wore Happy Eid socks to the LGBT parade. Oddly, and for reasons I cannot quite put my finger on, Justin did not wear LGBT socks to the Eid celebrations.  There are allegations of sexual harassment against Justin but none of this matters to the liberal media because he is just so incredibly woke. Justin can get away with anything.

534 days ago
As @Titania McGrath has said so many times, for free speech to flourish it is vital that all those with the wrong opinions are no platformed and silenced. But twitter just showed, once again, that all capitalists are fascists by handing out a seven day ban to Titania herself. I have already started work on lighting a candle at the Welsh Hovel as I am sure that as such acts combat terror it will also serve to liberate Titania whose recent tweet about the late former President of Zim served to show how biased and out of touch the MSM and twitter is. Titania noted "I can't help but think that all this criticism of Robert Mugabe is just another attempt to demonise people of colour." Twitter may have silenced the voice of woke for a week but the cries of freedom can never be silenced. A statement has been issued:

560 days ago
I refer not to the fact that one will never be a ludicrous old Queen while the other cannot help but be one, but to the idea of rank hypocrisy and preaching to the great unwashed as to how they should behave.

722 days ago
The City Hall in San Francisco is a bastion of political correctness, backing every "woke" cause going  Whatever… it is the taxes of San Franciscans which pays for it all so not my battle. But its latest initiative is just so utterly offensive, it is a step too far.

725 days ago
I trust that you are celebrating this day in a culturaly appropriate manner. I merely commend to you the tweet of the activist Titania McGrath and also commend to you her book "Woke" which out yesterday. I have given copies to the Mrs and daughter Olaf to celebrate IWD with them. I also look at Own Goals Soccer Centres (GOAL), idiot knobs and Big Sofa (BST), Andalas (ADL) and Flybe (FLYB).  If you enjoyed this bearcast, follow Jim Mellon and support the Rogue Bloggers for Woodlarks HERE.