After its chairman, the loathsome Tim Parker, was forced to pack his bags, I suggested that without a clear out of the entire top management the Trust would continue in its woke ways while firing staff and failing to protect Britain's land and historic buildings citing a cash crisis. Hey ho, it did not take long for me to be vindicated as you can see below.
My Grandfather, Sir John Winnifrith, a former Director General of the Trust will, as I have documented so many times since 2013, be spinning in his grave. Not because he had any great gripes with the LGBT community, as a tolerant man and a committed socialist I do not think he cared about what gay folk did either way, but because this is costly distraction from the core purpose of the Trust. Certain homes where gay folks lived provided no great sanctuary in times when we were as a society less tolerant. We thus celebrate those homes not for being a sanctuary or a celebration of identity as in days gone by most gay folks were unable to celebrate their identity. We celebrate fine homes for being fine homes.
In the past, you'd give your money to the Trust to achieve that. If you wish to show solidarity with the LGBT community you might, as I have, given money to a fine organisation such as the Peter Tatchell Foundation. 
Grandpa spins in his grave. More folks who have loved the Trust for decades cancel their memberships and cut it out of their will. The Trust will bleat about poverty and be able to acquire fewer assets and the farce goes on. If the Trust is to flourish, it needs a root and branch overhaul of its senior management. Until then it will not get a cent of my cash, Tatch you are in luck you might get a few quid from me instead. 
#BotcotttheNationalTrust #DonatetoTatch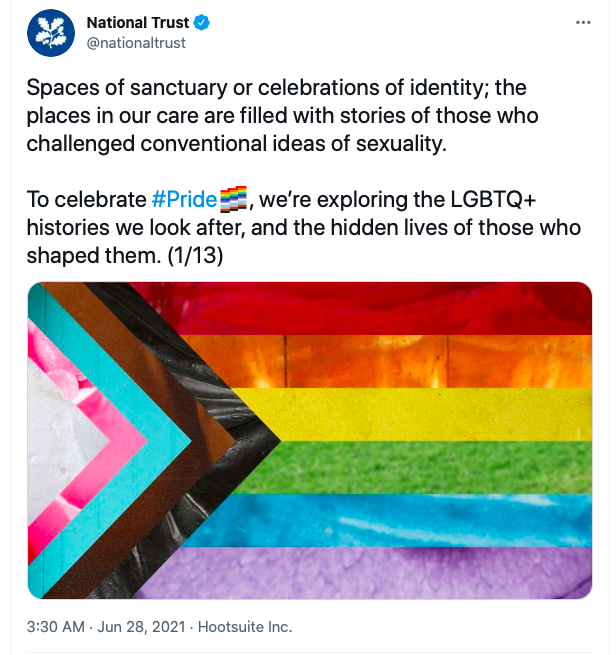 If you enjoyed reading this article from Tom Winnifrith, why not help us cover our running costs with a donation?