Merseyside police do not have any useful work to do. After all, there were only 49,414 violent crimes in the Merseyside area in 2020. That is 135 a day. So with nothing better to do, I bring you a picture of four cops from the supposedly cash-strapped Merseyside Force "in action" outside an Asda in Liverpool yesterday. They are, of course, breaking the law.
This is a demonstration, albeit a demonstration of woke stupidity and a waste of resources. But if there are more than two folks on a demonstration in lockdown Britain then Priti Patel says the cops should make arrests. There are four Policepersons on this demo. They need to arrest themselves.
The case is that of supporting the LGBTQ community, a noble one. But apart from the lawbreaking and the sheer pointlessness of this woke virtue signalling, the bigger question is whether what the Old Bill's Billboard proclaims is true? Is being offensive an offence? It is not per se but it can be as the Police will no doubt point out.
If I say that my sister, being born in Liverpool, is a Scouser and thus by her nature workshy and reliant on grossly inflated drawings from the State she might say that this is offensive. I would counter that since she works in the same noble profession as Harold Shipman, that is to say she is a GP, my statement is demonstrably true. But what it is not is an offence. I can offend both Shipmans and Scousers with words that are offensive.
If however I pick on, for instance, Graham Norton and suggest that he is reliant on grossly inflated drawings from the state and is, to boot a poofter and a Paddy, that is arguably offensive and if Mr Norton were to say that he was offended he could report me for a hate crime. His status as an Irishman and as a homosexual gives him greater rights to be offended than my sister the Scouser or me as a heterosexual. That is the law.
So what the Police poster says is, if you read the small print, correct but it serves as a reminder of what an ass the law as it stands can be. 
My son's middle name is Patrick. I had wanted to make it his first name after a man who is a hero of mine, whom my wife admires and who was a friend of my father. But the Mrs says that the name makes her think of Irish drunks. I am of vague Irish descent and in the modern world can easily self identify as Irish and thus claim to be offended by her remark. That makes it a hate crime under British law should I wish to report it and leave the Mrs charged with a criminal offence.
As I said, the law is an ass. And so too are those naughty lawbreakers from Merseyside Police. Did the four officers pictured really join the Old Bill to spend their Sunday afternoon doing this?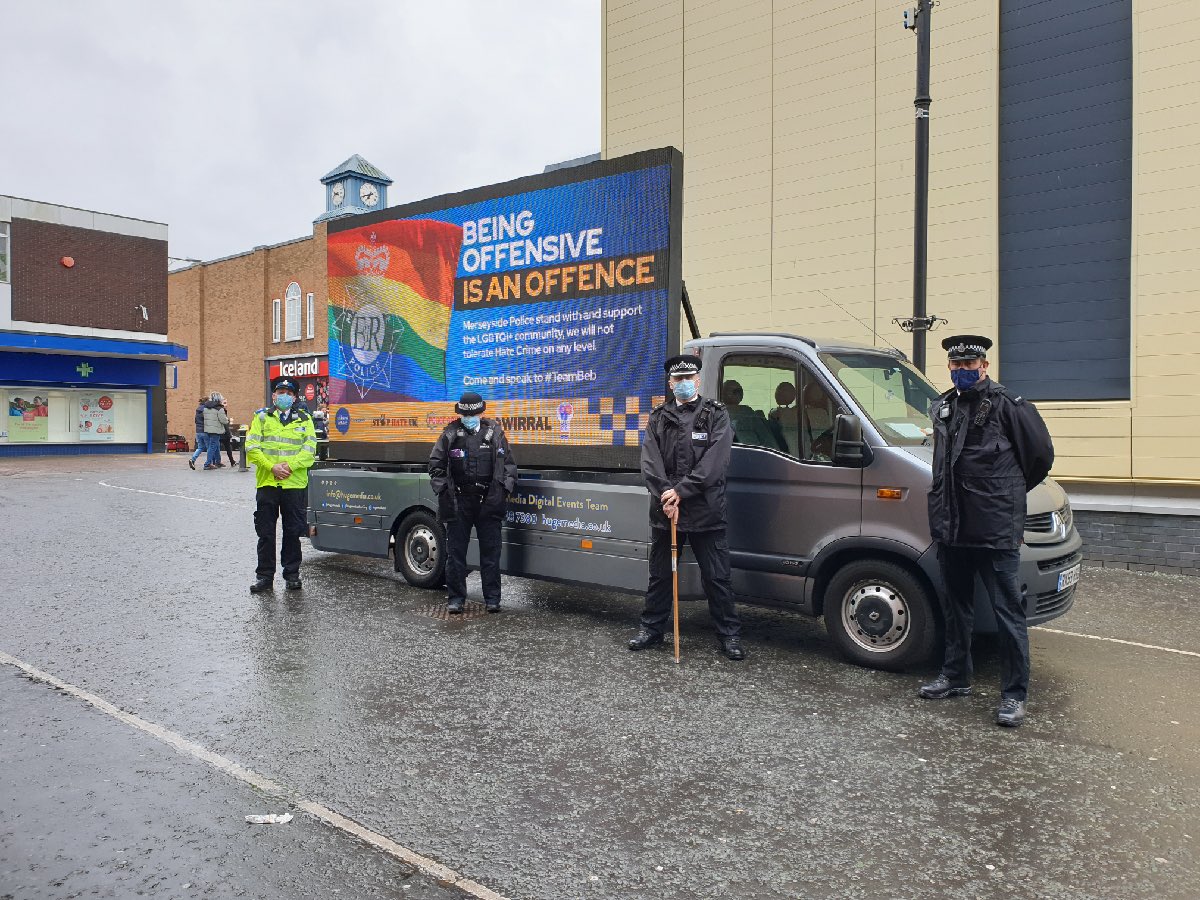 If you enjoyed reading this article from Tom Winnifrith, why not help us cover our running costs with a donation?