You may remember that, aged three, Olaf gained admission to a wonderful school in North London after a rigorous interview by headmistress Mrs P. The first question was to me "how is your father?" for Mrs P was the ex of my father's oldest friend, "vicious", who was also my godfather. I sense that Mrs P would detect Olaf's innate brilliance and she would gain a place despite an appalling comment from Big Nose on the virtues of the National Curriculum. That was a schoolgirl error for Mrs P is delightfully old fashioned. Mrs P is a relatively new reader of this website, approving of my views on a range of subjects, and has asked for a few photos of the Greek Hovel to which she knows she has an open invitation. Here goes.
We start with the view as you approach having braved the snakes in the two-mile drive from Kambos. From here you can see the upper level, the shutters on the kitchen only partly open, those on the living space opened up. Below, the bat room shutters are closed as is the door to the rat room. The main door to the kitchen is arched. That was one of my design inclusions. The bat room, rat room and kitchen were the old house although that was when this was a wildlife packed hovel a long time ago so there has been much rebuilding since.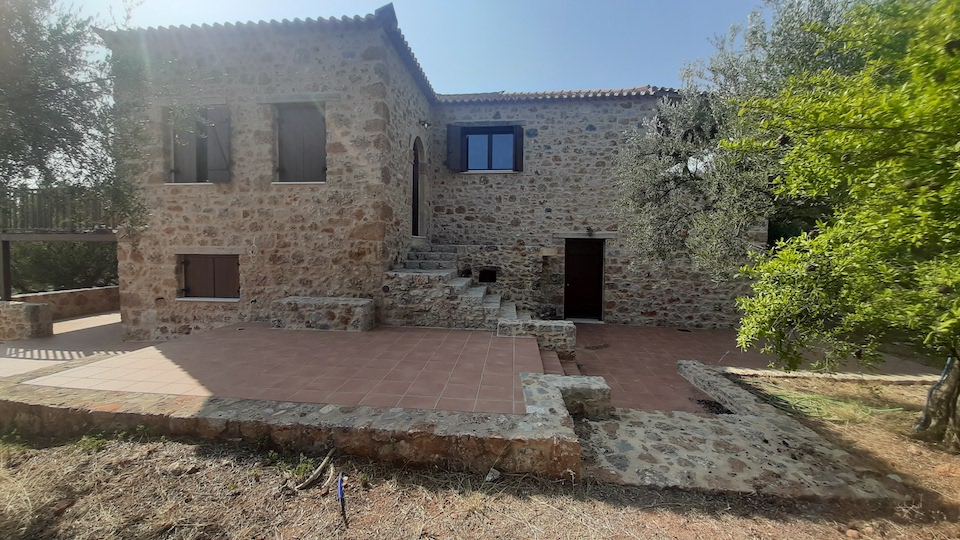 Next up is a view from the pool showing the balcony that leads from the kitchen and beyond it three little windows in the main living space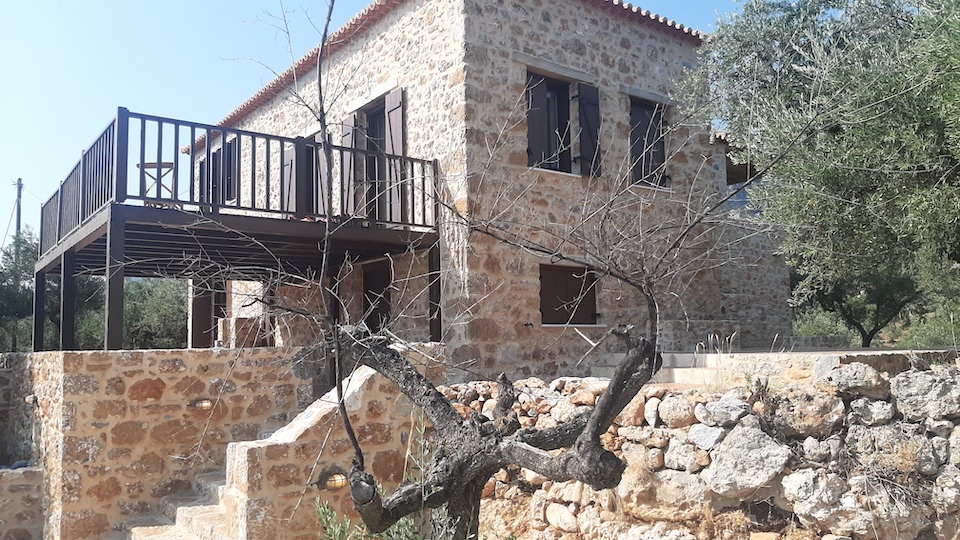 Photo three is the view from the balcony that runs along the back of the main living space above both the rat room and the main bedroom. Yes those really are mountains.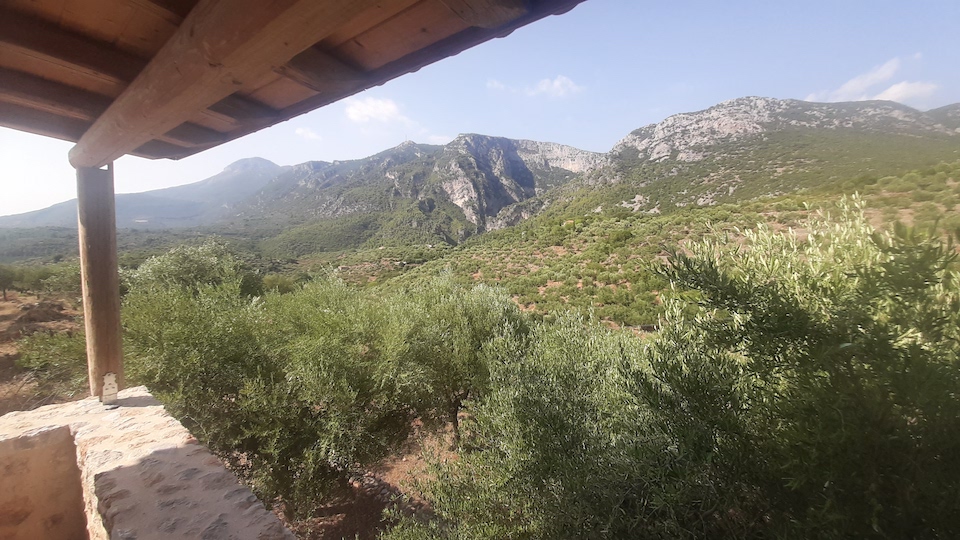 Photo four is the view along our land, which stretches for 800 yards or so, taken from the main living space. This morning I sat in wonder looking at the local golden eagle perched on that redundant telephone wire.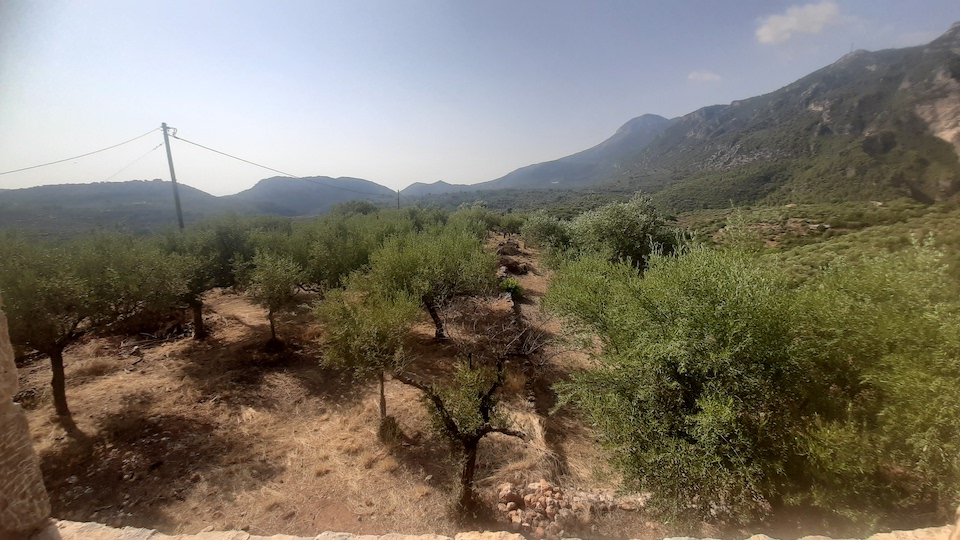 Next up is the view from the kitchen balcony where newly cleaned items from the bat room are drying. The pool is below and as you look out further, you can see the abandoned convent on the other side of the valley and in the distance Zarnata Castle on the high hill beyond Kambos. The pool is now looking very blue and is almost ready for use.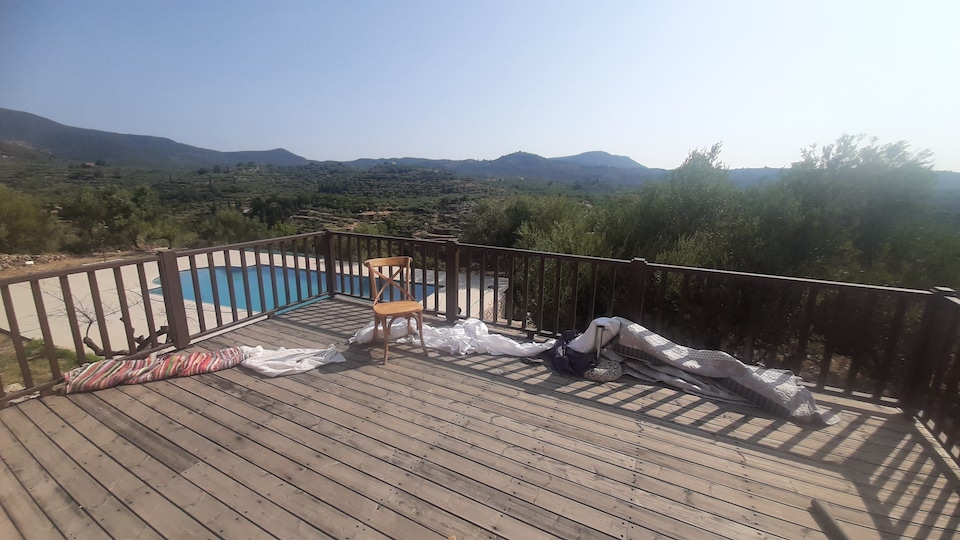 Finally, taken from the balcony, a view into the main living space, now with a table for meals and with a massive sofa for lying on watching old Sherlock Holmes movies.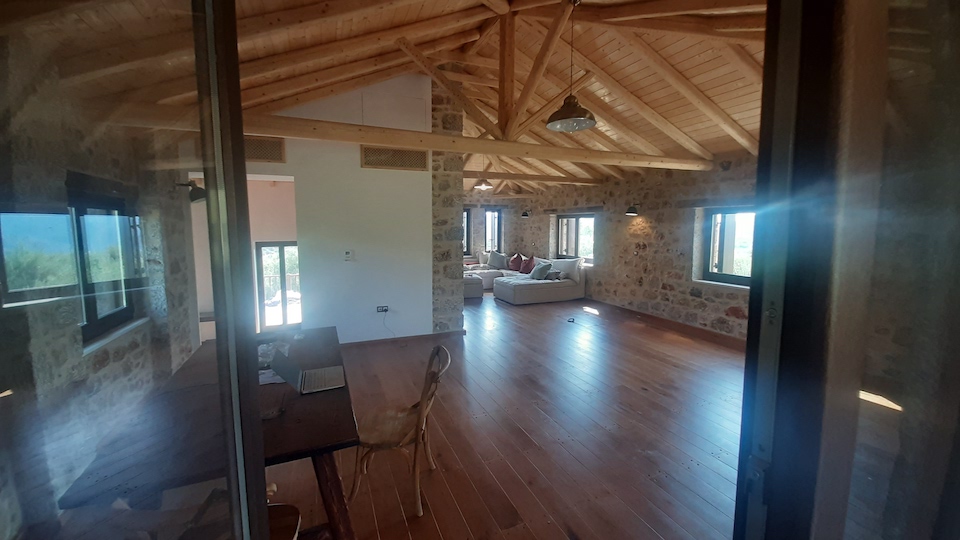 If you enjoyed reading this article from Tom Winnifrith, why not help us cover our running costs with a donation?