One of the totemic symbols of global warming is the polar bear. Al Gore predicted they'd all be gone by now as he picked up his Nobel prize. In fact numbers are at record levels. Another is the Maldives. The islands were meant to be under water by 2010. In fact sea levels are unchanged and not one island is underwater. And then there are the coral reefs. I shall hand you over to Prince William…
One of the five £1 million prizes handed out last week by the Earthshot foundation headed up by the heir to the throne was for trying to save our oceans.  Willy writes:

Ocean warming and acidification are set to destroy over 90% of reefs by 2050, a death sentence for the quarter of marine life who need them to survive. It will be a disaster, too, for the billion human lives dependent on the benefits reefs provide.
Sure. We have been hearing these warnings for about three decades so how about some real data from Australia.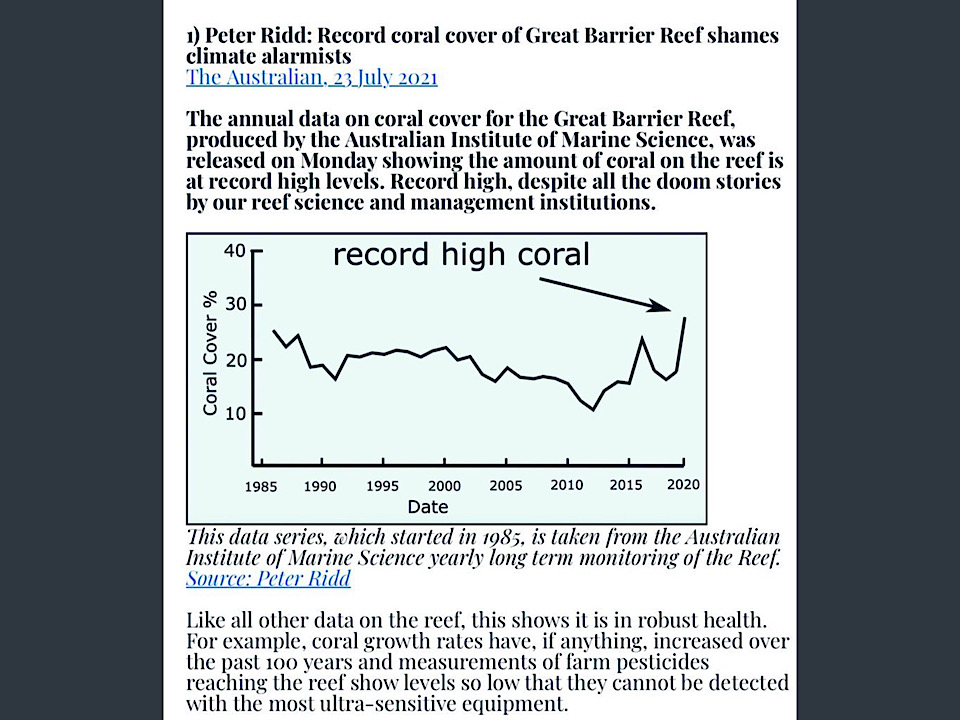 What so coral growth is accelerating and is at its greatest level since 1985? Ooops that is, as Al Gore might say, a bit of an "inconvenient truth". But do not let us quibble about real facts let's get back to Willy.
"A year after Sam Teicher and Gator Halpern launched Coral Vita's first facility in Grand Bahama, Hurricane Dorian destroyed their coral farm. The experience brought home the extent of the climate emergency and strengthened their resolve to protect our reefs."
Right, so Hurricanes are down to climate change. We did not used to have them before we started emitting all that CO2 right? Er… wrong. Hurricanes have always happened and are not, as it happens, becoming more frequent or more severe. It might seem that way as an expanding global population lives on lands that our forebears would not have touched knowing how dangerous nature can be, but the hurricanes are not – whatever Willy says – new. Back to Willy…
"Coral Vita, which grows coral on land to replant in oceans, gives new life to dying ecosystems. Its methods grow coral up to 50 times faster than traditional methods and improves resilience to the impact of climate change.
As well as restoring reefs, Teicher and Halpern work with local communities, public officials, and private companies to improve education, create new job prospects, and build a model to inject more funding into environmental protection. Coral Vita gives new life not just to the ocean but to coastal economies as well.
With Coral Vita's methods, a single farm could potentially supply coral for an entire nation, and they ultimately envision a network of such farms in every nation with reefs, kickstarting a restoration economy to preserve the ecosystems that sustain us all. Winning the prize will help them make that vision a reality."
Ends.
I guess Willy did not major in logic at his third rate University. If global warming is going to happen – which it is not – then the coral will still die when planted in the sea by Coral Vita so if you accept the narrative of Willy and the rest of his barking mad family this exercise is pointless.  Or you could just look at the hard data and accept that it is er…pointless.
If you enjoyed reading this article from Tom Winnifrith, why not help us cover our running costs with a donation?