The special relationship between Britain and America is under its most severe threat in decades. Stateside, a petition calling for Piers Moron to be deported has garnered enough signatures for President Obama to have to consider it. The world's most hopeless chat show host, self-confessed phone hacker and "lucky" share punter during the City Slickers affair points out that 99% of Americans have not signed the petition. Alan Sugar responded on twitter by saying that those were the people who had not heard of Morgan.
But as this petition grows in size daily, other petitions are springing up demanding that he not be allowed back into Britain. The grounds seem unclear other than the fact that he is a loathsome human being and we would be better off without him.
I would just about consider an Abu Qatada Piers Morgan a good deal for Britain but it is pretty marginal. Perhaps if America agreed to take Russell Brand as well?
In order to win an "It's Time to Leave" T-shirt I offer this picture of two grinning gentlemen. On is a proven loser with no friends very occassionally seen in the House of Commons. And so is the other.
Please post your entries in the comments section below.
You can of course buy your very own "It's Time to Leave T-shirts, hoodies, sweatshirts, coffee mugs and Thermos flogs in my online store here.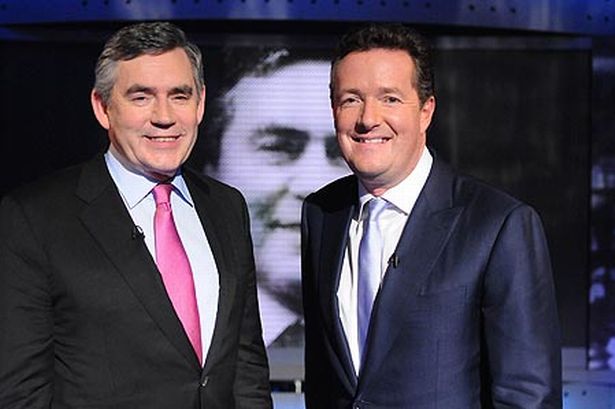 For what it's worth my entry is:
Brown: " I'd like to replace the £9 billion I lost on bullion sales and you say you know Britain's best gold digger – can you get Ms Mills' telephone number for me?"
Last week I asked you for captions to this picture: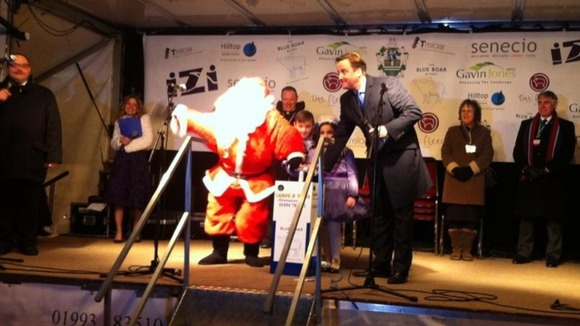 There is no prize awarded as HappyTrucker is already kitted out in full It's Time to Leave gear but we will tweak our arrangements in terms of him supplying a fox to be prepared and served at The Real Man Pizza Company in recognition of this entry:
Call me Dave say "For Christ sake, I hope this Santa has not been supplied or worked for the BBC
Well done to serial winner HappyTrucker. Please post your entries to the Piers Moron, nobody wants him special in the comments section below – Deadline 9 AM Friday 4th January