You might have thought that a population of 537 was already well served by the Kourounis taverna, what used to becalled Miranda's, the new restaurant of Miranda's grandson Thomas and an ouzerie on the road out of town which I have never visited. But no. We have a new option which you can see below. Here is how it works… 
In the old days in Kambos there was just Kourounis and what was once called Miranda's. An ill fated creperiecame and went on the other side of  the square and is now a cake and biscuit store. What is now Thomas' was a hardware store.  But the hardware chaps moved to what had been an ouzerie frequented by a few old men on the other side of the street and Thonas arrived. 
His food is better than okay and is improving but his oily manner in securing passing tourist trade offends me and most Kambos residents so he gets little local trade but he got so much of the tourist trade that he pushed not so lovely Eleni who ran what used to be Miranda's over the financial edge and she left. 
Her replacement was a very popular Kambos family.  The mum, Barbara, is in charge but leaves most things to her 20 something boys who are very good cooks and hosts. And they pulled in not only Kambos residents (old men) who did not like Thomas as an option but also young folk who had previously been at the Kourounis. One USP of what was Miranda's is that unlike Kourounis and Thomas it allows folks to smoke inside. It may be illegal but nobody cares.
Initially the old men were quite happy to have some young eye candy in what is a small room but the inane chirping andconstant mobile phone messaging gets to we old folks in the end. And hence, someone had the bright idea of openig an ouzerie along the main street heading back to Kalamata. It serves drinks, coffees and nibbles, a mezze). It, I am told, has the cleanest and best loo of any venue. And, critically, it also allows smoking inside. Thus it has pulled in some of the older crowd. who can now drink and smoke without the annoyance of having tolisten to the odd English, or worse Kraut, speaker in the square, to watch Thomas greasing up to the odd Tourist passing through or to tolerate young folks texting each other on their mobiles.  Heaven.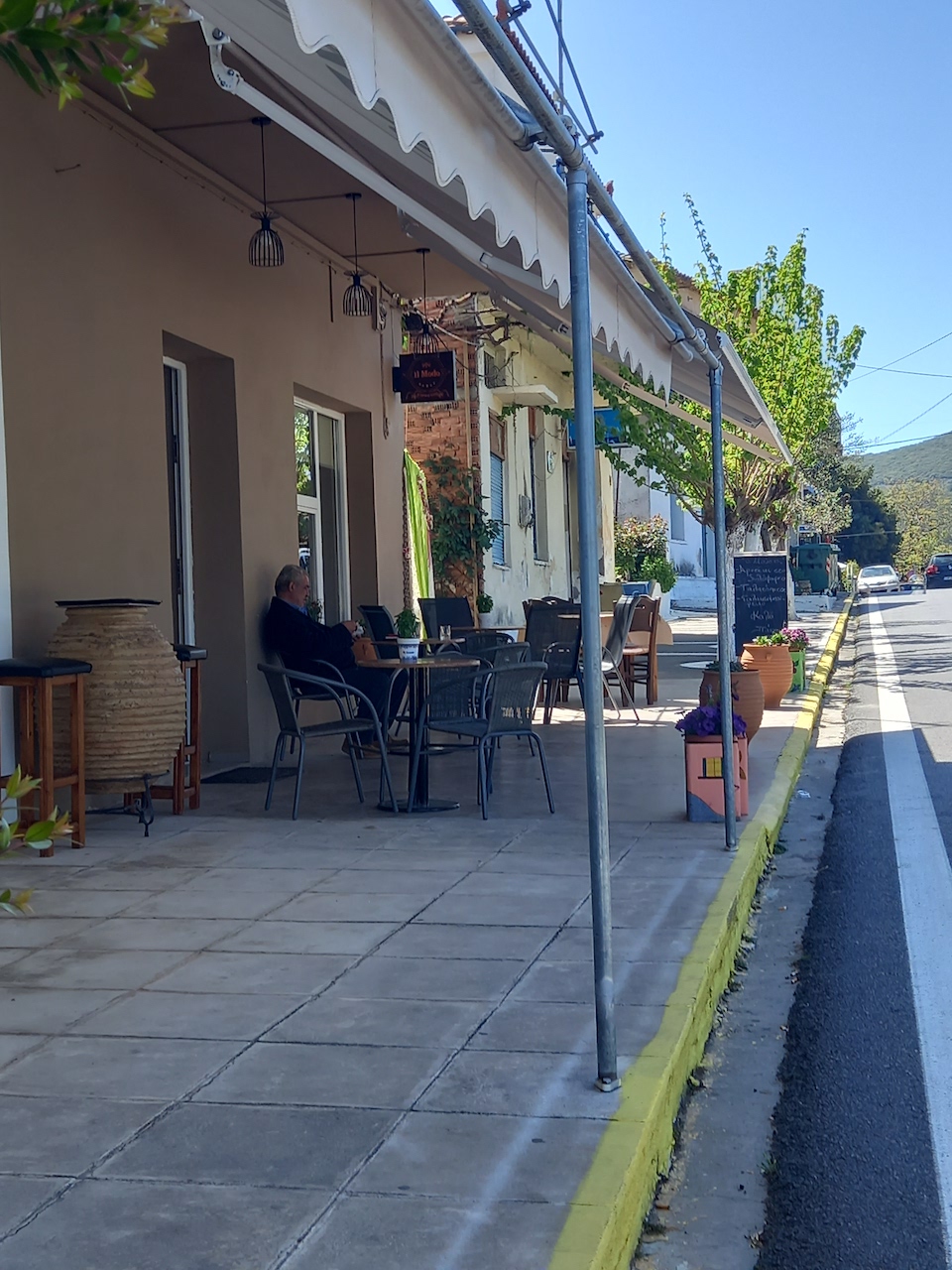 If you enjoyed reading this article from Tom Winnifrith, why not help us cover our running costs with a donation?