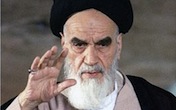 Was the link to the cat being crucified a link to a bogus picture? It appears so. My apologies for that. It may well be that the cat crucifiers were evangelical Christians. I shall not be taking my cats to any Alpha courses in Ghana in a hurry. Or the crucifiers could just be scumbags. Maybe Tara and Oakley will not go on holiday to Ghana at all? But the gist of the article stands and I go further today (see above).
For the avoidance of doubt those who recirculate this picture claiming that it shows Islam in a bad light, knowing full well that it is false, are utterly beyond reproach.
However, are we allowed to say that some members of the Islamic community are vile extremists? Apparently not. If you suggest that you are, it appears, by definition a bone-headed neanderthal. I almost give up on this country.
The cat picture is false but my "crime" is that I have also run other pieces condemning Islamic extremism.
I have suggested that those members of the global Moslem community who want to hang gays, drive the Jews into the sea, shoot prisoners to celebrate Eid, etc are not very nice folk. They are Islamofascist scumbags. I stand by that 100%.
Nowhere have I stated that all Moslems are scumbags. Indeed I have stated explicitly, on a number of occasions, that the vast majority of Moslems are good folk and it is the small minority who distort the word of the Prophet Mohammad who are the problem. I loathe religious extremism and intolerance in all religions (perhaps one reason that I find it so hard to have any faith at all – it is not the quirky beliefs, just some of the believers who put me off). It is just that right now the Moslem religion seems to be throwing up more than its fair share of extremists and of those who seek to deny free speech ( which I do believe in). Incidentally, Iran raised the bounty on the head of Mr Rushdie yet again yesterday.
I have also noted that I support unlimited immigration (combined with a wholesale reform of the welfare state affecting ALL those who live in the UK, irrespective of where they were born) as we should actually desire more workers who are skilled and/or hard working and want to come here. I have written extensively about holocaust matters and in support of gay rights.
Yet for questioning the actions of a small minority of extremists who claim to act in the name of the prophet I get a tweet asking "Do you have sympathies for the English Defence League". I do not. They are also scumbags. I try to point out all the articles I have written (not just one link I have posted) and am greeted with "Will watch out for Mo Farah crucifying cat after next race." Bollocks. Some people are so bloody stupid.
My correspondent has just got back to me to say that he knows hundreds of Moslems who are good decent people. I am sure he does. As I noted above, "the vast majority" of Moslems ( including my friend Zak Mir – godfather to my daughter- and my cousin's charming husband Rana) are great folk. Most Moslems are great folk. Can I be more explicit?
It is terrible that all Moslems are tarred with the same brush. To stop this it would help if the vast majority of Moslems who are good folk stood up and said "we do not want to hang gays, sweep all the Jews into the sea, see political prisoners shot to celebrate Eid but do believe in free speech." Merely accusing those who question the actions of extremists of being a neanderthal nuckle-dragger does not exactly help the cause of brotherly love.