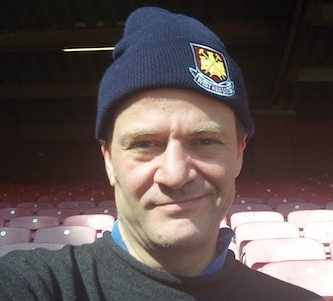 There is little to be said about the match. It was a great atmosphere. Arsenal took their chances. West Ham did not. West Ham were not completely outplayed and – at times – were on a par. Why Fat Sam replaced Vaz Te with Taylor and not Yossi defies belief. That could have made a game of it. But the better side won.
Naturally a London Derby is going to cause high volume tube traffic. So why the hell, Mr Mayor, did you schedule major repairs on the District line and block off sections of the Hammersmith & City on a match day? You promised that post Olympics the tube would run smoothly. Well I guess that was a Nick Clegg sort of promise. You git.
Getting from Liverpool Street to Upton Park is normally one change (across the platform at Mile End). This time having not been told that the H&C was down we got off at Mile End to find a platform taped off. There were no signs anywhere suggesting how to get to the game. So it was back on the Central line to Stratford. Jubilee line to West Ham. Then District Line to Upton Park (or as it happened Plaistow as I fancied a walk). Getting back was worse.
I know that your mind is now on more important matters (getting back into Parliament so that you can be the next Tory Leader) but, Mayor Boris, can you pretend to care about London at least until the end of the season and try to avoid such ill-timed repairs again?
Pre match it was the Queens. The Goddess had found her passport and so was prepared to venture out East for the first time in her life. She found walking through the market next to Green Street a bit of an eye-opener. It was not like Fulham. She said that she found it hard to understand what anyone was saying (that was in the Queens not the market) but enjoyed the tribal aspect of the game. She needed constant reminders not to say that she lived in (and thus supported) Chelsea. But she charmed Neil Masuda who found her devotion to Ayn Rand an equal cultural shock. Post match this culture clash continued in another hostelry which was also very un-Fulham. All in all a good exercise in raising cultural awareness.
And so now it is the big wait for Downton. The preview suggests that the IRA man is about to do a runner – why? He seemed like a good chap? Will Bates hear good news and get out of prison? What will the plain daughter do next now that she has been jilted at the alter? Do the waspish Lady Mary and the priggish Matthew Crawley serve any purpose at all now that they have secured the finances of the Estate (at least until the 1929 crash when they may be wiped out again)? I cannot wait.