As you may have gathered German leader Angela Merkel has been visiting Greece this week where she has met up with Greek PM Samaras to discuss how the EU austerity programme is bringing health, wealth and happiness to his country. Naturally the people of Athens have been delighted by their complete loss of sovereignty and greeted Merkel with undiminished love and admiration. Or I think that is what the press release from the Evil Empire's press office will have said.
Anyhow in honour of this happy occasion in the brotherhood of man that is the
European Union I bring you a photo of Merkel and Samaras as they prepare to address adoring crowds in Athens.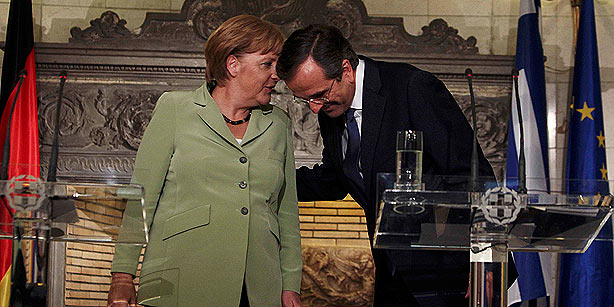 To win a Piss off Argentina T-Shirt simply post your caption entry in the comments box below by close of play Monday. Of course you can always buy a Piss off Argentina T-Shirt here.
For what it is worth my entry is:
Reichsfuhrer Merkel: " Just tweaking my speech, what is the Greek for the phrase "arbeit macht frei?"
Samaras: " I am sorry but I am not sure that we have a word in Greek for arbeit"
Last week I asked for captions for the photo below: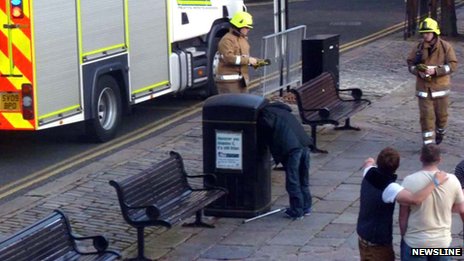 The impartial judge has pondered and announces that the winner is a Mr TJZ Winnifrith (home address withheld) with:
"Pete Townshend conducts in in-depth examination of the bin outside Jimmy Savile's old house purely in the interests of research"
Good luck with this week's contest.
If you enjoyed reading this article from Tom Winnifrith, why not help us cover our running costs with a donation?