I am not actually living the hovel yet. I move in tomorrow for reasons I shall explain later. But I am driving out there each day to work on pruning the olive trees and cutting the frigana. After the mice yesterday today's wildlife diversity included a couple of lizards and...a snake. And how brave am I? I felt nervous as I approached but, just for you dear readers, I have a photo.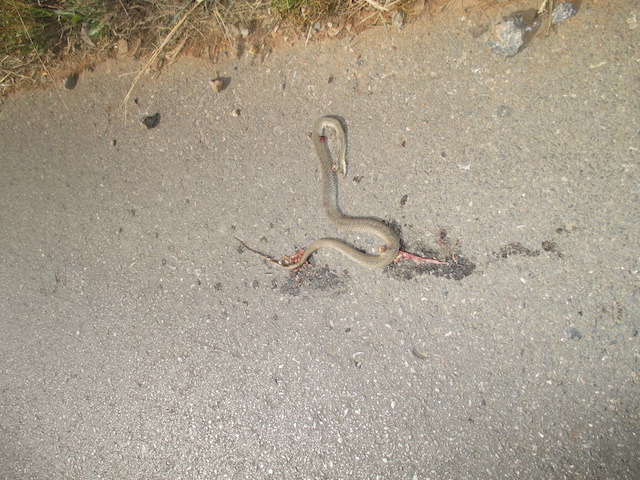 Okay, it was on the road and was dead but I still felt pretty scared as I walked up to it. It could like some horror from Greek mythology suddenly come alive again and then grow 99 heads and attack me. I am not sure what sort of snake it was but it is now the only variety of snake I really like, that is to say deadus deadus.

In Greece the etiquette if one sees a snake while driving is to swerve. That is to say to ignore anyone else who might be on the road and to swerve to kill the serpent. My own road kill tally is two. Well I am claiming two. Last summer I ran over a viper on my motorbike but I am prepared to concede that it might have been dead already. Anyhow I rekilled it. At least I can claim an assist, surely?

The other serpent was on the other side of the mountain road down to Kardamili. I swerved violently and took it out. The Mrs, who was with me at the time, muttered something about patriarchy, machismo, hormonal mid-life crisis issues and the possibility that a large truck might have been coming the other way. I could tell that she was not impressed.

But when in Greece....
If you enjoyed reading this article from Tom Winnifrith, why not help us cover our running costs with a donation?