Barclays
235 days ago
Yes, you read that correctly, the US ADR placing of Argo Blockchain (ARB) involved ELEVEN different brokers. Jefferies, Barclays , Canaccord Genuity,  Stifel, GMP, Compass Point, D.A. Davidson & Co, Ladenburg Thalmann, Roth Capital Partners, finnCap  andTennyson Securities are the team batting for Argo and will no doubt boast that they raised £82.4 million having targeted just £75 million. But…

238 days ago
I start with one big story, the Stagecoach (SGC) & National Express (NEX) bid talks. The other big story is the word "bird" being dubbed sexist at an insane Barclays (BARC) employment tribunal which I cover HERE. I also look at Versarien (VRS) ahead of its AGM, Chill Brands (CHLL) ahead of its AGM and at regulatory issues for Eurasia (EUA) and Deepverge (DVRG) where the wrongdoing is as plain as day.

239 days ago
Thank heavens I don't employ any pieces of skirt, as I must now refer to birds, following Judge John Crosfill ruling today that using the phrase "birds" is sexist. Whatever. I have been using it for years and have no intention of stopping. What is more telling for me is just how out of touch Crosfill is with how the world, my world, of the City actually works. Let me explain why Crosfill, in ruling for plaintiff Anca Lacatus, shows that he should be put out to grass.

420 days ago
Lost money with Julie in Britain at Ariadne Capital? Lost money with her at Ariadne in Malta? Well how about you go for a hat-trick as Ms Lingerie on expenses MBE has a new Greek wheeze but do not tell Barclays, the IRS or the HMRC. Ooops I already have!

643 days ago
I am sure we all think that the bank we bank with is useless. But changing banks is such a pain in the arse. I've experienced it firsthand. Direct debits go awry, auto payments on your card bounce, you have to remember a new PIN, and so we don't bother. But boy, Barclays (BARC) in the Isle of Man is in a class of its own for being useless.

1222 days ago
The letter below from Barclays Bank to Julie "lingerie on expenses" Meyer is self explanatory. But it begs an enormous question of the woman who also put the cost of a sex toy and batteries on her expenses from the now defunct Ariadne Capital.

1273 days ago
Ahead of a trip to the zoo and Barclays (BARC) with Joshua I look at Redcentric (RCN), Juridicia (JIL), Veltyco (VLTY), Integumen (SKIN), Urals Energy (UEN) and the shame of the bosses at the AIM Casino - Andalas (ADL), BlueJay (JAY), Chesterfield (CHF) and Mothercare (MTC) which will just NOT be around in five years time.

1275 days ago
Number one is Amazon (again). Number two is Barclays Bank (BARC) again! And the third is explained HERE. Elswhere I explain what it means when I am made an insider and how I have to behave. I look at the bitcoin bloodbath and in that vein at Argo Blockchain (ARGO), Vela (VELA) and the Clem'Chambers spoof Online Blockchain (OBC). I cover Falanx (FLX), Photonstar Led (PSL) and AO World (AO).

1294 days ago
I start with the final part of my story of battles with the bastards at Barclays (BARC). Then I cover Wishbone (WSBN), shares we own, Online Blockchain (OBC), shares I'd rather eat my own toes than own, MySquar (FRAUD), Conroy Gold (CGNR), I3 Energy (I3E), Catenae (CTEA) and Oilex (OEX).

1295 days ago
Happy Hop-tu-naa to any listeners in the Isle of Man, and happy Halloweebn to the rest of you. I start the podcast with a handy tip on dealing with the Trick or Treat menace. This afternoon I head off with Joshua to deal with the bastards at Barclays (see yesterday's bearcast) and I will report back on that tomorrow. I look at Crawshaw (CRAW), I3 Energy (I3E) doing a Cathy Newman, at Photonstar Led (PSL)) which is toast, Online Blockchain (OBC), at FastJet (FJET), lessons for Neil Woodford from GYG (GYG) and elsewhere and why Thirsty Paul Scott and others should keep December 3 free.

1296 days ago
Warning there is plenty of bad language in the podcast - perhaps do not play it in front of the kids. I start with an update on those bastards at Barclays (BARC) who I discussed yesterday. I then look at Victoria (VCP), Jim Mellon's Port Erin (PEBI), two SP Angel dogs MySquar (FRAUD) and BjueJay Mining (JAY) and have new and serious questions for the shamed Nomad to consider. I look at Frontera (FRR) and its looming bailout placing, at Ascent Resources (AST) and at Rainbow Rare Earths (RBW). I also discuss the market sell off commending a reader who notes both my genius and my modesty on this matter.

1297 days ago
I have been given a massive run around by Barclays (BARC) today and I hate them with a passion. I have also had domestic issues with flooding. I explain all but am in a foul mood. Phil Hammond is not being straight with us in the Budget. He is a knobhead. I explain a few truths you will not hear from him, or indeed the other lot. At a company level I cover Warpaint London (W7L), I3 Energy (I3E) and Frontera Resources (FRR). Warning this podcast contains very bad language. The only high point of my day was a sweet email from Abbe Aronson - the girl who broke my heart 32 years ago - after this article on the US mid-terms. Abbe, thanks for brightening an otherwise shite day.

1332 days ago
Whatever you say darling. But the register of CCJ's suggests something very different. Julie Meyer MBE is now on a hat-trick. Of course she also owes the HMRC, IRS, Barclays Bank and others vast amounts of cash but now it seems that another person, owed, £10,585 has been forced to seek a County Court Judgement against her as you can see below.

1357 days ago
I start with a rant about Barclays (BARC) banksters and how much I despise and loathe them. I then discuss Anglo African Agriculture (AAAP) a Big Dave Lenigas lobster pot from which I escaped today. I move onto Andalas (ADL) and have a challenge for a sad geek with time on his hands, I nominate Drunken Sailor. I look at Xaar (XAR), Crawshaw (CRAW) and finally at Optibiotix (OPTI). I owe cynical bear a glass of ouzo but drank it myself on his behalf. Warning, this podcast contains bad language throughout.

1455 days ago
With Julie Meyer telling the US taxman, the IRS, that she has just £500 in cash and owing money to three banks, the IRS and HMRC, you might think that her personal situation could not get any worse. Well perhaps it could. I refer you to the administrators preliminary report into the demise of Ariadne Capital Limited below.

1792 days ago
I am pretty much finished here in Greece as I explain in the podcast. And as such I start the journey home tomorrow to spend time in sun-drenched England with the Mrs, Joshua and - of course - Oakley, my utterly pampered three legged cat who is, I gather, now being given iced water to cope with the heat. In this podcast I look at Barclays (BARC), the SFO and the nature of fraud. I look at Thor Mining (THR) where events disgust me and at Ariana Resources (AAU) where I am dissapointed and less accepting than Nigel Somerville is.

1940 days ago
For reasons that we do not need to go into a payment was made into my account which was actually monies belonging to FIML. As such I called my bank to transfer the five figure sum. I bank with Barclays Private Clients International Ltd, a truly premium service. For premium read shite!

1980 days ago
For reasons that I shall go into at another time, I found myself in East Oxford with time to kill and so wandered into a rather scruffy looking cafe where the locals head in for a slice of granola cake and fairtrade coffee produced in a Nicaraguan commune. This is a middle class enclave where houses cost £600,000 but where everyone votes Labour, Lib Dem or Green and where Tory is a four letter word. It is easier to buy weed than a copy of the Daily Mail and on June 23rd anyone who did not vote Remain was outed as an intolerant bigot and drummed out of town. 

I strolled in past two old codgers who were discussing some crime or other that the evil capitalists had committed and how the workers could put the world to rights. I found a seat, plugged in my laptop and ordered a coffee.

As I stood

2269 days ago
In today's St David's Day podcast I wish my Welsh listeners a happy national day and - especially for you - discuss why sheep porn matters. I then move onto Horse Hill and today's news and why Ben Turney and the other silly rampers are talking shit.  To make it simple, I use the analogy of Ms Cheryl Cole and Mr Wayne Rooney. I discuss African Potash (AFPO), letters of credit and thus Environmental Recycling (ENRT) and its fellow FRAUD Eden Research (EDEN). Its PR man Queenie McManus is - I assume - still smearing me as he chats to his pals the Bulletin Board Morons - but the company refuses to meet for an interview. What - other than fraud - is it hiding? I discuss Greka Drilling (GDL) as it heads down the pan and - after today's results from Barclays (BARC) - banks in general and why Old Getafix is wrong to be such a bull.

2291 days ago
I am meant to have a Premier account with Barclays (BARC) in the Isle of Man. Fear not I declare my net interest (bugger all) each year as I keep sod all in the account. But this Premier service is dire and has tormented me for 24 hours.

2391 days ago
At no-one is watching O'clock the fraud Globo (GBO) released a statement – it is all over bar the shouting.

2393 days ago
Hat tip to reader firede who posted this comment earlier today. It is cracking work to go alongside the news from Barclays, pulling the plug HERE and Matt Earl's questions about cash HERE. By now Globo (GBO) shareholders must realise that the game is up. Over to our reader: 

2393 days ago
Bulls of Globo (GBO) console themselves that there might still be 45 million Euro cash left to provide some share price support. We shall see. We will find out because it now seems certain that Barclays bank has already demanded repayment of its outstanding loans as we can reveal documents downloaded from companies' house.

2669 days ago
Prabhat Sakya writes for Motley Fool and thinks that Quindell (QPP) is a good yield play on a PE of 1.2 and thus has sold his Barclays shares to buy more Quenron – words fail me. Just to show that morons do not obnly post on the LSE.co.uk I bring you Prabhat's latest pearls of wisdom as a treat. It is a hoot. Do you think you kind find anyone thicker than Prabhat posting sheer lunacy on a Bulleton Board? If so please post those gems in the comments section below – deadline midnight 1st February.
Prabhat writes:

Last year my portfolio took quite a beating.

3273 days ago
Robert Sutherland Smith is again proving that he is still alive with another guest post. Robert started his City career the year before I was born and is, I think, 157 years old. Fear not. He is very much alive and kicking. He and I have worked together for almost eight years at t1ps.com . He is my friend and he is a very funny and intelligent chap. He is now branching out to celebrate his 158th by doing some freelance writing over  at various places ( including Shareprophets.com naturally) on FTSE 350 Income stocks. Robert is a speaker at the UKInvestor Show on April 5th 2014. He is a great one for focussing on yield. RSS today looks at HSBC. RSS writes:

The two big relative attractions of HSBC (HSBA) as a bank are its recent  historic steadfast holding to its culture and its subsequent capital strength.  The culture enabled it to steer the ship without tax payer help through the  storm of the banking crisis. It also persuaded the US Justice Department to keep  a recent fine it imposed of $1.3 billion for money laundering, at the lower end  of what was allowable, because it concluded HSBC management had the right  attitude. No need, as at Barclays, for an internal moral rearmament campaign to  return it to a more overtly ethical approach to business in the new post Bob  Diamond world. At HSBC it seems to have survived like DNA in the corporate  fibre.

3304 days ago
Robert Sutherland Smith is again proving that he is still alive with another guest post. Robert started his City career the year before I was born and is, I think, 157 years old. Fear not. He is very much alive and kicking. He and I have worked together for almost eight years at t1ps.com . He is my friend and he is a very funny and intelligent chap. He is now branching out to celebrate his 158th by doing some freelance writing over  at various places ( including Shareprophets.com naturally) on FTSE 350 Income stocks. Robert is a speaker at the UKInvestor Show on April 13th. He is a great one for focussing on yield. RSS today looks at Barclays. RSS writes:
Two seasons have arrived simultaneously: Spring, and the reporting season for Banks. The bank's first quarter figures have been delivered along with some cheerful late arrived sunshine. In the real world of long delayed warmth and sun, things suddenly seem wonderfully natural and uncomplicated to the average, well adjusted, individual feeding his mossy lawn. Daffodils are daffodils and cherry blossom is cherry blossom. "Oh to be in England…etc."
For the investor in banks life is not so natural, beautiful or straight forward.

3380 days ago
Robert Sutherland Smith started his City career the year before I was born. He is, I think, 157 years old. He and I have worked together for almost eight years at t1ps.com . He is my friend and he is a very funny and intelligent chap. He is now branching out to celebrate his 158th by doing some freelance writing over at TradingResearchPoint on FTSE 350 Income stocks. Robert is a speaker at the UKInvestor Show on April 13th. He is a great one for focussing on yield. RSS today looks at Barclays.
The market response to the Barclay's 2012 figures and accompanying strategic review out to 2015 was good enough to suggest that the Quakers had returned to run the fallen bank to restore those long lost standards of Quaker ethics, which had once prompted customers to beat a pathway to the bank's door. No Quaker would have fiddled Libor. But in their absence (assuming that he is not in fact a Quaker) Barclay's new Chief Executive, Antony Jenkins, was the next best thing.
He does a splendid job invoking a new moral high ground to which Barclay's employees, drowning in 'they don't get it' public opprobrium, may now swim. It was emphatic moral re-armament. The words 'respect', 'integrity', 'service' and 'stewardship' were picked up, recorded and reported by scribbling journalists. A job well done! But can words alone change the bank's more recent culture of error when investment banking will continue to be such a big part of the bank's business?

3533 days ago
I have banked with Barclays all my life as has my dad and as did his dad. I worked there for a while. And so it is pretty hard for me to contemplate moving – I am not a hard customer to retain, there is a lot of inertia. So when the new CEO of Barclays, Alan Jenkins, writes to his staff saying that they should think about their customer's feelings, I dismiss it as PR blather. Of course it is nothing more than that from the man who replaces bankster Bob Diamond. Barclays treats its customers like shit, just like all the other banks – as I am finding to my cost right now. I am thinking I may move not because the staff do not think about my feelings but because they are useless.

3596 days ago
The biggest driver of traffic here this week was the article discussing the views of the late Ayatollah Khomeni on bestiality. But it is hard to think of a suitable caption competition which might not offend just too many people. And so, with regret we return to dumb and dumber, drug obsessed and uber-authoritarian, MP Louise Mensch. The picture is below and always tweet your entries to @tomwinnifrith by 4 PM Monday to win one of our Piss off Argentina mugs.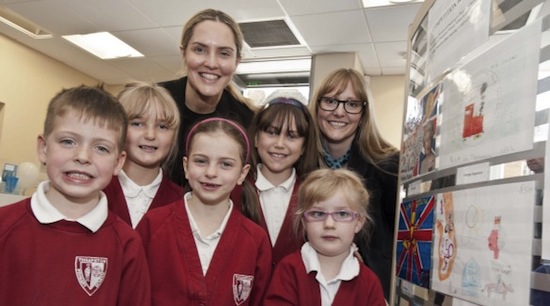 My entry: Kid One: "So where did you put the dope then?" Kid Two – "she's standing at the back"
Last week's I asked for a caption for this photo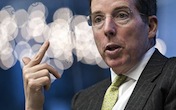 Our Judge, a man who is shown to have excellent judgement because he says I "look good" decided that the wittiest entry was Yes, I did say that Barclays was number one for fixed rates, which came from your very own travelling correspondent in the Balkans. And so no prize awarded.
Better luck to you all this week

3601 days ago
A few folks seem to think that my Barclays bearishness is wrong and that this stock is as cheap as chips. Presumably that would be chips from the Casino that is Barclays Capital. We shall see what happens to the share price on a one year view. But to counter the points of the stock market optimists, I offer up a few more thoughts.
The bull thesis is that Barclays trades on a PE of 7, yields 3.75% and has a net asset value of £3.50 per share upwards and that it should thus be bought because all the hoo-hah about rate fixing, Bankster Bob Diamond etc means that the stock is oversold relative to fundamentals. I know this to be the view of the bear raider Evil Knievil and others who are not daft but I disagree.

3602 days ago
I have not got every stock market call right over the past two years. I am as aware as anyone of some of my AIM buy tips that have not done well in this horrid market. But on my big macro shouts, calling the banks as a sell with Barclays (BARC) as my conviction sell was spot on. So what now? I am tempted to grab some cheap google brownies by setting a penny share target price for the stock. That would be silly. That Barclays is a sell for any prudent value investor still holding on is beyond doubt but the problem is that there is such enormous lack of visibility that we just do now know what the share price should be.

3603 days ago
I was going to run with something about Liam Fox thinking about coming out. That is to say about his comments this week about Britain coming out of the EU – I would not you to think I was suggesting anything else. But I just could not get my words out in a straight and open manner.
And so we turn to the man of the week: Bankster Bob Diamond (ex Barclays) for this week's tastless caption contest. Tweet your suggestions (the more tasteless the better as long as they are remotely funny) to @tomwinnifrith – deadline is 4 PM Monday and the winner gets one of our special Piss off Argentina mugs.
For what it is worth my entry is: " Yes I did say that Barclays was number 1 for fixed rates." I am sure that you can do better. Competition, as ever, only open to those following me on twitter

3606 days ago
Yesterday after some bloke no-one has ever heard of quit as Barclays chairman I wrote:
Barclays is no doubt paying some bright PR firm megabucks to "manage this crisis." So the company started with the idea that Diamond would forego his bonus this year. Now we have the bloke whose name I have already forgotten walking the plank even though he had no idea what was going on. And this afternoon we are being fed the line that the regulators knew about what was happening and thought it was a good idea. This is all aimed to distract us from calling for the head of Bob Diamond.