T-shirt
1899 days ago
It has arrived. My Hillary (Clinton) for Prison 2016 T-shirt is here. I think it looks great. But the Mrs is not sure that she wants to be seen with me if I am wearing it. The intolerance of the liberal left is frightening. As you can see below it is magnificent.

1994 days ago
I am no late arrival on the Eurosceptic ship. Euroscepticism is hard wired into my DNA. My father's father, the Bennite Sir John Winnifrith spoke for the "out" side in 1975. My mother's brother is Christopher Booker. How could I be anything other than an "outer"?
And so three years ago I designed a T-shirt which I have worn happily in Greece & England ever since. It's Time to Leave. The imposition of a Soviet hammer & sickle on the EU stars says it all about this most undemocratic of establishments. 

As hatred of the EU has grown not only in Britain but

2650 days ago
It is a good a day as any to move into my Israeli Defence Forces (IDF) T-shirt. Greece is the most anti-semitic country in Europe according to a recent poll but #IstandwithIsrael - so if you don't hear from me again, it's been fun.

2790 days ago
I noted that AIM Cesspit posterboy Phorm (PHRM) is now "in sights" and as such, as is now traditional, a special commemorative T-shirt has been designed and is available for immediate purchase. I recommend the red version.
If you have lost money on this POS enterprise or just wish to remember its Orwellian approach to business this is the ideal fashion accessory. Perhaps you are a fund manager wondering what to wear as Phorm pitches up trying to raise yet more money to keep going.
After all Phorm has already burned its way through $328 million of investor's cash and is almost certainly less than six weeks away from running out of cash yet again. So it is becoming poorer by the day. 
To purchase your Poor Phorm T-shirt for immediate delivery click HERE

2901 days ago
If you were not short of reasons to leave the Evil Empire…here is another one. There is little doubt that the good folks of Gibraltar want to remain British. But bankrupt Spain has other ideas and has been turning up the heat on this issue with ludicrous border restrictions. And whose side is the EU on? Obviously..
The EU commission today states that it

"has not found evidence to conclude that checks on persons and goods as operated by the Spanish authorities at the crossing point of La Linea de la Conception have infringted the relevant provisions of Union law."
What the fuck? But it gets worse. The EU has decided that if anyone is doing anything wrong it is the wicked British and is demanding that we:

"develop risk based profiling (in particular Gibraltar should ensure non-systematic and risk analysis based checks on travellers and their belongings upon exit from Gibraltar, optimising legislationand safeguards in view of contributing to an efficient fight against tobaccosmiuggling; and develop the exchange of intelligence on tobacco smuggling with Spain."
So what is that about a single market? Jeux sans frontiers, etc.
At one level Sod Off Spain. At another It's Time to Leave (the EU).  You can buy splendid T-shirts, mugs, hoodies, etc making both points only at my online store HERE

2925 days ago
Terry Bond has been the executive chairman of AIM Cesspit posterboy Vialogy (VIY) since its launch. Last year as the company recorded another whopping loss he trousered a pay packet of £181,261 even though the company also has a CEO and a CTO. Is he needed? Is he an asset? Or just another cash drain on a company which is weeks away from running out of cash? It's the latter. It's time to Junk Bond.

2966 days ago
The Sod Off Spain T-shirt seems not to have caused a stir here in Greece. I guess not a lot of Spaniards can afford to travel abroad these days. And so today at breakfast it was time to wheel out the "It's Time to Leave" T-shirt (red edition). The Greek waiters and waitresses were clearly onside but our fellow guests (all from the rich North of Europe) also perked up.

A stack of smiles and nods and a couple of "I love the shirt comments".

Naturally I said that I designed it and that you can buy it only at www.TomWinnifrith.com in my online store.

Clearly this fashion item will be sweeping Europe…

2980 days ago
Maribelle our senior waitress is from Spain but has worked in Gibraltar and is a right-thinking sort of bird and so was keen to model the new Sod Off Spain T-shirt which arrived at Real Man in Clerkenwell today.
You can show your support for our countrymen in Gibraltar by wearing your own shirt, which can be bought here.

2996 days ago
It seems that the Argies are not the only Spanish speaking folks with a train wreck of an economy who don't give a flying wotsit about self-determination. This may not play well with any Spanish readers of this website but the folks in Gibraltar are British and want to stay British and so they should stay British.
I explained my anger at both the Spanish and the home grown deluded lefties who wish to betray our countrymen in a video postcard this weekend which you can watch here.
Now I have launched my brand new T-shirt, mug and hoodie range: Sod Off Spain! With the logo you can see below



You can order your merchandise in my online store here
What better outfit could you sport if you are heading off to the Cost del Crime for a summer break?
The Sod off Spain range is in ideal compliment to the Piss off Argentina range which sports the logo below


You can order both Piss off Argentina and Sod off Spain goods only in my online store HERE

3008 days ago
Jim Ellerton of Sefton Resources still owes former Sefton Company Secretary Gary Dillabaugh $600,000 from a court case more than two years ago. It is Jim's defence in that case that will, IMHO, sink him but this is a story that is only just getting going. 
The powder keg is under Sefton it is just a matter of when I choose to light the fuse. Hmmm I guess I shall let folks sweat a bit more and Sefton piss more cash away on its uber expensive City lawyers Pinsent Masons. After all my daughter Olivia's mother is a partner at PM and so naturally I want her firm to rake in as much as possible.
But as I prepare to go to Court today  I have designed a breand new T-shirt for the occassion to remind the Sefton team of that powder keg.

3074 days ago
I write this from on-board an Easyjet flight to Berlin where I am going to the wedding of a friend of my partner. He is marrying a Kraut and I have been given a stern lesson about words and phrases I am not allowed to use. Kraut is one of them.
I have however packed my "It's Time to Leave T-shirt" although my "I stand with Israel T-shirt" was left behind. Perhaps I should have knocked up a quick "I stand with Greece" number just for this trip. I have no football shirts. I do not plan to discuss our national sport with the Hun and I am banned from discussing theirs.
It seems as if most of my fellow passengers are on one of two stag parties and one hen party- all from Wales. I guess this is what Easyjet was created for. I am not sure that those on this trip will be taking in many of the sights of Berlin and it would have been far cheaper for 1 stag party and the hen party just to stay at Bristol airport, get blind drunk and shag each other. But they are all underway now, happily ordering a stream of expensive drinks from the staff.
The two grooms to be are both dressed up. One very large and gormless looking fellow is dressed as a fairy. The other smaller, but equally gormless, fellow is wearing a little gold number. Whatever floats their boat. I am sure they will have a great time. I just rather hope that they do so a very good distance from where we are staying.

3091 days ago
I have been meaning to do this for a while but only today have we launched a new range of T-shirts, mugs and sweatshirts dedicated to our greatest ever Prime Minister, Margaret Thatcher. I am ordering a sweatshirt and T-shirt in blue but kind of fancy the red Che style too. My deluded lefty partner has already said that I am not allowed to wear these outfits at events where her deluded lefty friends might be present. We shall see. For wandering round liberal bastions such as Clifton and Islington I can think of nothing better to wear. Although the It's Time to Leave T-shirt gets some good comments.
You can order your Viva Maggie T-shirts, mugs and hoodies only at our online store here.

3163 days ago
Justice 4 the Sefton 2. Want to show your support for free speech? As AIM listed Sefton Resources (SER) launches a libel case against myself and Brokerman Dan do you care if AIM companies can silence critics who dare to point out that press releases are misleading? If so show your support by buying a T-Shirt, mug or hoodie HERE.
.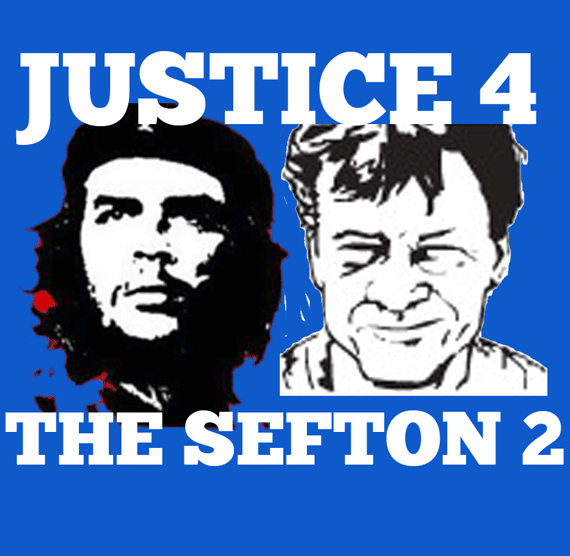 3185 days ago
To celebrate the news that Lib Dem MP and windfarm and all round global warming nutter Chris Huhne is now officially a liar and a criminal we offer you the chance to treasure this moment with a new line of T-Shirts, mugs and hoodies available for immediate delivery in a range of colours.

All are available exclusively from our online store allowing you to celebrate the demise of this EU loving, global warming freak and liar and criminal.
You can place your orders for all these items here.