Yesterday was Christmas day number one as my daughter came down to Bristol for a Christmas meal. I am rather worried that having scored a perfect ten on this one it will be hard to up my game for Christmas Day itself.

The main course was duck - roasted to perfection with an improvised stuffing of finely chopped almonds, satsumas and the cooked & chopped liver and heart of the duck with some herbs from the garden ( thyme mainly). It was actually rather a good stuffing created in a panic. The bird was accompanied by perfectly roasted potatoes and parsnips (par boiled first then roasted in the tray with the duck), sausages, honey glazed carrots and sprouts boiled then quickly turned in garlic butter. But my real pride, having cocked it up in 2015, was a home-made bread sauce which this time had a perfect consistency as well as taste.

Thereafter the Christmas pudding I made a few weeks ago (pictured) turned out perfectly and tasted superb and I nailed the brandy butter as well - it had a perfect smooth but very slightly grainy consistency. Absolutely spot on. It was one of those days as a cook when everything, right down to timings was perfect. The yellow liquid is rum which we burned off but for some reason the blue flames are not showing.

So how to turn the dial up to 11 on Sunday? I think adding a fifth vegetable (red cabbage cooked with vinegar, brown sugar and sultanas) might be an idea. Going for a plum with a heavy dash of port stuffing is also under consideration, as it is duck again. I have a few days to ponder this matter.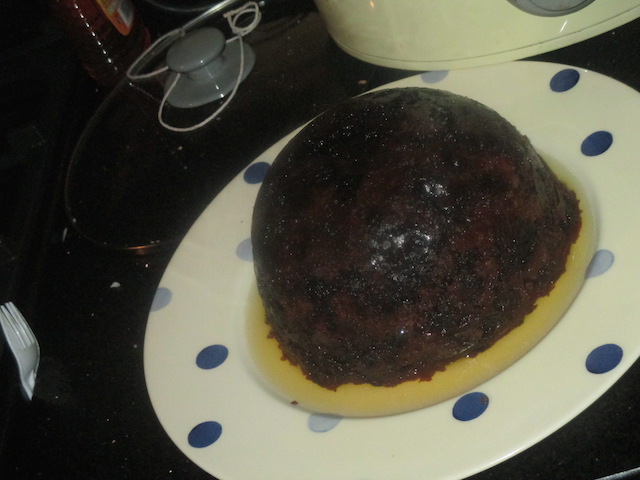 If you enjoyed reading this article from Tom Winnifrith, why not help us cover our running costs with a donation?