You may remember that, some three years ago, one of my fellow residents of the Greek village of Kambos hooked up with a pal in Kalamata to murder two drug dealing body builders. I have viewed it as rather indelicate to enquire as to what has happened since but it was a clear cut case. The bodies were dumped from an old bridge that crosses the deep gorge on the road back towards Kalamata.

These days there is a brand spanking new (EU funded) bridge that cross the gorge. For 90% of the year there is a dry river at the bottom, the rest of the time it is a gushing torrent. Right now, since the snow on the Taygetos Mountains has not melted it is dry.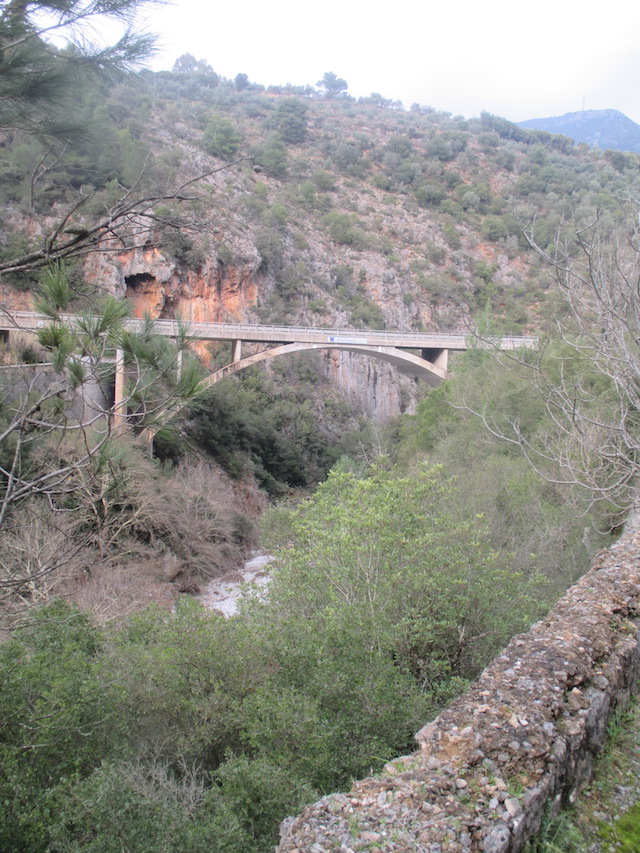 The old bridge was built when the road to Kambos - the village nearest to the Greek Hovel - was first constructed in the 1970s. You can still access it via a road strewn with rocks but it is driveable and a simple detour from the main "highway." Hence you can dump bodies there after you have murdered someone.

For no reason at all I took a detour yesterday to the murder bridge and - for the first time - spotted an even older bridge underneath it. It looks very ancient indeed and can only be wide enough for pedestrians and sheep. It must have been used in the pre-road era and has thus been abandoned for years. I have no idea how old it is or who built it but you can see it below.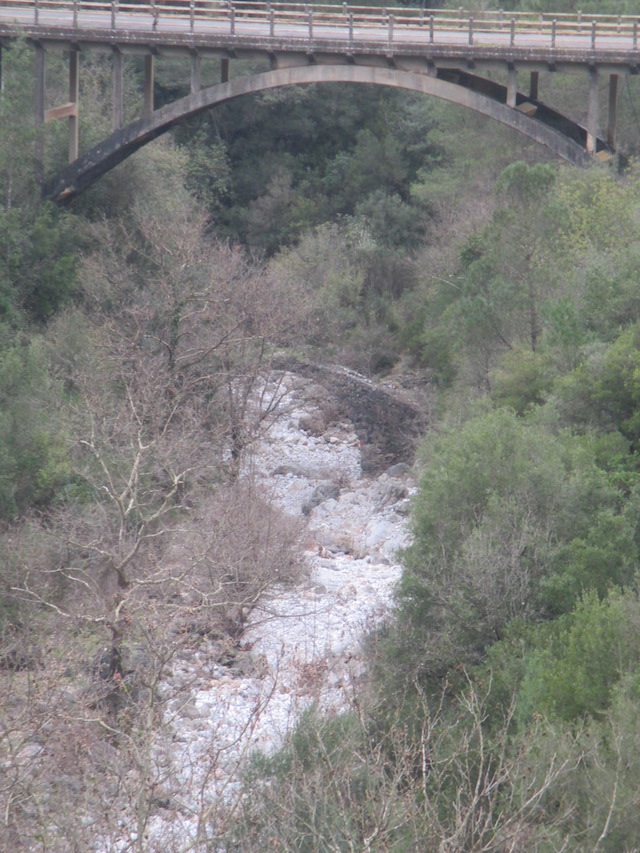 With the river dry and the snakes asleep now looks like a good time to investigate. When the heroic  Paddy Leigh Fermor walked into the Mani and towards his first stop in Kambos - a village he was jolly rude about - he recounts walking along a river valley and discovering the bones of a man killed in the recently ended civil war. Paddy, like the folks in the Mani, fought with the Royalists and one assumes that the skeleton was that of a dead commie as no-one had paid it any attention.

In April the Mrs and I plan to cross the Bridge that is the real killing fields of European drama, that between Denmark and Sweden, as we take Joshua on a road trip. The Mrs used to work in Sweden so will be yakking to her former colleagues in the world of sociology, I plan to go fishing with Joshua, whose second name, for reasons you can guess, is Patrick, or Paddy. But for now it is an old bridge in the Mani that excites me.
If you enjoyed reading this article from Tom Winnifrith, why not help us cover our running costs with a donation?