I hope the picture below conveys the sheer beauty of the taygetos mountains which tower above the Greek Hovel. I caught this shot of the snow capped peaks as I headed up for a spot of olive tree pruning earlier this afternoon.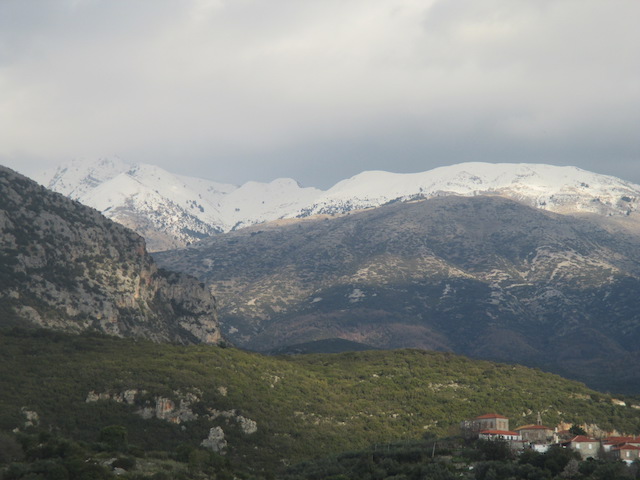 On the land next to ours the trees have been pruned aggressively with whole branches lopped off. They look naked but ready for action. I am always a touch nervous about what to hack away but armed with my trusty axe and saw below I set to work.


There are two massive advantages of pruning now. The first is that the snakes are asleep and so you just do not hear rustling in the bushes causing you to turn sharply and breathe heavily. I walk across the property with gay abandon.
The only sounds one hears are the bells and bleating of the shepherd's sheep and the sound of gunfire. For it is now the time of year when men line the roadside to blast away at little birds.
This is not for food just for the pleasure of killing little birds. Spent shotgun cartridges litter the ground everywhere. It is all so utterly mindless but I guess it is better than shooting each other which is what used to happen in days of old in the Mani when the culture of blood culture held sway.

The second advantage is that the shoots and branches one cuts back are that much smaller than they will be in May when I normally start pruning. I will prune again in the summer but I hope that this work eases that burden. And in theory, this early additional prune, will mean that more of the tree's energy will go towards productive branches so invceasing the yield. We shall see.
More important in terms of increasing my output is going to be planyting new trees on land I have purged of frigana and also splicing domesticated olive shoots onto wild olive trunks of which I have a few so that those trees come into production. Nikko the Communist (Papou) who is to assist me in that task has just wandered into lovely Eleni's  Kourounis taverna hrere in Kambos and we are agreed that we will do that work in April when I come back to start rebuilding the hovel. 
If you enjoyed reading this article from Tom Winnifrith, why not help us cover our running costs with a donation?