There is no doubt in my mind that the appalling way that the evil apartheid regime treated the late Winnie Mandela and her children is a very legitimate mitigating factor for Winnie as she trudges her way on the long march towards a meeting with St Peter. Indeed the evil of apartheid and the way it treated all dissenters and all black Africans is another factor St Pete will take into account. But I very much doubt that he will be utterly forgiving and, I am sure, that Mrs Mandela will show no sense of repentance. Natch the Guardian, the newspaper of the liberal elite, thinks she did nothing wrong and it goes further, in its usual poisonous way, as it tries to silence debate on this matter. .

Its case put by, among others, Owen Jones & Afua Hirsch  is that Apartheid was so evil that whatever happened in the struggle was legitimate. And the columnist below goes a step further in suggesting that anyone challenging that narrative is a racist. Of course. With its usual poison the Guardian wishes to stifle any debate by cowing dissenters into silence for fear of being branded a racist.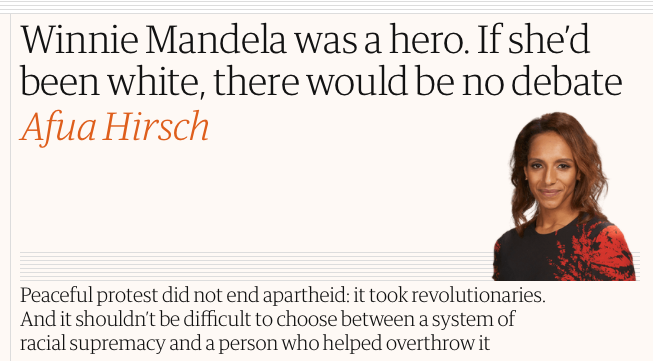 To be clear, Mrs Mandela was, during the years when Nelson Mandela was in jail a beacon of hope and her heroism and bravery should be recognised. She was a heroine. However as apartheid was visibly crumbling, not because - as young Mr Jones insists -- of bombs and violence but because of concerted international pressure, both moral and economic, some bad things went on.

Mr Mandela recognised that South Africa could only avoid the appalling bloodshed and chaos that had happened in so many places in post colonial Africa is a rainbow nation worked together. He found it in his heart to genuinely forgive. Mrs Mandela did not, her anger turned to hatred and her vision was of vengeance and was driven by hatred. And that saw her thugs in Mandela United kill other black folks, men and boys, with machete and "necklace" on, often, the most spurious of grounds.

Those murders which Winnie Mandela must be held to account for did not hasten the demise of apartheid. And her agenda of hatred and vengeance is still alive in some circles today. That is why being a white farmer in South Africa is now the most dangerous profession on earth in terms of murder rate. Winnie Mandela's calls to action after her husband's release legitimised hatred and vengeance.

One of the great things about Nelson Mandela was that he was the first to admit his sins and his failings as a man although his actions ahead of and after release showed a level of forgiveness which marks him out as a superior being to almost all of us. With Mrs Mandela there was no such humility, no such acceptance of her failings. Yes she was a hero but she also did some very bad things. To refuse to accept that balanced appraisal as the Guardian writers like Mr Jones and Afua Hirsch do is just dishonest. To smear those offering a more balanced perspective is simply poisonous.
If you enjoyed reading this article from Tom Winnifrith, why not help us cover our running costs with a donation?