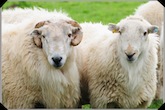 My weekend has been spent walking in mid Wales. I needed a break from non-stop writing. And as always I am one who tries to be aware of local cultural sensitivities and so when in Wales…do as the Welsh do.
Hence on Saturday afternoon I sat down and watched the rugby. You thought I was going to make a cheap joke about sheep? Donkeys would be more apt. I refer to both the team my daughter Olivia supports to show loyalty to her mother (Wales) and to the team I support (to show loyalty to my father) Ireland. To Ireland first.
The game against South Africa could have been won. The visitors did not really turn up until half time. But I can tale very few positives from the game. The lineout was woeful until almost half time. The scrum looked insecure and the back line just did not look as if it could break through a determined defence. I accept that there were a string of players missing through injury and that a back line which had contained O'Driscoll and Kearney might have had a lot more bite. Having said that Kearney's stand in was not bad. As for a pack without Paul O'Connell, the less said the better. The one positive is that Ireland's new Jackie Charlton method of recruitment might just have found us a decent tight head prop in Michael Bent.
Five straight test defeats on the trot and Ireland look in pretty poor shape. As an aside why are we now always bringing Ronan O'Gara on for the last five minutes only? It may add to his tally of test caps but what is the point. Give him 20 minutes to make a difference or just move on. I would not be retiring him but these pointless switches in the last few minutes do not make me think any more highly of the incumbent management team.
As for Wales. They too were pretty piss poor against the Argies. But I sense that this was because the Pumas just played cracking rugby (bar a few too many handling errors) with utter commitment from the start not because Wales are as hopeless as some other Celtic nations we might mention. It was a joy watching the Argies play – there were real touches of skill and a desire to win a game by actually crossing the try line rather than just kicking for goal. On the form displayed on Saturday I'd back both Wales and Argentina to defeat Ireland but think both sides would have a chance against the Springboks. Indeed, Argentina will have their chance in Ireland shortly and I rather dread the outcome. With Scotland being routed by the All Blacks today it was a pretty miserable weekend for all the Celtic nations.
I think it is best to draw a veil on the matter without going into too much gory detail. It was just poor all round.