A quiet day in Kambos and at the Greek Hovel for both the Mrs and I have deadlines and important work to do. Right now Joshua is watching some moronic rubbish on his mother's smart phone up at the hovel while the Mrs and I tap away like dervishes. This morning the Mrs, whose deadline is more pressing than mine, got to work in lovely Eleni's Kourounis taverna, while Joshua and i went on a tough walk which he deemed to be "exciting" largely as I kept falling down. 
Below you can see my boy, over breakfast, studiously reading the Gruffalo - the English not the Shetland version. Thereafter, as in the summer I put him on my back in a special carrying pack and headed off to try and climb to Zarnata Castle from the Kambos side rather than through the village of Stavripgio. As in the summer I failed to make it to the top. I got a lot closer, making it to the outer wall but it is now topped with wire fencing and unlike some Ottoman warrior of the fifteenth century I could not breach the defence.
One trouble is that the track, stopped a couple of hundred yards shy of the wall. Thus I had to walk along terraces and then clamber between them which with Joshua on my back, and noticeably heavier than in the summer, and the ground slippy after the recent rains, was not easy, Three or four times I slipped. I ensured that each time it was me landing on the ground and Joshua was protected from any harm and as a result my trouser are now stained with the red Maniot earth.  Each time I'd ask Joshua if he was alright and he'd day "yes, daddy are you alright?" I said yes and we continued on, eventually heading back down the road, along which we marched up the hill into Stavropigio.
The joy of that climb is that you can look back at Kambos spread before you and then if you peer closely enough you can see the Hovel as the hills behind the village start to turn into mountain. The other joy was a coffee for me and an ice cream for Joshua at the other end. After such a trek we deserved it.
Walking back to Kambos was all downhill. I sang Molly Malone and one man went to mow, Joshua did not seem to mind. One day Joshua and I will make it up that hill and find a way to the castle.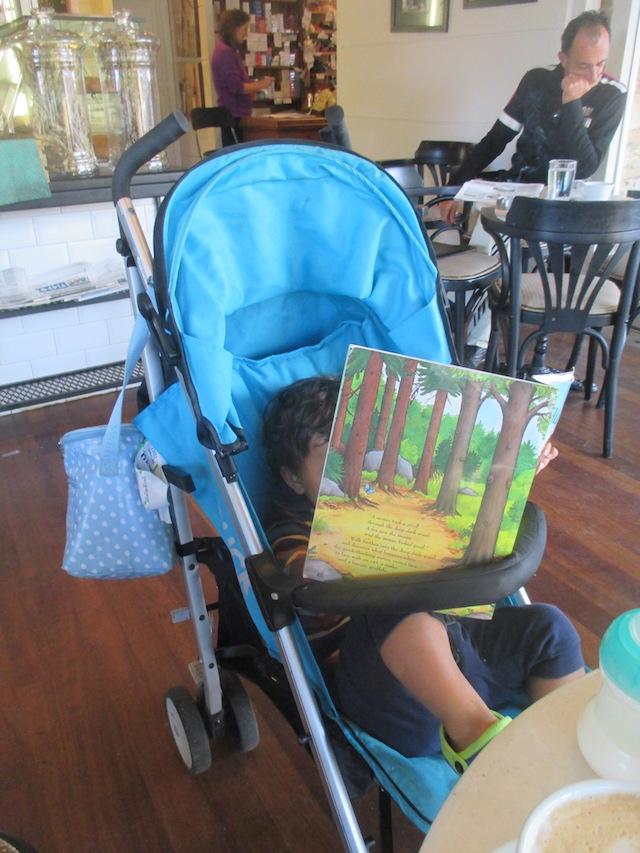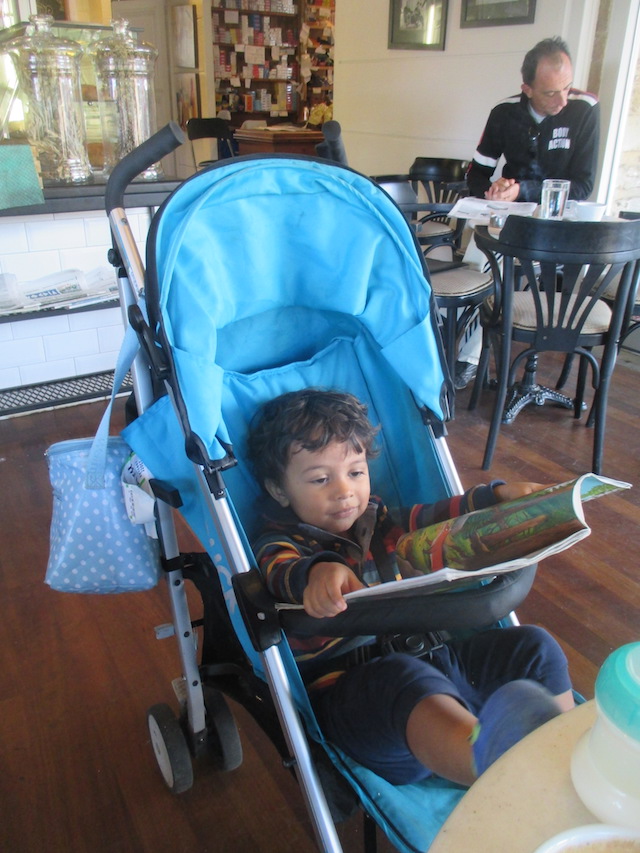 If you enjoyed reading this article from Tom Winnifrith, why not help us cover our running costs with a donation?