For some reason, my wife's family seem to be the only Indians on this planet who do not give two hoots about cricket. After seven years with the Mrs, I still found myself yesterday trying to explain what is a four, a six and an overthrow. None the less, as yesterday afternoon went on we had two TVs going at my mother-in-law's house: one for tennis and one for cricket. Gradually even the Tennis goggle box became a cricket one as my mother and father in law became engrossed by the World Cup Final, without doubt the most exciting ODI ever.
Amazingly England won. My father was delighted and so too were my in-laws whose love for their adopted country since the 1960s is never in doubt. Indeed one other highlight of my mother in law's birthday weekend, celebrated a week early, was her recounting how they both stayed up 50 years ago in their first British home, a small rented flat in Birmingham to watch the moon landing. After 50 years in England finally they get to see us win the World Cup.
I digress. Immediately after England's win folks who normally do not give a FF about sport, indeed the sort who usually, loudly, despise macho posturing, jocks, etc started to virtue signal. England only won because their team was so diverse.  Look at the tweet below and how many likes and RT's it has from other, mostly sport hating, virtue signallers.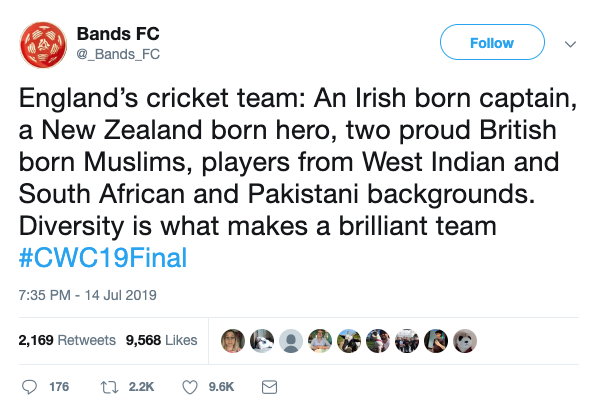 A cricket team must be diverse in terms of skills. You have specialist opening batsmen, fast bowlers, spin bowlers, a wicket keeper, maybe a couple of all rounders, middle order batsmen with a bit of flair. There has to be a diversity of skills and if you pick folks with that diversity who happen each to be utterly skilled at that speciality you win matches.  Whether the folks are of West Indian origin, white, Muslim, have an Irish accent, are gay, straight or transgender is utterly irrelevant.
The best team I ever watched was the West Indies side containing Holding, Roberts, Marshall et al. It was truly amazing and seemingly unbeatable. And of course it had none of the diversity that the virtue signallers bang on about. The entire side were black, I am pretty sure, straight men. But I suspect that those tweeting about the diversity of the England side were not watching Clive Lloyd's men triumphing back in the 70s at the inaugural World Cup's. In fact I doubt they know who Lloyd is.
If you enjoyed reading this article from Tom Winnifrith, why not help us cover our running costs with a donation?