The Guardian columnist and perennial guest of the BBC, Ash Sarkar, again seeks out controversy with the tweet below in which she describes Britain as a "cursed island".  I wonder if the Britain of 2020 is really that terrible? Where would Ash describe as less cursed? Iran? Turkey? Russia? Overall, while we can all find fault with Britain, it also has so many redeeming features. I do not identify as British but as vaguely Irish and in so many ways I wish that I lived in Greece but I am always struck, as I drive across England, of just how gorgeous the countryside is. For that alone, it cannot rank as "cursed".  But there is more in Ash's tweet.
She lists those industries hit hardest ( I shall not use her word as that displays the literary skills of a Guardian writer, which I cannot hope to match) by lockdown. It strikes me there are many others, notably offline retailers, who are hit far harder than those in, for instance, arts and culture. Theatres will one day return and rehire as will concert halls. Those shops on the High Street are gone for good as are the jobs of those who once worked there.
But the list Ash produces says a lot about the world she inhabits: one of pubs, clubs and the arts and, almost certainly online, shopping. It is so far removed from the ones many of the rest of us inhabit in an island which has so many features that make it anything but cursed.  Not the least of which is one that allows Ash to be what she is and one which gives her the complete freedom to spout utter nonsense on a daily basis without fear of punishment or repression.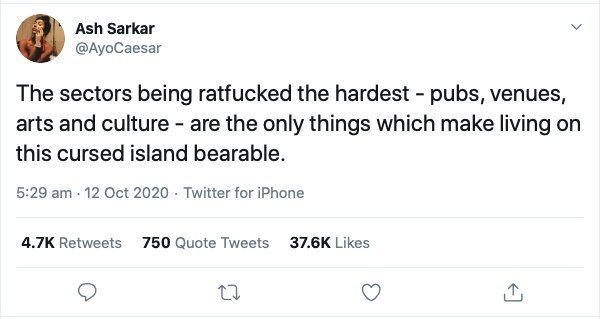 If you enjoyed reading this article from Tom Winnifrith, why not help us cover our running costs with a donation?