The photo below is from the 1913 wedding anniversary of my great great grandfather, the Reverend Alfred Winnifrith. I have the press cuttings which his wife kept of his work as a parish priest. He was a good man, a high Anglican and staunch Tory who was rewarded by the Belgians after the First war for his heroic efforts in assisting refugees with the Medaille du Roi Albert avec Rayure. 
On the front row on the left is my grandfather, Sir John Winnifrith, who at the time would recently have turned five. Apart from my great great grandfather, there are three other adult males in the photo. Who is the odd one out?
The other males are Douglas on the top row, Alfred (middle left) and Bertram (my great grandfather) on the middle right. The odd one out is of course Alfred as he is the only one who is not a vicar. Why not? Simple: he was defrocked.
At some stage Alfred started an affair with a parishioner, Rose, who sits next to him in this photo. But Rose was married to someone else (Henry Dern) who, in 1896, sued her for divorce on the grounds of adultery. Alfred and Rose both denied that they were having relations although they had been spotted kissing on a number of occasions in the small Devon village of Dalwood where he was a curate at the time.
Alfred denied it all and got his brothers and parents to give evidence to the court in his favour.  His wife to be had fled with her son to Yorkshire and Alfred denied any knowledge of her whereabouts but produced a letter from her which confirmed that they had a platonic friendship and that he had tried to reconcile husband and wife.  The jury did not believe him and granted Henry Hern a decree nisi and gave him custody of his son.
Alfred did not give up trying to prove his innocence. His lawyer advertised widely for Rose and she was eventually found, working as a piano player, and claimed that she had no idea about the divorce proceedings, despite the fact that the case made the national news for several days in a row. She also denied adultery.  So Alfred brought to the case to the Court of Appeal. His application for a new hearing was refused and the judge remarked that 'he had much to learn before he became fitted for the cure of souls.' He also awarded costs against Alfred.
The couple parted.  But on 4 December 1896, Inspector Conquest of Scotland Yard arrived at the Hythe school which my great grandfather ran and arrested Alfred. The next day he travelled to Leeds and arrested Rose. It was claimed that the couple had not separated at all but would meet up in Ashford Kent for trysts, writing regularly and worse. In due course, both were charged with perjury, convicted and Alfred spent 18 months sewing mail bags at Wormwood Scrubs while Rose made curtains during her six months in the slammer. On release, Alfred was defrocked and the two married.
My great great grandfather and his two other sons had given evidence for Alfred, had worked hard to mitigate his sentence and were stern in their faith. Yet the evidence of this photo is that they loved him and showed a true Christian compassion in embracing both him and Rose at the heart of the family. The little girl in the middle of the front row is Alfreda, their daughter. The figure of most interest is, of course, on the far right of the middle row, my great grandmother Maude Edith where my DNA trail has gone cold but myself and my Aunt L (Sir John's daughter) are not giving up. More on that later.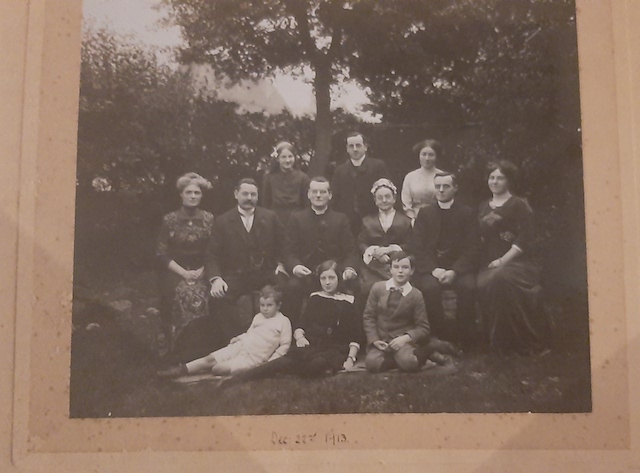 If you enjoyed reading this article from Tom Winnifrith, why not help us cover our running costs with a donation?