Santa really is a jolly good fellow, spending a good bit of time at the West Ham shop. Hammers Socks for Joshua. Hammers Socks for the Mrs with "The World's Best Mum" written on the side and a mug for me. In fact, as you can see, one of two mugs he brought me.
The West Ham one honours Paolo di Canio (pictured): an amazing player, a great character, a true sportsman but also a fascist. That is to say not a racist but just a great admirer of Benito Mussolini. The other, #DefundTheBBC, mug is self-explanatory and I am not surprised that Santa is opposed to #fakenews or unfunny woke comedy, like The Vicar of fecking Dibley and any "comedy" on Radio fecking 4, and also to grotesque wages for folks like Fiona Bruce and Gary fecking Lineker paid for with a poll tax. So great presents and as the Mrs got some salted caramel coffee from Santa, I offered to make us two mugs. So, I asked the woman formerly known as the deluded lefty, which one is it you wish to endorse.
It was a tough call for her but in the end she went for the one on the left. Even she is beginning to see numerous failings in the state broadcaster.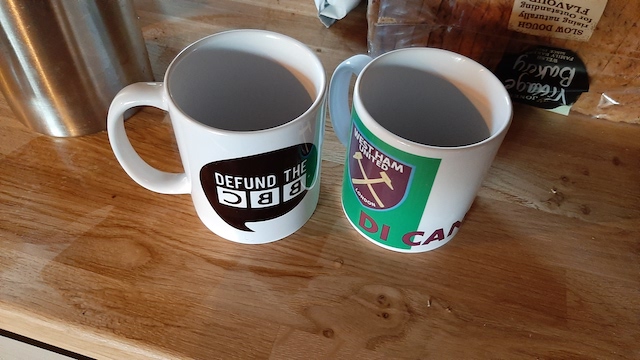 If you enjoyed reading this article from Tom Winnifrith, why not help us cover our running costs with a donation?